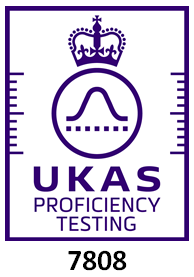 The Scheme performs External Quality Assessment for Consultant Histopathologists in General Histopathological practice and also has an educational element.
Features of the Scheme
Interpretive EQA scheme
10 scoring cases sent each round
9 different organ systems per round (so one organ system will be duplicated each round)
2 educational cases per round (if available)
3 rounds per year
Glass slide circulations, but digital images also available
Free text answers submitted, reflecting clinical practice
Differential diagnoses permitted, reflecting confidence in diagnosis
Option of opt-out of organ systems not seen in clinical practice
Determination of "correct" answer open to all participants via consultation process, not selective "expert" committee
CPD points awarded
ISO17043:2010 accredited, fulfilling ISO15189:2010 clause 5.6.3.1.  Click here for the published scope of accreditation
Approved RCPath EQA interpretive scheme
Participation restricted to GMC registered histopathologists so that expertise is not diluted
If you are interested in joining the scheme, which is hosted by Maidstone and Tunbridge Wells NHS Trust, please contact the EQA office on the email below.
Contacts
EQA Scheme Management Office Cellular Pathology, Maidstone Hospital, Hermitage Lane, Maidstone, Kent ME16 9QQ
Telephone: 01622 225738 Email: mtw-tr.EQA@nhs.net
Scheme Organiser: Professor John Schofield, MB BS FRCPath
Scheme Manager: Mrs Gill Donald
Scheme Administrator: Mrs Louise Knowler
Scheme Quality Manager: Mrs Helen Dasley
Overview
The South East England General Histopathology EQA Scheme is a consensus based External Quality Assessment scheme approved by the Royal College of Pathologists based on the guidance "Principles and Guidance for Interpretive External Quality Assessment Schemes in Laboratory Medicine" RCPath 2017 (G153),  and accredited to ISO17043:2010.  The Scheme performs External Quality Assessment for Consultant Histopathologists in General Histopathological practice and also has an educational element. Three times each year, ten cases are circulated that are representative of a routine workload together with two slightly more difficult / unusual cases of educational value which are not scored. Participation in the South East England General Histopathology EQA Scheme is open to any consultant pathologist or Associate Specialist within Essex, Kent, Surrey, Sussex or South London, but consideration will be given to applicants outside the area on a case by case basis, including overseas. Long-term locum pathologists are also able to participate, subject to the payment of the current subscription rate.
How does the scheme work?
There are three circulations each year beginning January, May and September. Laboratories are arranged into groups with an order of circulation within each group. Ten cases are circulated representative of a typical diagnostic workload. These cases are contributed from participants working in UKAS 15189:2012 accredited laboratories. Two cases are also circulated that are more unusual and are for educational purposes only. These cases are clearly identified and are not used for personal analysis.
How the scoring works
Each submitted diagnosis for a case is scored based on the percentage of respondents offering the same diagnosis.
This is refined at the consultation stage, where suggestions for merging synonym diagnoses are sought. It is important that you participate in the consultation process.
Personal scores are based on the submitted confidence level for the proffered diagnosis. A perfect score is only achievable if 10 points were allocated to a single (correct) diagnosis.
For further detail, see the EQA Scoring Protocol
Current Round: Slide images, circulation lists and response forms
Previous Rounds - including links to digital slides
Earn more CPD points - Case Submission
Earn more CPD points by sending us a new case – 1 for each sent – 12 duplicate slides per case please. Download the Case Submission Form
Scheme Advisory Panel
The scheme advisory panel consists of representatives for each region. They meet to discuss scheme issues. Please contact them with any suggestions for improvement to the scheme or other issues.
Surrey  Dr L Fulford – East Surrey Hospital – Laura.fulford@sash.nhs.uk
Sussex  Dr I Hawley – The Conquest Hospital – Ian.hawley@esht.nhs.uk
Kent  Dr N Bagla – William Harvey Hospital – Nipin.bagla@nhs.net
London  Dr M Moonim – Imperial College London – Mufaddal.Moonim@nhs.net
Essex  Dr M Sundaresan – Southend University Hospital – Maryse.sundaresan1@nhs.net
Wales  Dr S Roberts – Singleton Hospital – Shaun.Roberts@wales.nhs.uk
Meetings
Our documents
Complaints
We endevour to run this scheme to your complete satisfaction. If you have a concern, please contact the EQA scheme office mtw-tr.EQA@nhs.net in the first instance. If this does not resolve your issues and you wish to make a formal complaint, this will handled in compliance with the MTW Trust complaints policy and procedure. Click here for the Complaint Flowchart