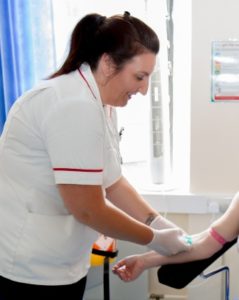 The phlebotomy service is managed by Pathology.
The team provide a service for hospital inpatients and outpatients.
The team offers a community phlebotomy service for GP surgeries. This is arranged through a contract with the Clinical Commissioning Group (CCG). Alterations or additions to this contract may be arranged. Contact the Phlebotomy manager in the first instance, on 01892 633266.
There is the risk of bruising resulting from having a blood test. Please see the patient leaflet Having a Blood Test for explanations.
To contact the phlebotomy team:
Maidstone 01622 227123
Tunbridge Wells Hospital 01892 635865