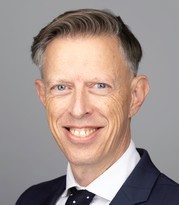 As the Trust's "Accountable Officer", Miles is responsible for the overall development and performance of the Trust.
In addition to being a Board member, he attends several Board sub-committees. Miles joined the Trust on 8 January 2018 and has over 30 years' experience in the NHS encompassing acute, community and mental health services, the Department of Health and the King's Fund.
Miles is actively involved in the Kent and Medway Integrated Care System (ICS), chairing a number of key committees, which includes the Kent and Medway Cancer Alliance; the Kent and Medway Pathology Network; the Kent and Medway Imaging Network; and the Kent and Medway Elective Care Programme Board. Miles is also the Senior Responsible Owner (SRO) for the West Kent Health and Care Partnership (HCP)
Prior to joining MTW Miles worked as Improvement Director at NHS Improvement. He was previously Chief Executive of St George's University Hospitals Foundation Trust (2011 to 2016) and prior to that Chief Executive at Bradford Teaching Hospitals NHS Foundation Trust (2005 to 2011) and Harrogate and District NHS Foundation Trust (2001 to 2005).
Miles is married to Abbie and has two children. He lives in south west London with his family.