What is donation?
Donation is giving an organ or tissue to help someone who needs a transplant. If you needed an organ transplant would you have one? Almost everyone would, however currently only 45% of people have recorded an organ donation decision.
Being an organ donor and tissue donor is a generous decision that can save lives. Transplants can save or greatly enhance the lives of other people, but this relies on donors and their families agreeing to donate their organ or tissue. Every day across the UK someone dies waiting for an organ transplant. One donor can save or transform up to nine lives through organ donation and save and transform even more by donating tissue.
Kidney donors and recipients are matched by blood group and tissue type, and people from the same ethnic background are more likely to have matching blood groups and tissue types. For other organs there is a need to match blood groups, but less or no requirement to match tissue types.
Types of donation
There are four different ways to donate. These are:
Donation after brain stem death – This is where a person no longer has activity in their brain stem due to a severe brain injury. They have permanently lost the potential for consciousness and the capacity to breathe. This may happen even when a ventilator, or other treatment, is keeping the person's heart beating and oxygen is circulated through their blood.
Donation after circulatory death – This is where there is irreversible loss of function of the heart and lungs after a cardiac arrest from which the patient cannot or should not be resuscitated. Unfortunately the vast majority of patients who die from circulatory death do so in uncontrolled circumstances such that they can not become organ donors. As a result only a small proportion of people who die will die in a way that allows organ donation to occur.
Living donation – Whilst you are still alive you can choose to donate a kidney, a small section of your liver, discarded bone from a hip or knee replacement and also your amniotic membrane (placenta).
Tissue donation – Several types of body tissues such as corneas, heart valves, skin, bones, and tendons can be donated after death and help make a huge difference to people's lives.
Consent
Organ donation in England has changed to an opt out system. This means that all adults agree to become organ donors when they die, unless they have made it known that they do not wish to donate. You still have a choice whether or not you want to become an organ donor, and can register or amend your decision at any time.
Now that the law has changed, it will be considered that you agree to become an organ donor when you die, if:
you are over 18;
you have not opted out;
you are not in an excluded group.
You can donate all or any of the following: kidneys, heart, liver, lungs, pancreas, small bowel, corneas, tissue.
It is quick and easy to join the NHS Organ Donor Register. Visit www.organdonation.nhs.uk or call 0300 123 23 23.
Everyone can join the NHS Organ Donor Register regardless of age, as long as they are:
legally capable of making the decision, and
live in the UK.
Having a medical condition will not usually prevent you from becoming an organ or tissue donor.
The major religions in the UK support the idea of organ donation and transplantation
Organ and tissue donation at MTW
At MTW we have a specialist organ donation team who support families and transform the lives of our organ donation recipients.
The role of the organ donation committee is to champion deceased donation processes and practice within the Trust and ensure that policies and guidelines support organ donation, are up to date and are in line with national guidance. The committee aims to ensure that there are no missed donation opportunities within the Trust and ensures that any staff who may care for a potential donor are adequately trained.
Cornea case study – providing the gift of sight
In 2022, aged 15, MTW patient Kai Cumberland was diagnosed with advanced keratoconus in both eyes, with scarring particularly affecting the vision in his left eye. Under the care of Consultant Ophthalmologist, Mohamed Elalfy, at Maidstone Hospital, Kai had a cornea transplant on his left eye in August to improve his sight. You can read Kai's story below.
Kai's story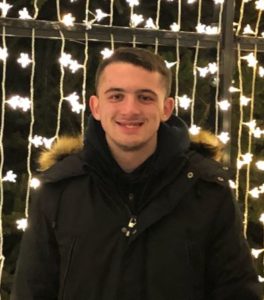 Here we introduce one of our patients who received a cornea transplant earlier this year.
In 2022, age 15, Kai Cumberland was diagnosed with advanced keratoconus in both eyes, with scarring particularly impacting the vision in his left eye. Under the care of MTW's Consultant Ophthalmologist, Mohamed Elalfy, Kai underwent a cornea transplant on his left eye in August to improve his sight.
Kerin Cumberland, Kai's mother, commented: "Due to Kai's autism and learning difficulties he wasn't able to understand or communicate that his sight had deteriorated. Instead he started to withdraw himself from situations he would previously have loved and stopped wanting to go to school, which was completely out of character for him.
"Following a routine eye test, where we thought Kai needed glasses, he was referred for specialist treatment under the care of Mr Elalfy at Maidstone Hospital. Although it is early days for Kai following his surgery, he has already seen a marked improvement in his vision.
"Kai found it very difficult to open his eye straight after the surgery, but just four days post-surgery he managed to open his eye a little, and we then saw daily improvements. Vision started to return to his eye just a few weeks after his operation which was a turning point for Kai – it made the pain and discomfort all worthwhile."
The immediate recovery period ranges cornea transplant surgery from 2-4 weeks depending on the type of corneal graft used. Careful care of the eye is needed during the recovery process to ensure the best possible outcome following surgery.
Simon Cumberland, Kai's father, said: "Following surgery Kai has stitches in his eye that will remain in place for 12-18 months. We spent a lot of time indoors over the summer, protecting Kai's eyes from the sunlight and being careful to prevent any risk of infection and rejection from the donor.
"The summer holidays have been a challenge, but without a doubt, worth it to restore Kai's sight – something that we thought at one point would be impossible. To see our son happy and smiling again is priceless."
Kerin added: "The gift of a cornea has given Kai the opportunity to lead a full life and return to his passions in life, that include racing remote control cars, Red Kite spotting in the Brecon Beacons and his love of animals.
"We are hugely grateful to Mr Elalfy and the amazing team at Maidstone Hospital for the treatment and care that Kai has received, particularly the support provided to support Kai's autism and learning difficulties to ensure he was calm and settled.
"We will be forever grateful to the donor and the Ophthalmology team at the Trust for giving Kai the gift of sight".
Consultant Ophthalmologist, Mohamed Elalfy added: "It is extremely rewarding when we get to see how life changing these surgeries are for our patients.
"I encourage everyone who has the will to make a difference, to join the NHS Organ Donor Register and help other people in need see well throughout their life."
Once the left eye has healed sufficiently, Kai will need to undergo treatment for his right eye. This will involve corneal cross-linking to prevent the keratoconus condition having a detrimental effect on the sight in his right eye, followed by a prescription contact lens to ensure the best possible outcome.
During Organ Donation Week (26 September – 2 October 2022) NHS Blood and Transplant is encouraging people to consider giving the gift of sight, due to the urgent need for more cornea donors.
A cornea transplant (also referred to as a corneal graft)  can be used to improve sight, relieve pain and treat severe infection or damage. Almost anyone can donate their corneas. The cornea is the clear tissue at the front of your eye that lets in light so you can see. This small and simple part of the eye is hugely important for thousands of cornea transplants a year, often saving the sight of patients for many years.
Yet one in 10 people on the NHS Organ Donor Register have indicated that they do not wish to donate their corneas, making corneas the part of the body that most people say they do not wish to donate.
As at 21 September 2022, there were 208 corneas in NHS Blood and Transplant's eye banks. The aim is to have 350 corneas available at any one time to supply to hospitals. Currently, potential cornea recipients are currently having to endure a longer wait to have their sight restored or their condition improved.
* Keratoconus is a condition that causes the cornea to weaken, get thinner and change shape. It affects between 1 in 3,000 to 1 in 10,000 people.
The exact cause of the condition is unknown. There may be a genetic link, and it's more common in people with multiple allergic conditions, such as eczema and asthma.
Keratoconus is one of the most common reasons for corneal transplantation in younger patients.
It does not usually appear until the early teens, but can occasionally occur earlier.
Many cases of keratoconus are mild and can be managed by using contact lenses or glasses.
But in some patients, it can progress to the point where a cornea transplant is necessary.
MTW organ and tissue donation news
National Eye Health Week: Urgent need for cornea donors to help restore sight of those waiting for transplant
MTW helps give the organ donation message a much needed lift
From April 2021 to March 2022 12 patients received life-changing transplants as a result of organ donation at Maidstone and
Tunbridge Wells NHS Trust: You can view the infographic below and in full here.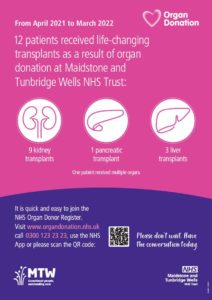 What to learn more?
Visit the NHS Blood and Transplant website for further information, updates and news. 
Donating Your Body To Medical Science
Some people wish to donate their bodies to medical science allowing their body to be used for medical education and approved research. If you want to donate your body to medical science after your death you need to arrange this by completing the necessary documentation and consent prior to your death. To avoid any unnecessary confusion or delays after you die, it is recommended that you also include an updated intention to donate your body in your Will.
If you live in Kent you can arrange this through the London Anatomy office. Their contact details are given below.
The London Anatomy office
5.7, 5th Floor Hodgkin Building
King's College London
London
SE1 1UL
Telephone : Donations Officer 020 7848 8042.
Email lao@kcl.ac.uk
More information can be found on the Human Tissue Authorities Website.