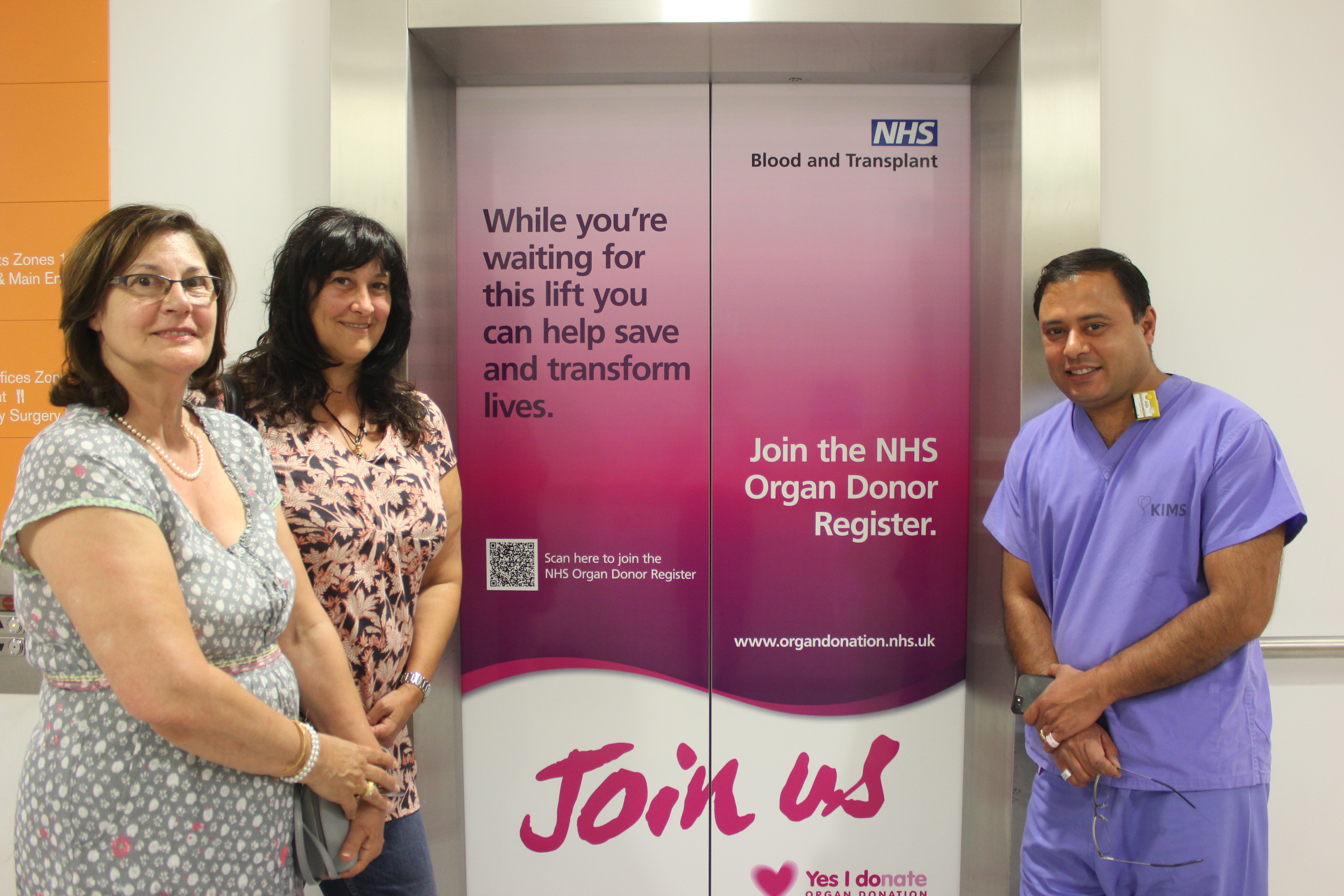 Maidstone and Tunbridge Wells NHS Trust (MTW) is working with NHS Blood and Transplant to promote organ donation to all its staff, patients and visitors. The doors to the main lifts at Tunbridge Wells Hospital have been covered with promotional messages urging people to sign up to be an organ donor.
The lift wraps were unveiled by Sevenoaks-based organ recipient Emma Powe, who received a liver transplant in late 2016. Emma commented: "Since receiving the transplant every day has been amazing. I am so grateful to my donor to be given this second chance and to the staff at Tunbridge Wells hospital for all the care that kept me well enough for the transplant."
There are 137 people in Kent (data from September 2017) who need a lifesaving organ transplant. They need people to say yes to organ donation so they can get the organ they so desperately need.
The hospital is promoting organ donation in the hope that it will make people think about it while waiting for the lift and then go on to register. This would hopefully, in turn, open the door to more people getting the transplants they need.
Tatiana Sabat, Specialist Nurse for Organ Donation at MTW, said: "Organ donation saves lives and one organ donor can save or transform up to nine lives and even more by donating tissue as well. I know that more families agree to donation if they know their loved one was on the Organ Donor Register. Save your family from having to guess what you would have wanted. Join the NHS Organ Donor Register and let your family know your decision. One day it could be someone you love in need of a transplant."
Dr James Wood, MTW's cross-site lead for critical care, added: "We are delighted to be promoting organ donation on the doors of some of the lifts within the hospital. Transplants save lives and are only possible if people are willing to donate. Every single hospital in the UK will be in a town or city where there are patients waiting for a transplant and we hope this initiative will prompt our employees, patients and visitors to the hospital to think about organ donation and to commit to save lives as a donor by signing up to the NHS Organ Donor Register."
Sign up today at www.organdonation.nhs.uk and Let your friends and family know you want to help others after your death
Ends
* Data from survey of 1,001 adults in England carried out online in September 2016 by Kantar Public. 84% stated that it is 'very important' or 'quite important' to tell people your wishes about donating your organs. 36% stated that some or all of their family and friends are aware of their wishes about organ donation
• For additional information please contact the communications team at MTW on mtw-tr.communications@nhs.net or the NHS Blood and Transplant Press Office on 01923 367600 or pressoffice@nhsbt.nhs.uk. For the latest statistics and figures on organ donation contact NHS Blood and Transplant press office.
Notes to editors
• NHS Blood and Transplant (NHSBT) is a joint England and Wales Special Health Authority. Its remit includes the provision of a reliable, efficient supply of blood and associated services to the NHS in England and North Wales. It is also the organ donor organisation for the UK and is responsible for matching and allocating donated organs.
• The NHS Organ Donor Register records the details of people who have registered their wishes to donate organs and/or tissue after their death for transplantation. This information is used by authorised medical staff to establish whether a person wanted to donate.
• It's simple to join the ODR by:
• going to www.organdonation.nhs.uk
• ringing 0300 123 23 23
• Anyone can register on the ODR. Age isn't a barrier to being an organ or tissue donor and neither are most medical conditions. People in their 70s and 80s have become donors and saved many lives.
• One donor can save or transform up to nine lives and many more can be helped through the donation of tissues.
• There are currently around 10,000 people in the UK in need of an organ transplant. This figure changes constantly though as people join and leave the transplant list.
• Three people a day across the UK die before they get the organ they need – that's over 1,000 people every year