We are delighted to have some 400 volunteers, who make a real difference to our patients and support our staff in many ways. They are a vital part of our day-to-day operation, across all our sites. We're always looking for more people to get involved, so if you have some spare time and would like to make a difference, then keep reading!
We have something to suit everyone. Here are some of the things our volunteers do:
Befriending
Talking to patients and keeping them company. This is particularly important for our patients who may not get many visitors or who may be anxious, such as our patients with Dementia
Sitting and talking with people while they wait for treatments
Assisting in running activities.
Meet and greet
Helping patients and visitors find where they need to go
Offering a friendly face during what can be a stressful time
Taking personal items up to wards.
Support for cancer patients
Maidstone Hospital is home to the Kent Oncology Centre and we have a dedicated team of volunteers who support our cancer patients during their time with us
This includes offering information and someone to chat to
Providing a safe place to talk and helping people build support networks.
Hospital Radio
We have a Hospital Radio service at both our hospitals that can be heard throughout our sites and online.
Gathering requests
Selecting music
Dedications for patients.
Chaplaincy
Our Chaplaincy volunteers work with our Chaplains to support our patients, staff and visitors.
Visiting and talking to patents
Providing emotional and spiritual support
Helping to organise prayers
Gardening
Gardens provide a moment of peace, a quiet space outside away from the hospital environment.
General gardening
Working in the open spaces and gardens for patients both to maintain and improve.
Using the greenhouse to grow flowers for patient rooms.
Administrative support
Working closely with admin teams to improve the services we can provide
Helping to organise and run events
Maidstone Hospital League of Friends
Case study: Angela Flory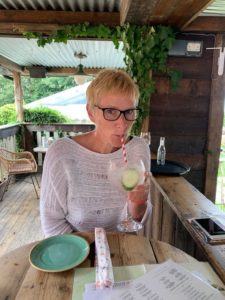 Where do you volunteer?
I have been lucky and experienced various volunteering opportunities at both Maidstone Hospital and Tunbridge Wells Hospital.  I started volunteering on the hub at Maidstone Hospital during the COVID-19 pandemic . I also did a short stint on the ward supporting staff as a runner before moving to help in the bereavement office again on both sites. Most recently I have moved to support the Macmillan Cancer Information and Service Team.
What's your role?
Oncology Outpatients is a busy department and patients are encouraged to attend alone to reduce footfall in the hospital during the ongoing COVID-19 pandemic. I am based in the Outpatients area to help patients and staff alike. This might involve supporting a patient in finding the right room, chatting to those who are waiting for an appointment, checking where they are in the queue or making a hot drink for patients waiting for transport home. It sounds very little but I have had some interesting conversations with patients whilst they wait. I recently had a long conversation with a lady who had not spoken to someone outside of her family for two years. We touched on her diagnosis and treatment but the majority of our chat was about walks by the coast, grandchildren and gardening. The hardest thing I find is that mask wearing means that we miss facial expression, I hope I convey that I am smiling through my eyes!
Staff can call on me to escort a patient to have a blood test or COVID-19 lateral flow test, or guide someone who may be in the wrong place. Hospitals are big and confusing places for patients and more often now we have people attending out of their area. The drive to the hospital and parking can cause stress for some patients as they are anxious about missing an appointment. This can come out in frustration at times and so I try to defuse any tension by offering to help. No-one wants to be in hospital but we can try and make it as easy and stress free as possible.
What is your background? 
I started my nursing training in Ashford back in 1986 at the William Harvey Hospital and I qualified in 1989. I worked in a number of different hospitals around the country over the next 25 years mostly with patients undergoing treatment for different types of cancer. I ended my career working at MTW NHS Trust in 2015 as a Haematology Nurse Specialist. Since then I have worked part-time with my husband in his business, supporting him and bringing up two girls.
How long have you been volunteering at MTW? 
I have been volunteering at MTW for almost two years and the frequency has changed according to need. Initially it was two mornings or afternoons a week and then sometimes ad hoc days when there was a specific need such as packing up boxes of masks for oncology patients to take home with them. During the COVID-19 lockdown period, the hub was very busy with family members dropping off and collecting items for their loved ones – it was a challenging time.
What advice would you give to anyone who is volunteering? 
My advice to someone thinking of volunteering is to remember it is not a job. You are there in a supportive capacity but you are not confined by meetings, the number of patients you see in clinic or dashing because you are late to get home to your family. You have time to give and sometimes you might only make the difference to one person attending hospital but you could have changed that experience from a negative to a positive one and that is what I think matters the most.
Is there anything else you would like to add regarding your time volunteering at MTW? 
When I stopped nursing I felt burnt out and I didn't think I would ever return to 'work' within a hospital setting again but COVID-19 changed that. Seeing family, friends and colleagues facing the relentless task of treating and caring for patients was enough to make me want to volunteer and I haven't regretted it.
Case study: Felicity Waters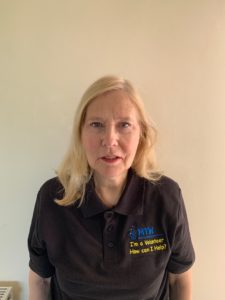 Where do you volunteer?
I volunteer at Maidstone Hospital with the Chaplaincy team.
What is your role?
Chaplaincy volunteers are there to support our hospital chaplains, to provide a listening ear, emotional support and spiritual support to patients, relatives and friends, and hospital staff. The chaplains can provide support during a crisis as well as during ongoing recovery and can involve anyone in the hospital that needs help. This includes patients, bereaved relatives, or staff working under different pressures. As volunteers, we are required to keep up with both hospital training and chaplaincy training. At the moment, chaplaincy volunteers are usually assigned to a particular ward or area, which has the benefit of volunteers getting to know staff and longer-term patients on a regular basis. The Chapel and the Chaplaincy Service is designed for people of all faiths and none.
What is your background?
I have a background in teaching, specifically in teaching children to read through the Reading Recovery programme. As a result, I work closely with volunteers and the League of Friends bookshop to help provide books for patients (when it is permitted). I think it would lovely to start up a small shared reading group. Initially perhaps with staff and perhaps later with patients. Sharing books or poems aloud can have great benefits for mental health and well as provide simple enjoyment for many people. This idea may be explored further with our Volunteer Services in due course.
How long have you been volunteering at MTW? 
I started volunteering with MTW in 2017 and then unfortunately had a break when COVID-19 restrictions were introduced and like many of the volunteers, I missed coming into the hospital very much. Our thoughts and prayers were for all the staff and patients during that difficult time. I came back in as soon as volunteers were able to return.
What advice would you give to anyone who is volunteering? 
If we have learnt anything from recent experiences, it must be the huge value of person-to-person contact. The essence of a volunteer is to be with people, to support them, to listen to them, come alongside them and to be with them so they know that they are not alone.
Is there anything else you would like to add regarding your time volunteering at MTW? 
Before I joined the team of volunteers at MTW I had never considered volunteering before. Then, several years ago, I broke my back and spent a period of time in a hospital. I like to think I am giving something back to all NHS staff, however small,  for all their care and compassion they showed me at that time.
Case study: Steve Pullen
Where do you volunteer ?
Currently I am working in the Radiology Department at Maidstone Hospital where I speak with patients visiting for X-ray and ultrasound appointments whilst they wait to be seen. I also spend some time in the Outpatient and Oncology departments.
What is your role ?
My badge tells everyone I am a 'Patient Support Volunteer'. My primary task is inviting each patient I speak with to complete the department's 'Friends and Family' feedback form. This gives the patient an opportunity to feedback their experience on the day of their visit.
Of course this is all entirely voluntary, I always stress to each patient I speak with that they are under no obligation to complete a form should they not wish to. I have to say my own experience is that the overwhelming majority of patients welcome such an opportunity. I also like to think it adds just a little to an overall sense of feeling cared for. A few friendly words exchanged whilst waiting in what for many can be a very stressful situation can make a real difference. After returning post COVID-19 lockdowns in September 2021 I initially took the role outside on the main door, where I was greeting patients entering the hospital, handing them fresh face masks and gelling their hands before entering. Enjoyable if a little chilly at times in spite of my regulation-issue NHS bodywarmer!
What is your background ?
Before I retired back in 2018 I worked as a counsellor in talking therapy. I worked with a variety of clients across several settings ranging from staff and students at a university to GP patients at a medical centre. I also spent time working with two charities, one supporting those who were bereaved and another helping those who had been affected by crime.
I enjoyed the work immensely but over time felt the increasing amount of administrative tasks were beginning to weigh heavy. After retiring in early 2018 it wasn't too long before I became aware that I had a big space in my life which needed to be filled!
How long have you been volunteering at MTW ?
I joined the team here at MTW towards the end of 2018 and began working in the Outpatient department during early 2019.
My role at that time was generally engaging with outpatients whilst they awaited their appointment, checking on transport for those awaiting transport back home and escorting patients to other departments such as X-ray and pre-assessment.
What advice would you give anyone who is considering volunteering ?
Do it! If volunteering is something you have been considering there's only ever really going to be one way of finding out if it's for you and that's by doing it. I can only speak from my own experience and say that I thoroughly enjoy my time here at MTW, it is giving me the interaction with people I so missed after I retired. Anne-Marie, George and the team at Voluntary Services are so supportive and will always take time to guide you through the opportunities available to each volunteer and the staff in the various departments are warm, welcoming and appreciative of the support volunteers offer.
Good luck to each if you who choose to give it a go, I hope to see you around!
Case study: Terrena Laity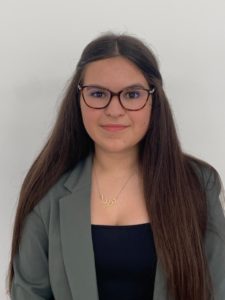 Where do you volunteer?
I volunteer at Maidstone Hospital, working three hours a week every Wednesday.
What is your role?
I am a general volunteer which means that I undertake a plethora of roles ranging from front of house, whereby I would greet people at the main entrance, provide them with masks and hand sanitiser, to being on wards and keeping patients company. At the moment, I am situated on the Mercer ward, where I chat to many of the patients there, help with the menus, and do any small tasks the nurses require of me. Another facet of my role includes encouraging and helping patients to fill out 'Friends and Family' feedback forms, which allow them to reflect on their hospital experience in order for improvements to be implemented.
What is your background?
I am a half-British, half-Lebanese year 12 student currently studying four A-levels: biology, chemistry, psychology, and english literature, attending one of Maidstone's grammar schools. In additional to the typical GCSE subjects of triple science, english, and maths, I chose to take french, geography, religious studies, and economics, with the latter being one of my favourite subjects. Coming from a mixed background, I have been exposed to different cultures, leading me to appreciate the NHS system more in how it provides good quality healthcare indiscriminately to everyone, even through COVID-19, where pressures have increased. As well as this, I currently work in a pharmacy, both on the counter and in the dispensary, so have experience of community healthcare.
Why do you volunteer at MTW?
The major reason for volunteering at MTW is to support the community by striving to help the NHS provide the highest quality of care to patients, and enhance peoples' experiences during their hospital stay. Another reason is a personal one, with volunteering enabling me to learn new skills, providing me with exposure of a hospital environment, allowing me to see first-hand what it would be like to work in the hospital. Volunteering at MTW has also helped me to improve my social and communication skills, with the opportunity to have long conversations with both patients and staff. Volunteering at MTW and especially my time on the Mercer ward has provided me with the opportunity to engage with many interesting individuals of different ages and backgrounds and hear fantastic stories of their life journeys.
What are your future plans?
This year I am applying to study medicine at university, with the goal of becoming a doctor. Specifically, I aim to specialise in Obstetrics and Gynaecology.
What advice would you give anyone who is considering volunteering?
The main piece of advice I would give to someone who is considering volunteering at MTW is to ensure that you are a good listener and can work well as part of a team, because in this role and in the hospital environment you are always working alongside many other people, and never by yourself. This links to how you must be able to communicate well with people of all ages, as you will talk to and help people of all demographics.
Is there anything else you would like to add regarding your time volunteering at MTW?
My time volunteering at MTW has been invaluable to me, particularly volunteering on the Mercer ward, with the doctors and nurses being open to answer any questions I have, and offer advice. Time always flies by so quickly whilst keeping the patients company as I find I am fully engaged in the stories they share with me, and I enjoy their company feeling privileged to have made their acquaintance and happy that I am able to be of service.
Frequently asked questions
Is volunteering different from work experience or shadowing?
Volunteering does not involve shadowing nurses or doctors. Becoming a volunteer is a commitment of 3-4 hours per week for a minimum of six months, which allows you to make a real difference to our patients.
If you want to gain a better understanding of the role of a nurse or doctor then please visit the work experience page for more information or email mtw-tr.workexperience@nhs.net
What age can I start volunteering?
16, although if you are below 18 currently you will only be able to volunteer between 9 and 5 on weekdays and will not be allowed into areas such as paediatrics or maternity departments so please be aware of this when you apply.
Do I have to wear a uniform?
Yes, all volunteers wear a uniform and if you are in a clinical area then you must follow our policy of 'bare below the elbows'.
The uniform consists of a branded black polo shirt, which we provide. In line with the uniform policy volunteers are not able to wear trainers or open-toed sandals. You will also need to remove jewellery worn below the elbow with the exception of a Kara or plain wedding band. Any earrings need to be of the stud variety.
You will also be required to wear PPE appropriate to your role, e.g. aprons, gloves (you will never be asked to work with COVID positive patients.)
Can I use you as a reference?
Yes, once you have logged sixty hours you can email the Voluntary Services Team to provide a refence.
When can I start my volunteering? 
The application process can take up to two months to complete but it will depend on how quickly you are able to attend the relevant training sessions, how quickly your referees respond and how soon your DBS certificate comes through.
Can I use an existing Disclosure and Barring Service (DBS) certificate?
If you have an enhanced level DBS certificate for child and adult workforce which is registered with the update service (you would need to have registered this within 19 calendar days from the issue date on the certificate, on the Government website, and have received an email confirming that it was registered) then we can use this.  If you have not registered it or it is not to the right level then we can do a new one for you. Your DBS check will be updated by the Trust every three years.
Do I need to provide references? 
You will need to provide contact details of two referees then we will send them a form to complete and return to us.
The first referee needs to have known you within the last two years and be of standing within the community but if you are currently employed or in education, this should be your current employer or a teacher/tutor. The first referee must be a person in authority i.e. employer, teacher, minister of religion.
If you are currently volunteering, your second referee should be a manager from the organisation you are volunteering for. If you are not volunteering at present you can use a friend or acquaintance. Neither should be a member of your family or a partner.
Both referees must be 18 years old or above.
If you are considering becoming a Chaplaincy Volunteer Visitor an additional reference will need to be obtained from a recognised member of your faith community.
What if I have health or support needs?
During the application and interview process you will have the opportunity to ask any questions specific to your own health or support needs that might impact on your volunteering. We will make every effort to enable you to volunteer with us but there may be situations where this may not be possible.
What training is required before I can start volunteering?
All volunteers have to complete the volunteer mandatory online training required. Additional training relating to the role you have chosen will be provided during the application process.  If you are not comfortable with or have not used any online training before please do not worry, we will help you with it.
You will be offered the opportunity to attend additional non-mandatory training sessions if you wish.
Can I visit different areas and try out roles before I choose?
All of our roles are patient-facing and we have a responsibility to always treat our patients with dignity and respect. It would not be appropriate for us to arrange visits into wards and departments for all of our potential volunteers.  We will provide you with as much information as we can about different roles, give you the opportunity to talk to existing volunteers and help you to choose where you would like to be placed.
Before you start volunteering we will arrange a review date with you so that we can discuss whether you are enjoying your voluntary role. At this point some volunteers decide to increase their hours or look at additional roles.
Can I claim travel expenses?
Volunteers can claim travel expenses through the expenses system and will be paid on the 24th of the month in arrears. This includes mileage and public transport claims. Volunteers are eligible free parking, along with a free bus that runs between Maidstone and Tunbridge Wells hospitals.
Please contact us if you have any questions before you submit your registration of interest. There will be plenty of opportunities to speak to a member of the volunteer services team during the application process.
Thank you for your interest, we look forward to hearing from you.
If you are interested in becoming one of our incredible volunteers, please register with NHS Jobs and you will be notified when voluntary roles become available. Ideally, we are looking for a commitment of at least three hours per week for six months. You can also view the latest volunteer vacancies on our Working for us page.
If you want to be kept up to date with opportunities you can sign up to our newsletter. Please email mtw-tr.volunteers@nhs.net to be added to the distribution list.
You can also find out more about volunteering at MTW in the latest edition of our digital magazine for patients, staff and visitors.
Although volunteering is an unpaid role, our volunteers are vital members of our teams. We offer free parking, as well as refreshments and expenses for all our volunteers. All volunteers will need to complete a DBS (Disclosure and Barring Service) check and will need to be over 18 years of age. We aim to have recruitment windows in January, May, June and September.
Give us a call if you want to chat further or have any questions don't hesitate to contact us on 01622 224719 or email mtw-tr.volunteers@nhs.net
In the words of one of our volunteers, David Coleby:
"Its amazing to be able help people as they come in, if they are anxious or nervous. The power that a smile and a cheery wave can have. I worked on the wards in patient support before the pandemic and now volunteer at the welcome desk. It's been incredibly rewarding to be able to help with such a mix of people."