Maidstone and Tunbridge Wells NHS Trust Charity is a registered charity (Registration number: 1055215), which supports Maidstone and Tunbridge Wells NHS Trust to be there for our patients and their families in their time of need with outstanding hospital services delivered by exceptional people.
The Charity strives to raise vital funds to make our Trust a truly outstanding, patient friendly place for the 590,000 patients and families that we care for every year and to support our amazing staff who deliver exceptional care to those patients and their families.
Through the kind support of our local community – from individuals, community groups, schools, local, regional and national corporate partners and trusts and foundations – we are able to provide additional equipment, services and amenities for our patients, our visitors and our staff, improving the care received and health outcomes across Maidstone and Tunbridge Wells NHS Trust.
Fundraising supports the breadth of Trust services which includes Maidstone Hospital, Tunbridge Wells Hospital, Crowborough Birthing Centre, radiotherapy at Kent and Canterbury Hospital, the Eye Clinic at Medway Maritime Hospital and the Sexual Health Clinic at Gravesham Community Hospital. Our Kent Oncology Centre provides cancer services for people across the county of Kent.
To find out how you can help us to support our hospitals and staff to be the best they can and provide the best possible care please call Claire Ashby, Head of Charity and Fundraising on 01622 226428 or email Claire.ashby4@nhs.net. You can also make a donation online, or set-up an online tribute page in memory of a loved one.
MTW Charity
Supporting our hospitals to grow
Maidstone and Tunbridge Wells Hospital Charity is a registered charity in England and Wales, number 1055215
An introduction to our new Head of Charity and Fundraising, Claire Ashby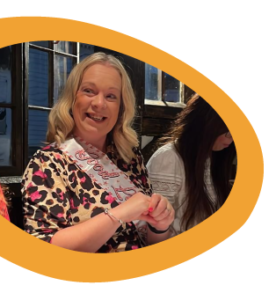 Have you ever wanted to give something back to your local hospitals? Well – our new Head of Charity and Fundraising, Claire Ashby is just the person to help point you in the right direction! Born and raised in the Black Country and now firmly settled in Kent with her husband, two sons and Mabel the Cavapoo, self-confessed Take That superfan, Claire can often be cheering on her beloved West Brom and joins us to help support our very own Trust Charity. We sat down with Claire to find out a little more about her and her brand-new role…
What does your new role involve?
My role is twofold – firstly I am working to raise the profile and awareness of the Charity both internally with staff and externally with our local community to ensure that everyone knows about our Charity and the opportunities available to help support us. We want everyone to understand the difference that a gift can make to our patients, visitors and staff by building relationships and confidence in how their donations will be used. Secondly, I am working with all departments within our sites to enable them to understand charitable funds and how these can help to support the outstanding work already being carried out by providing additional resources.
An interesting fact about you that others wouldn't know?
I am left handed and only use my right hand for writing.
Do you have any hobbies?
I am addicted to going to Bootcamp three times a week – lifting barrels, swinging kettlebells and slamming tyres.
Who is your favourite band or musician?
Take That – my favourite concert was seeing them on The Progress Tour.
Favourite sports?
I love football, rugby and Formula 1 – supporting West Brom, Northampton Saints and Lando Norris.
Who is your hero?
My Dad – he is always there for me and is my number one cheerleader.
What is your greatest strength?
My planning and organisation – I love a spreadsheet and a clipboard!
If you could invite three celebrities to a dinner party who would they be and why?
Betty Boothroyd – the words girl power could have been written for her.  She was my local MP growing up and was the first female speaker of the House of Commons in a very male dominated world. Gary Barlow – he has such a talent for song writing and is one of my favourite musicians.  Jonny Wilkson – he scored the drop kick in the final minutes against Australia which meant England won the Rugby World Cup!
What's your favourite part of your role?
The people and being able to make a difference to patients, their families, visitors and our staff.
How has your first month been in this role?
It's been better than I could have imagined. I have loved meeting everyone and deciding how to take the Charity forward and how I can embed it as intrinsic part of life at Maidstone and Tunbridge Wells NHS Trust to continue improving every day for everybody.
How can everyone get in touch?
You can contact me by email on Claire.ashby4@nhs.net or call me on 07525 967656.