Race inequality both experienced by our employees within our workforce, within patients and healthcare professional's interaction and by the patients using our services is an issue which we at MTW feel very strongly about solving. We take the Workforce Race Equality Standard very seriously and our Cultural and Ethnic Minorities Staff Network is doing amazing work.
The Workforce Race Equality Standard (WRES)
The WRES was established in 2015 to improve inclusivity for NHS employees who are from black and minority ethnic (BAME) backgrounds and to make sure that they have equal access to career opportunities and receive fair treatment in the workplace. It is essentially an assessment of race equality within the NHS workforce and it requires NHS organisations to report against nine indicators of race equality using workforce indicators, staff survey results and board representation data:
Percentage of staff in each of the AfC Bands
Relative likelihood of staff being appointed from shortlisting across all posts
Relative likelihood of staff entering the formal disciplinary process, as measured by entry into a formal disciplinary investigation
Relative likelihood of staff accessing non-mandatory training and CPD
Percentage of staff experiencing harassment, bullying or abuse from patients, relatives or the public in the last 12 months.
Percentage of staff experiencing harassment, bullying or abuse from staff in last 12 months.
Percentage believing that trust provides equal opportunities for career progression or promotion.
In the last 12 months have you personally experienced discrimination at work from manager, team leader or other colleagues.
Percentage difference between the organisations Board membership and its overall workforce disaggregated.
The WRES has been collecting data on race inequality for 5 years now, and has allowed us to step back and take a proper look at the disparities which exist for BAME staff compared to their white colleagues. With 5 years of data behind us, the NHS is now able to begin to take a long-term view of race equality for the workforce of the NHS. At MTW we take race equality very seriously, if anything the events of 2020 have highlighted just how important it is that we make a change. We are really committed to making our trust inclusive for all BAME staff and take the WRES data very seriously. To read the WRES reports and then to see MTWs action plan out of it please see below:
For enquiries about the WRES, please contact Jo.Garrity@nhs.net
Cultural and Ethnic Minorities Network (CEMN)
The CEMN is open to all Black, Asian and Minority Ethnic (BAME) Staff and non-BAME Allies. The networks vision is to be open, fair, transparent and equitable.
The network is run by staff for staff and provides a platform for addressing concerns specific to the BAME community with pastoral support available for all members. The network also supports BAME staff in professional and career development and helps shape organisational policy by being a stakeholder in issues related to BAME staff, patients and service users. Network meetings are held twice a month!
Hear from staff from a B.A.M.E background about what it's like to work at MTW and the support offered to minority groups: https://www.youtube.com/watch?v=8N6ohcI3zeo
Committee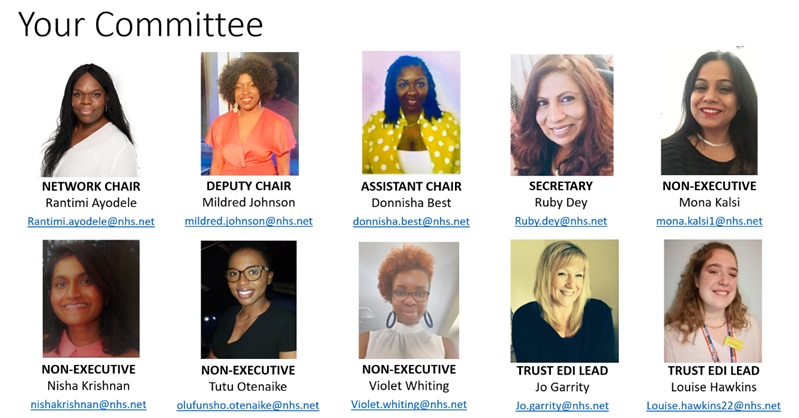 Contact:
mtw-tr.theculturalandethnicminoritiesnetwork@nhs.net
Twitter: @CEMN_MTW