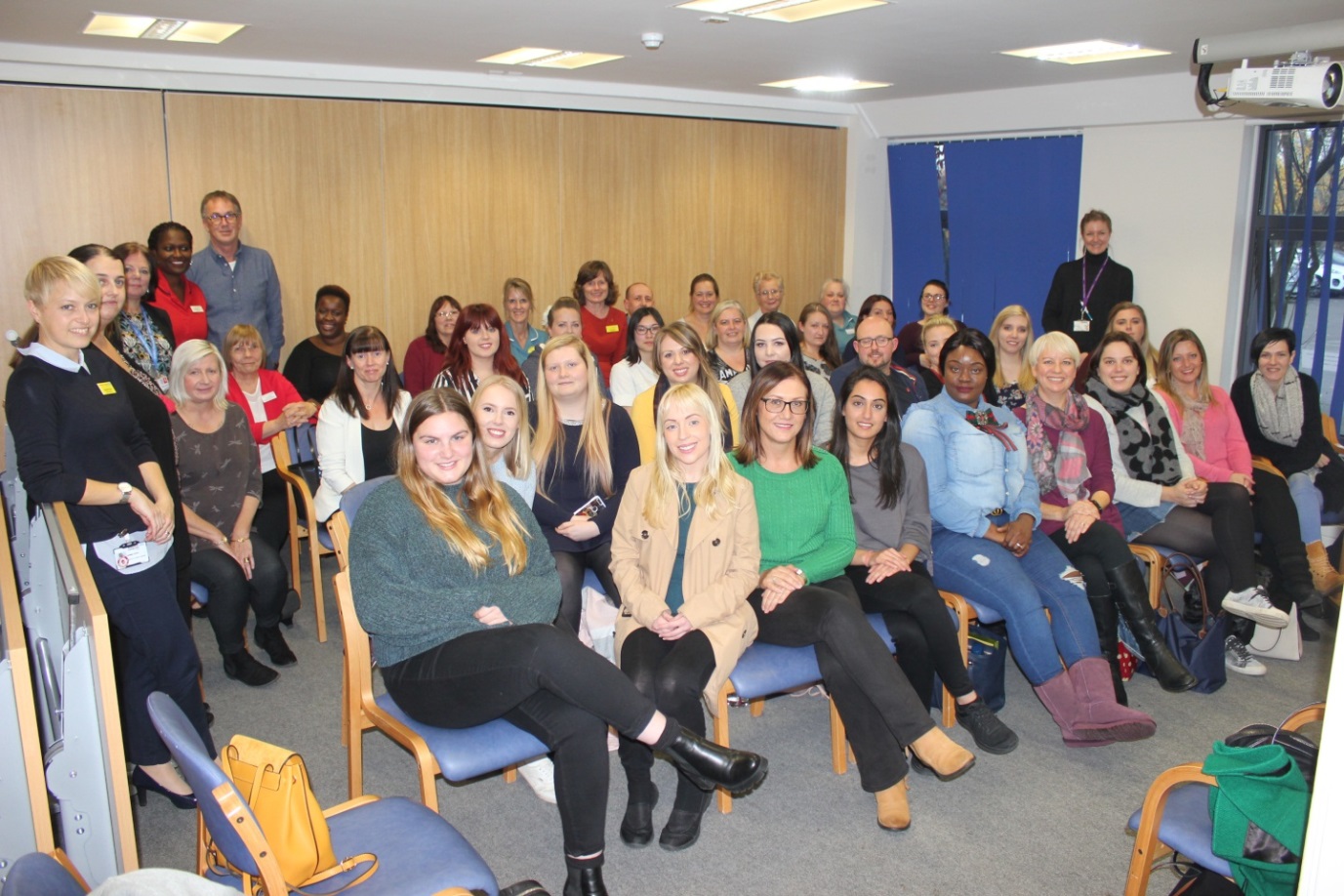 Photo caption: The first group of WKNAC Nursing Associates taken at Maidstone Hospital in December 2018.
Maidstone and Tunbridge Wells NHS Trust (MTW) is welcoming the nursing associate 'class of 2018' to the healthcare family after becoming the first group from the West Kent Nurse Associate Consortium (WKNAC) to complete a new and innovative training scheme to boost the number of new nurses in the NHS.
The WKNAC supported the new role providing different pathways into healthcare, with the first class of nursing associates (NA's) now fully registered with the Nursing and Midwifery Council (NMC) and enjoying full-time NHS careers.
The consortium, led by MTW, includes collaborative partners with Kent and Medway Social Care Partnership (KMPT), Kent Community Health Foundation Trust (KCHFT), Heart of Kent Hospice, Hospice in the Weald, Kent County Council, Skills for Care, Kent & Medway STP and Kent Education Network. They first discussed the Nursing Associate role back in 2017, with the first cohort of around 20 applicants passing their two year course in December 2020 and celebrating their official registration with the NMC at a virtual event on 21 April.
The new NA position is a new role in the nursing family in England. Its aim is to help build the capacity of the nursing workforce and the delivery of high-quality care that bridges the gap between healthcare support workers and registered nurses – delivering hands-on, person-centred care as part of a multidisciplinary team.
Nursing associates are a vital part of the wider health and care team and aim to support the career progression of healthcare assistants and enable nurses to focus on more complex clinical work. The role also increases the nursing workforce by providing a progression route into graduate-level nursing.
At the end of two years training nursing associates (NA's) will have a foundation degree, and once they register with the Nursing and Midwifery Council, they will become a fully registered nursing associate and can then continue their career pathway to advance to becoming a registered nurse or continue developing within the NA role.
WKNAC's first cohort included newly registered Nursing Associate, Kelly Reynolds, who is now enjoying a full-time role with MTW at Maidstone Hospital's Acute Stroke Unit.
Kelly said: "The role interested me as my ambition has always been to become a nurse, my maths held me back in joining university without going back and re-studying. This opportunity accepted my key skills qualification and to me it feels like the door has now been unlocked to continue in my career development.
"If nursing is not only a job but an ambition and dream then this course is ideal, it gives support, on the job training and other experiences in an opportunity with huge potentials."
Chief Nurse for Maidstone and Tunbridge Wells NHS Trust, Claire O'Brien, added: "We are so proud to be a part of introducing the nursing associates to the NHS working in partnership with the WKNAC. It is now our patients who are seeing the benefit of the hard work of our applicants, with many of them now enjoying careers across MTW and fellow NHS partnerships.
"This is a fantastic pathway for anyone looking to get into nursing and provides an incredible opportunity where you will be supported to develop your skills and take your career to a new level."
You can read more about Kelly Reynolds' Nursing Associate journey here and also find out more about working for MTW.