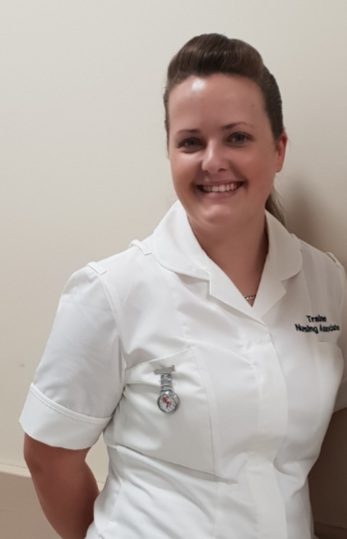 The nursing associate position is a new role in the nursing family in England to help build the capacity of the nursing workforce and the delivery of high-quality care that bridges the gap between healthcare support workers and registered nurses to deliver hands-on, person-centred care.
The West Kent Nursing Associate Consortium (WKNAC) led by Maidstone and Tunbridge Wells NHS Trust (MTW) recently celebrated their first cohort of nursing associates now fully registered with the Nursing and Midwifery Council (NMC), with the group of around 20 applicants passing their two year course in December 2020 and celebrating their official registration with the NMC at a virtual event on 21 April.
Many of the graduates are now enjoying full time roles within the NHS, providing a vital part in the wider healthcare team and playing an integral role in the nursing structure.
Nursing Associate, Kelly Reynolds was part of the WKNAC's first cohort and is now in a full-time role with MTW at Maidstone Hospital's Acute Stroke Unit.
Kelly said: "The role interested me as my ambition has always been to become a nurse, my maths held me back in joining university without going back and re-studying. This course accepted my key skills and to me it feels like the door has now been unlocked to continue in my career development.
"Not only has it opened up a whole new level of my career but I've been able to work, earn and study doing what I love. I would have regretted turning such an opportunity down. I have adapted to a new way of working, seen different ways of learning, and worked as a part of a team in a current ever-changing department. It's an opportunity with huge potentials."
At the end of two years training, nursing associates like Kelly, will have a foundation degree, and once they register with the Nursing and Midwifery Council, they become a fully registered nursing associate and can then continue their career pathway to advance to becoming a registered nurse or continue developing within the NA role.
Kelly continued: "It was a hard two years, lots of ups and downs mostly due to the Covid-19 pandemic. But if nursing is not only a job but an ambition, then this course is ideal. It gives support, on the job training as well as providing a key role in the outstanding care given to our patients.
"With the role, I gained knowledge, confidence, understanding and even more passion for my job than I thought possible. It's such an achievement not only to say we did it but we did it in a new role, during a pandemic and we were the first!"
Read more about the Nursing Associate role here and find out more about careers at MTW.