Want to know what it's like to be treated and cared for at one of our hospitals? Read about some of our patients' positive experiences here.
Rebecca Older from Maidstone was diagnosed with breast cancer in 2014 and underwent a mastectomy followed by radiotherapy and chemotherapy at Maidstone Hospital. Rebecca is a fitness instructor with the international fitness company, Les Mills, teaching RPM (indoor cycling workout), GRIT (high-impact cardio workout) and Body Combat classes.
Here, we talk to Rebecca about her experiences and how she used exercise as a powerful tool to help her cope with the emotional and physical effects of cancer and treatment. Rebecca said: "My diagnosis in 2014 showed that the cancer in my breast had spread to my lymph nodes and I underwent six sessions of chemotherapy on the Charles Dickens Unit at Maidstone Hospital. To start with I found chemotherapy very frightening but the staff helped me to overcome my fears and supported me throughout my treatment. As I underwent more treatment I was able to help other patients like me who were also scared of what was to come. Read her inspirational story.
---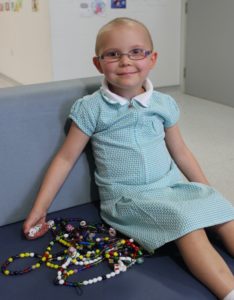 Beads of Courage help young patients cope with serious illness. Lucy and Chris Fox, two of the founders of the local charity, Megan's Wish List, came into the unit at Tunbridge Wells Hospital to present a generous donation to staff and Jasmin Turner, with her mum, Lizzie. The charity aims to raise money to help local children and teenagers who are suffering with lifechanging illnesses and disabilities. The money will be used to allow the children's unit to continue to sponsor 'Beads of Courage' – a special initiative to help children receiving treatment for childhood cancer. Each time a young person has a procedure, test, or treatment for their illness, they are given a bead. The colour of the bead signifies what has happened – for example, white beads relates to having chemotherapy, light green beads are for scans such as x-rays and MRIs, and yellow beads mean an overnight stay in hospital. The beads help children to make sense of the experience they are going through and research has shown that programme has helped to decrease illness-related stress and increases the use of positive coping strategies. Read about Jasmin's tale of hope.