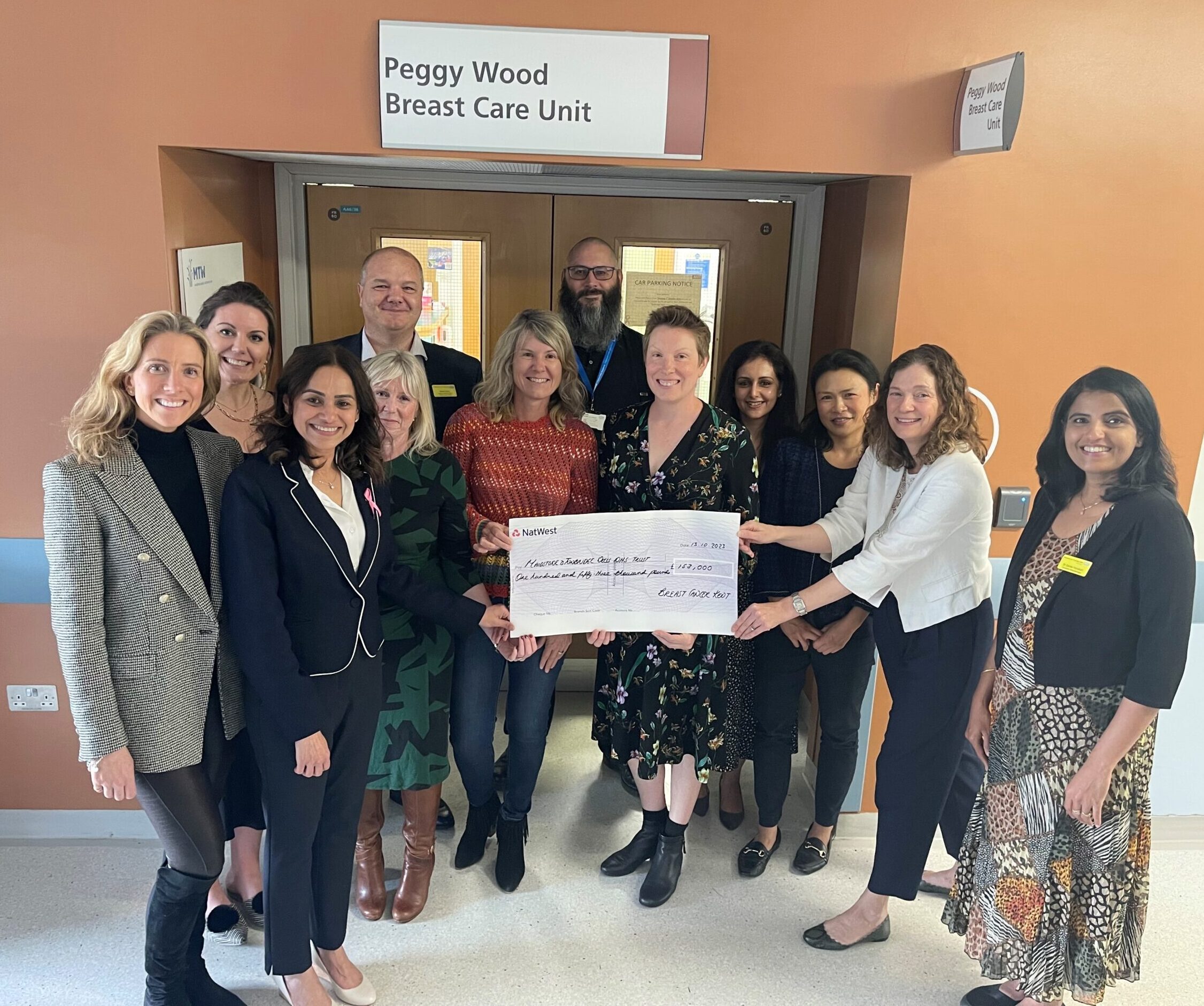 After making the trip from Kent to Kilimanjaro and taking on Africa's highest mountain, local MP and former patient Tracey Crouch visited the Kent Oncology Centre to present a cheque for £153k. The money raised during this mammoth fund-raising climb will fund new cancer technology to support patients across Kent and Medway.
Tracey teamed up with six women, including Consultant Breast Surgeon Deepika Akolekar, who works in the Peggy Wood breast unit which is run by Maidstone and Tunbridge Wells NHS Trust. The intrepid gang of seven reached the Uhuru peak in seven days – an impressive 5895m above sea level.
The money, donated to Breast Cancer Kent, will go towards purchasing a state-of-the-art Faxitron machine which will be based in the pathology department at Maidstone Hospital.
The machine will speed up the diagnosis time for patients who are being tested for breast cancer.
The Chatham and Aylesford MP, visiting during Breast Cancer Awareness Month, talked to hospital staff about her epic challenge and met the clinical teams who work in one of the top performing cancer centres in the country.
Tracey – who was treated for breast cancer in 2020 – also visited the Trust's innovative Care Co-Ordination Centre. Described as 'mission control' it uses real time data to monitor the Trust's 700 beds to improve the movement of patients through its hospitals.
This has significantly reduced the amount of time a bed is empty, the time a patient spends in the Trust's Emergency departments before they are moved to a bed and ensures patients arriving by ambulance are quickly moved into the department.
Deputy Chief Executive for MTW, Steve Orpin, said: "We want to thank Tracey and all the climbing group for their wonderful support. We know waiting for test results is a worrying time for patients and the new machine will enable them to get their results more quickly.
"The commitment and selfless effort from the group will continue to ensure our patients have access to the best possible care and help us build on the progress we have made in the last few years in becoming one of the best performing cancer centres in the country."
The Kent Oncology Centre cares for more than 600 patients a day and Tracey said: "Early diagnosis is vital and I'm so pleased to have been a part of this group who have raised such a huge amount of money. I know this specialist equipment will help so many patients in the future."
"I received excellent care from the Kent Oncology Centre for my own cancer journey so it has not only been fantastic to support my local services but also come back and see some familiar faces and hear more about the recent developments the Trust has put in place."
Deepika Akolekar, Breast Consultant for MTW, said: "I am humbled by the generosity of people who have donated towards this cause. It was the most challenging but amazing experience of my life!"
Find out more about how you can fundraise to support hospital services at MTW.