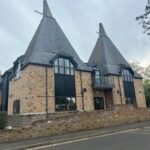 Located away from the main Maidstone Hospital site, at Hermitage Court in Hermitage Lane our West Kent Community Diagnostic Centre provides CT, MRI, DEXA, X-ray, ultrasound, and respiratory and cardiology diagnostics and a faster, more convenient service for our patients.
Your GP or hospital doctor may ask you to attend our Community Diagnostic Centre to have tests or scans that will help us provide you with the best care and treatment.
Community diagnostic centres provide extra capacity for tests and scans in the community away from busy hospital sites.
Each year the Centre will provide
48,000 X-rays
35,000 ultrasound scans
8,500 DEXA (bone density) scans
7,000 respiratory diagnostic tests
6,500 cardiac diagnostic tests
Location
Getting to the centre: the Community Diagnostic Centre is located in Hermitage Court, off Hermitage Lane in Barming, ME16 9NT. You can download a map to help you find the centre.
There is free patient parking outside the centre, which is also close to Barming train station and local bus routes.
What 3 words: ///splice.logic.daring