What is Kangaroo care?
'Kangaroo Care' is also known as 'skin to skin contact'. It involves placing a baby skin to skin against their mother or father's chest immediately after birth and as much as possible during the next few days and weeks. It is a fantastic way to bond and will help your baby to adjust to new surroundings, calm their breathing and stay warm and close. It is especially important for small and premature babies as it helps their brain to develop and for them to grow and put on weight. It is also very important for women who wish to breastfeed as it will stimulate milk supply and encourage your baby to feed.
Research has shown the following benefits for ALL babies:
Helps to regulate baby's temperature
Helps baby to maintain its blood sugar levels
Helps to calm the baby's breathing and heart rate and recover from birth.
Minimises stress and separation anxiety in a newborn baby. This helps brain development
Helps baby to grow and gain weight.
Helps to initiate breastfeeding and encourages your baby's instinct to feed
Stimulates your own milk supply
Passes the protection of your own skin bacteria onto your baby
Helps parents to bond with their new baby.
How to do Kangaroo care – all births No matter whether you have a normal birth, forceps, vacuum or a caesarean birth, we will do our utmost to ensure that your baby gets the best start possible and help you to enjoy skin to skin contact safely and for as long as you'd like. Your baby will be quickly dried and placed naked onto your bare chest and then covered with a warm towel or blanket to keep them warm and a knitted hat to minimise heat loss through their head. We will also encourage you to have your baby 'skin to skin' as much as possible during the next few days. Simple safety recommendations will also be discussed.  Please see the Kangaroo Care leaflet here.
KangaWraps
No special equipment is needed for kangaroo care – just a mum (or partner) and a baby! However a KangaWrap may be helpful to have your baby skin to skin, whilst keeping your hands free. Click here for more information.
Click here to find out what parents say
National Awards for MTW Maternity Services for Kangaroo care
Our research investigating Kangaroo care won two national awards in 2011 and 2012. The Kangaroo care project was also a finalist at the Royal College of Midwives awards in March 2015 and a finalist at the Kent, Surrey and Sussex Enhancing Innovation through Collaboration Award.
Winners of the All Party Parliamentary Group Maternity Awards 2012. Kangaroo care research team with Anne Milton, Under Secretary of State for Health.
MTW Influencing midwifery and childbirth across the world
Rwanda, Africa Nov 2014 with Bill and Melinda Gates Foundation
The importance of Kangaroo care for low income countries has been recognised by the Foundation, who are collaborating with organisations and individuals from all over the world to accelerate the spread of KMC globally. A member of our MTW Kangaroo care research team was invited to attend and demonstrate KangaWraps at the Foundations' Kangaroo Care Product Forum held in Rwanda.
On going relationship with China organised by Save the Children Feb 2015 and 2020
At the request of Save the Children, the Kangaroo care research team at Maidstone and Tunbridge Wells NHS Trust hosted a visit from Chinese National Maternal and Child health officials in 2015 to hear about our research and see Mums performing Kangaroo care on the postnatal ward, in maternity operating theatre and the Neonatal unit.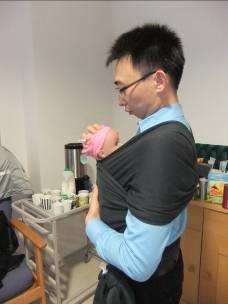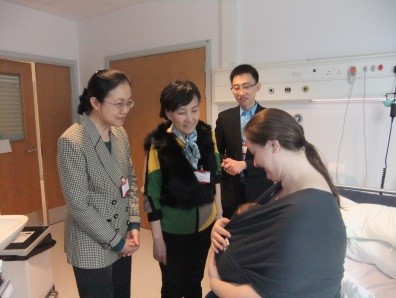 Following the visit 3 members of our Kangaroo Care research team were invited to China to train staff from 8 hospitals across China in Kangaroo care. This was one of the first steps of a program to implement Kangaroo care throughout China within the next few years as part of a program to reduce deaths in premature babies.
In 2020 we were again visited by the team from China who presented excellent progress in introducing Kangaroo care.
Our team are delighted to see how work by our midwives is influencing practice and helping to improve healthcare on a global basis.
MTW Partnership with Trade4life and the KangaWrap Project
 'Giving something back'
We continue to work in partnership with Trade4life, a Charitable initiative set up 5 years ago to bring fairtrade KangaWrap products to market in order to benefit maternal and child health projects in low income countries, provide employment opportunities for women who might otherwise be exploited or unemployed and work with us in promoting Kangaroo care across the UK and beyond. Trade4life is run by volunteers and all profits from the sale of KangaWraps and Kardis are given to maternal and child health projects such as ASHA in Delhi slums and Christian Aid with projects in Kenya, El  Salvador and Honduras.. To date we are proud to have donated more than £70,000 to these worthwhile causes
Please visit the KangaWrap website for more information visit kangawrap.co.uk