This week (6-12 November) is Occupational Therapy Week, sharing what occupational therapy is all about and why it's important. People's health can be impacted by a range of different issues and our Occupational Therapists (OTs) are here to help people to help themselves.
An occupation is any activity that we need, want or like to do to live and to look after our physical and mental health, and our emotional and spiritual wellbeing. Occupation isn't just your job or activities of daily living. We do occupations from the moment we're born, and on our own or with others.
These can be:
self-care: such as washing, eating or sleeping
productive: such as work, study, caring or domestic activities
leisure: such as playing sports, hobbies or socialising.
To celebrate the week, our wonderful OT teams are sharing a daily 'did you know' fact throughout the week about the vital work they do!
Did you know…
… that we have Occupational Therapists working in our intensive care units?
Occupational Therapy roles in ICU are relatively new within the NHS but research shows rehabilitation in critical care has the potential to significantly improve patient outcomes and recovery from critical illness. The Occupational Therapy service work in both Maidstone and Tunbridge Wells hospitals and we now have two part time OTs covering approximately 30 ICU beds!
OTs in ICU assess the impact that a critical illness and ICU admission can have on a patient's physical, cognitive and psychological function and use early rehabilitation to increase a patient's independence. Sometimes it is the smallest change that can make a big difference, particularly to a patient's mood, motivation and sense of dignity. Enabling the patient to independently have a drink, to be able to choose what to wear or make a phone call to family without assistance can be really empowering!
… that we have a successful Occupational Therapy Apprentice Programme?
The Occupational therapy (OT) apprentice programme is an amazing opportunity for therapy assistants who are keen to progress in their career while gaining experience, working and earning at the same time! The OT Apprentice course runs part time over four years with apprentices' time being divided between University lectures, placements and work in practice. Our OTs are currently supporting the Apprentice programme through Canterbury Christ Church University (CCCU).
In 2020 we secured our first OT apprentice places and we now have six apprentices working their way through the programme. Our first cohort are on track to qualify in 2024, which is a huge achievement and great addition to our workforce! OTs have also supported the CCCU programme by providing a variety of placement experiences to OT apprentices from other trusts. We are looking forward to keeping the momentum going and to welcoming and supporting more apprentices in the future.
… that we now prescribe minor adaptive devices?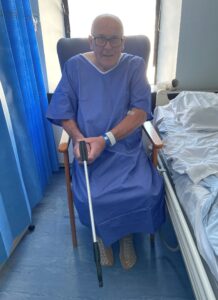 Our Occupational Therapy team have worked with Doug McLaren, Associate Director of Integrated Care Commissioning to identify a selection of small aids that can be provided by Occupational Therapists in our hospitals and within our discharge service to patients to promote their independence with activities of daily living. These include adapted cutlery, long handled sponges, long handled shoe horns, plate guards and sock aids. Providing these small aids to patients has helped reduce length of stay in hospital and promote patient independence.
… and that our teams have been promoting their roles and sharing our projects?
Members of the Occupational Therapy team have recently visited St Augustine's Academy and Skinners Academy to promote working as an occupational therapist. The OTs spoke about the role and how to start a career in Occupational Therapy through Apprenticeship, Bachelor 's or Master's programmes. The team has also been attending some of our own careers events to spread the word.
The team were also invited to present to final year Occupational Therapy students at Canterbury Christ Church University and attended the annual Rise for Disability conference to present to fellow OTs about our recent international recruitment project and developments of the OT role in our intensive care units.
… that we now have internationally-trained Occupational Therapists?
Since 2020, we have recruited 10 internationally trained OTs from the Philippines, Saudi Arabia, Ghana, Hong Kong, India, Sri Lanka and Iran! To support them in their transition to working in NHS and living in the UK, the OT teams have developed bespoke and robust training programmes and pastoral support.
These resources have had such positive feedback that they have now been shared with other Allied Health Professionals (AHP) groups in the Trust as well as with other NHS trusts.
We have also set up peer support groups and a buddy system to provide an opportunity for our new recruits to meet to share their experiences and challenges. The unique skills and experiences our new internationally trained OT's have brought to our teams have enriched our workforce, and we will continue to support them to progress their careers as part of Team MTW!
… that we have Occupational Therapists working in our Therapy Assisted Discharge Service (TADS)?
Our TADS Occupational Therapists are able to see patients in their own homes within 24 hours of being discharged from hospital, enabling therapists to observe patients in their familiar home environment and tailor treatment more accurately.
The OTs approach is person-centred, focusing on the goals established collaboratively by the patient and the therapist. TADS address cultural and individual requirements, respecting the unique needs of each patient. Their home treatment plans and assessment include the provision of essential equipment; assistance with functional activities like bathing, dressing and cooking; and offering guidance and education on things like social engagements and fatigue management.
Our TADS OTs offer student placement opportunities and are actively exploring ways to support occupational therapy apprenticeships, contributing to the development of the next generation of OTs!