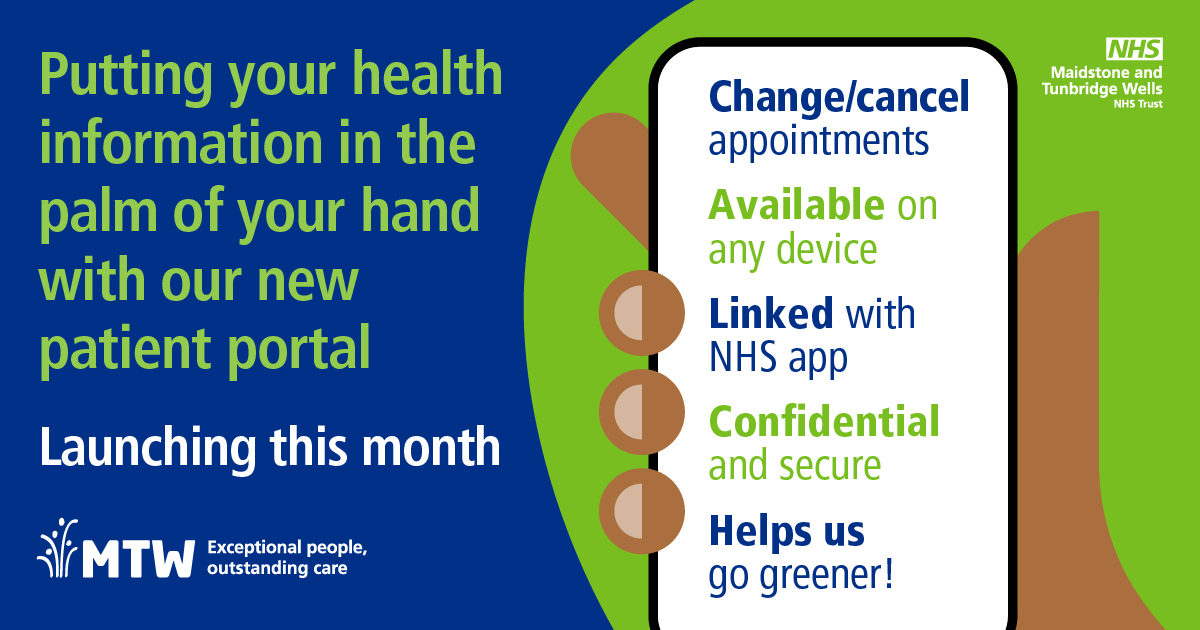 Patients at Maidstone and Tunbridge Wells NHS Trust (MTW) will be able to manage their own hospital appointments with the launch of a new online patient portal this month.
The portal is the latest initiative introduced by the Trust to improve patient care and is accessible on a range of devices and at any time.
MTW is the third hospital trust in Kent and Medway to launch the new Patients Know Best (PKB) portal, with the digital innovation supporting a smoother experience for patients and giving them a single handy place to access their appointment letters and make changes to their upcoming care.
All patients can use PKB to view appointments and appointment letters and request to reschedule and cancel appointments, quickly registering via the NHS app or through PKB's website.
The new portal will also support MTW's green ambitions by reducing the number of letters the Trust sends out.
As the portal develops, patients will be able to look at some test results, questionnaires, and symptom trackers. It will also include features which will enable patients to monitor their own glucose levels, weight or heart readings, share them with their health teams and avoid extra hospital visits.
Sean Briggs, Chief Operating Officer at MTW, said: "Our Outpatient departments see over half a million patients every year and ensuring everyone who comes through our doors receives the best possible experience is our key priority. The portal will play an important role in this and help patients manage areas of their care in an easy and convenient way.
"The portal will go live at the end of October and I would encourage patients to register on our website via the NHS app now so they are ready to take advantage of the full range of benefits when we launch."
Sally Rennison, Chief Commercial Officer at Patients Know Best said: 'One of the aims behind ICS/ICB formation is to unify and improve working across healthcare organisations. The addition of Maidstone and Tunbridge Wells means patients across Kent will have a single portal across three Trusts, ensuring that their record and data follows them wherever they are seen.
"This improves the patient experience and helps health care teams co-ordinate efficient care delivery. The Trust has big, long-term ambitions and we are excited to partner with them to ensure they realise the benefits in every phase."
Patients can register for the service on the MTW website ahead of the launch date on 30 October, where they can also find more information and get the latest updates on the portal.
If you do not wish to use the portal, simply do not sign up and you will continue to be contacted as normal.