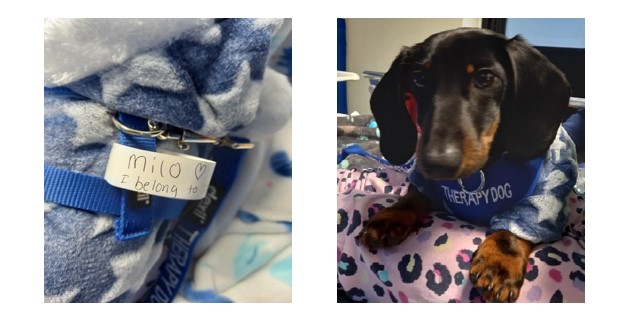 When an anxious young patient was told that she required an endoscopy, it became clear that she was going to require some additional support in order to prepare for the procedure. Cue Vicki Belton from the team of Health Play Specialists at Maidstone and Tunbridge Wells NHS Trust (MTW), with a little help from therapy dog, Milo.
The Trust's team of Health Play Specialists help children and young people understand their medical conditions and treatments, develop coping techniques, distract them during procedures and support their mental health. They create 'patient-centred' plans to introduce a sense of control around what can often feel like scary and unknown situations.
The patient was referred for some play preparation in the run up to the procedure and was so nervous at first that she couldn't even be persuaded to speak to Vicki via videocall. Vicki used picture stories to introduce the concept of having an anaesthetic, showed her the mask and cannula that would be used and told her what to expect. Despite this, the patient remained steadfast, saying, "I like Vicki, but I'm still not having it done."
The turning point came when Vicki was able to arrange for the patient's therapy dog, Milo, to visit the hospital with her prior to the appointment day. This kept her calm and distracted, and made her feel safe. After this, Vicki was able to work with the patient to create a plan that she was happy with, including what she needed to bring with her and even choosing her bed on Riverbank Ward.
On the day, Vicki and Milo were there again to wait for the patient outside the anaesthetic room, and comfort her when she woke after the procedure had successfully taken place. Vicki shared that as our patient was leaving, she gave her a hug and said "thank you for helping me be brave".
"This melted my heart!!" Vicki told us. "This is why I do my job and shows what an important, vital role it is in the hospital, but it is often overlooked."