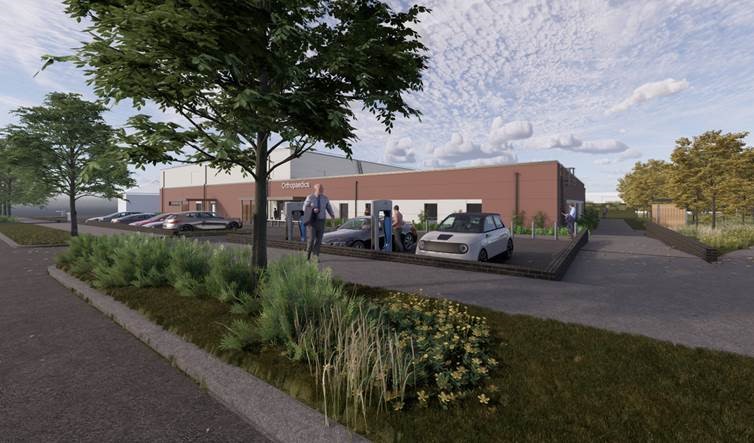 A new surgical hub is on target to open in Maidstone in early 2024 to increase capacity for routine orthopaedic operations such as hip and knee replacements.
The new multimillion-pound theatre complex at Maidstone Hospital, part of Maidstone and Tunbridge Wells NHS Trust (MTW), will provide three operating theatres and 24 dedicated surgical beds to patients undergoing planned orthopaedic surgery for arthritic conditions and soft tissue injuries affecting the bones and joints.
Once complete, the building will be known as the Kent and Medway Orthopaedic Centre. The Centre will treat patients from across the region and will increase the Trust's capacity for planned surgical procedures.
Construction work on the site has started and the building work is progressing alongside a large surgical hub recruitment campaign.
"With innovative techniques, cutting-edge research and the dedication of our exceptional people, the Trust is working hard to reduce waiting times for patients across the region." – Dr Peter Maskell, Medical Director.
The site will be located separately from the main hospital building and Emergency Department. This will enable the new Centre to focus on specially designed care for patients, helping to deliver many more operations and reducing the length of time patients stay in hospital.
Dr Peter Maskell, Medical Director at the Trust said: "The dedicated space and innovative care pathways within the Kent and Medway Orthopaedic Centre will make a huge difference for patients across the region who are waiting for surgery and may be struggling to stay active. The extra theatre space and additional beds for planned orthopaedic surgery will enable faster access to treatment."
The new Centre is part of a national scheme to deliver more than 50 new surgical hubs across England, providing around 100 more operating theatres and 1,000 more beds. It is estimated the new hubs will deliver almost two million extra routine operations to reduce waiting lists over the next three years, backed by £1.5 billion in government funding.
Miles Scott, Chief Executive of Maidstone and Tunbridge Wells NHS Trust, said: "The development of the Kent and Medway Orthopaedic Centre is an important part of our plans to tackle the waiting lists which built up during the COVID-19 pandemic. Building a new hub for orthopaedic procedures and expanding the Trust's surgical capacity will enable patients in the Maidstone and Tunbridge Wells region and beyond to access expert care faster."
A recruitment campaign for the Kent and Medway Orthopaedic Centre is underway with opportunities in a wide range of roles, including theatre staff, registered nurses, newly-qualified nurses and occupational therapists. Additional administrative and support roles will be advertised later in the year.
Staff working in the Centre will have the opportunity to develop their skills and knowledge working alongside specialist nursing and therapy teams, delivering life-changing treatment for patients.
To find out more and apply, visit www.mtwcareers.com.
Engagement events: have your say
Two engagement events will allow patients and carers to help develop patient information materials for those considering treatment in the new Centre.
Patients and/or carers with experience of planned orthopaedic surgery, or those waiting for planned orthopaedic surgery, are welcome to attend. Participation from BAME communities, older people, those with dementia, learning difficulties or a registered disability is particularly welcome.
An in-person event will be held at Maidstone Hospital on Wednesday 14 June at 3.00pm and a virtual meeting will be held on Tuesday 27 June at 6.00pm. Each session will last around an hour and a half, and refreshments will be provided and hospital parking reimbursed for those attending in person on 14 June.
If you would like to take part, email mtw-tr.ppe@nhs.net by Sunday 11 June (including which session you would like to attend) and further information will be provided.