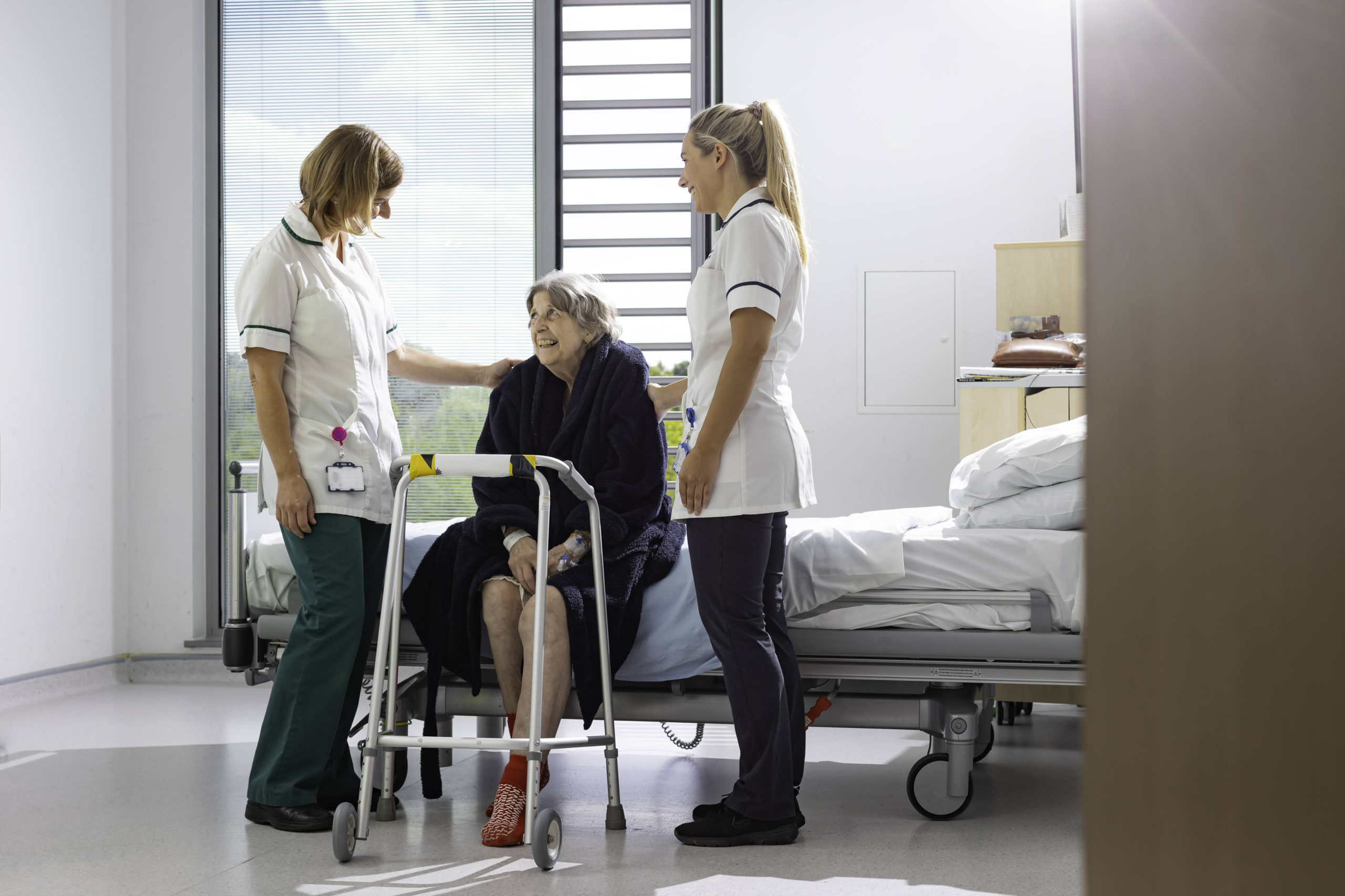 An innovative collaboration between two NHS trusts in Kent is helping hip fracture patients at Tunbridge Wells Hospital receive 'gold standard' treatment according to national guidelines.
Hip fracture is a life-changing injury and the most common reason for older people to need surgery. Around 76,000 people sustain hip fractures each year in the UK and more people are living longer following their injury, which means that there is a growing focus on rehabilitation and recovery.
A collaboration between Tunbridge Wells Hospital, part of Maidstone and Tunbridge Wells NHS Trust (MTW) and Kent Community Health NHS Foundation Trust (KCHFT) ensures that patients are benefiting from care that exceeds the standards set by the Chartered Society of Physiotherapy. This achievement comes in spite of the challenges caused by the pandemic and pressures on the social care sector.
The partnership has been in place for three years and involves teams from the two trusts plus the Therapy Assisted Discharge Service and Kent Enablement at Home, working together to make sure patients get the right care, in the right place, at the right time. This helps patients get home and into familiar surroundings as soon as it is safe for them to do so.
Surgery takes place at Tunbridge Wells Hospital with all patients receiving a physiotherapy assessment the day after their hip surgery. Working together, the two trusts plan the next steps for each patient, providing a package of care tailored to their needs. This means that patients are not only moving out of acute hospital care more quickly, but for those who transfer to a community hospital, 73% of patients then go home and do not need continued hospital care.
The trusts ensure that patients moving to the next phase of their rehabilitation are seen within 24 hours, exceeding the standard of 72 hours set by the Chartered Society of Physiotherapy.
All patients moving to one of the community hospitals receive daily physiotherapy in the first seven days, meeting another of the standards for high quality rehabilitation. These hospitals are often closer to their home, making it easier for relatives to visit, and patients also benefit from being in an environment that makes it easier to socialise and interact with other patients, improving their fitness which helps them thrive when they return to their home environment.
Patricia, 74, fractured her hip and had surgery at Tunbridge Wells Hospital before being transferred to Tonbridge Community Hospital (TCH), part of KCHFT, five days later. Patricia said: "After my operation, I was seen by a physiotherapist on the first day, seen regularly by the surgical team, and on day five I was transferred to TCH…The atmosphere is calm and quiet, and the staff cannot do enough for you. I have had better sleep, good pain control, and have regained my confidence prior to going home."
Tina Cooper, Lead Matron for Trauma and Orthopaedics at Maidstone and Tunbridge Wells NHS Trust, said: "This achievement would not have been possible without the hard work and proactive approach of teams across both trusts. I am really proud of the way that our two organisations have worked together and their dedication to delivering outstanding patient care."
Caroline Essenhigh, Matron at TCH said: "Collaboration with therapy and nursing leaders at MTW has been excellent, with good communication and a willingness to work together to identify issues, celebrate successes and develop solutions."
"The benefits to patients are clear: seven-day physiotherapy provision, rehabilitation delivered by a compassionate and skilled team, and a facility which supports recovery and is easy for visitors to access. We have continued our excellence in discharge planning to ensure that patients are moving from hospital to the right environment in a timely way."
This collaborative approach will continue to benefit patients in the future by helping transfer patients more quickly and safely to community hospitals where this is the best place for them to recover, and helping make sure they get home as soon as possible.