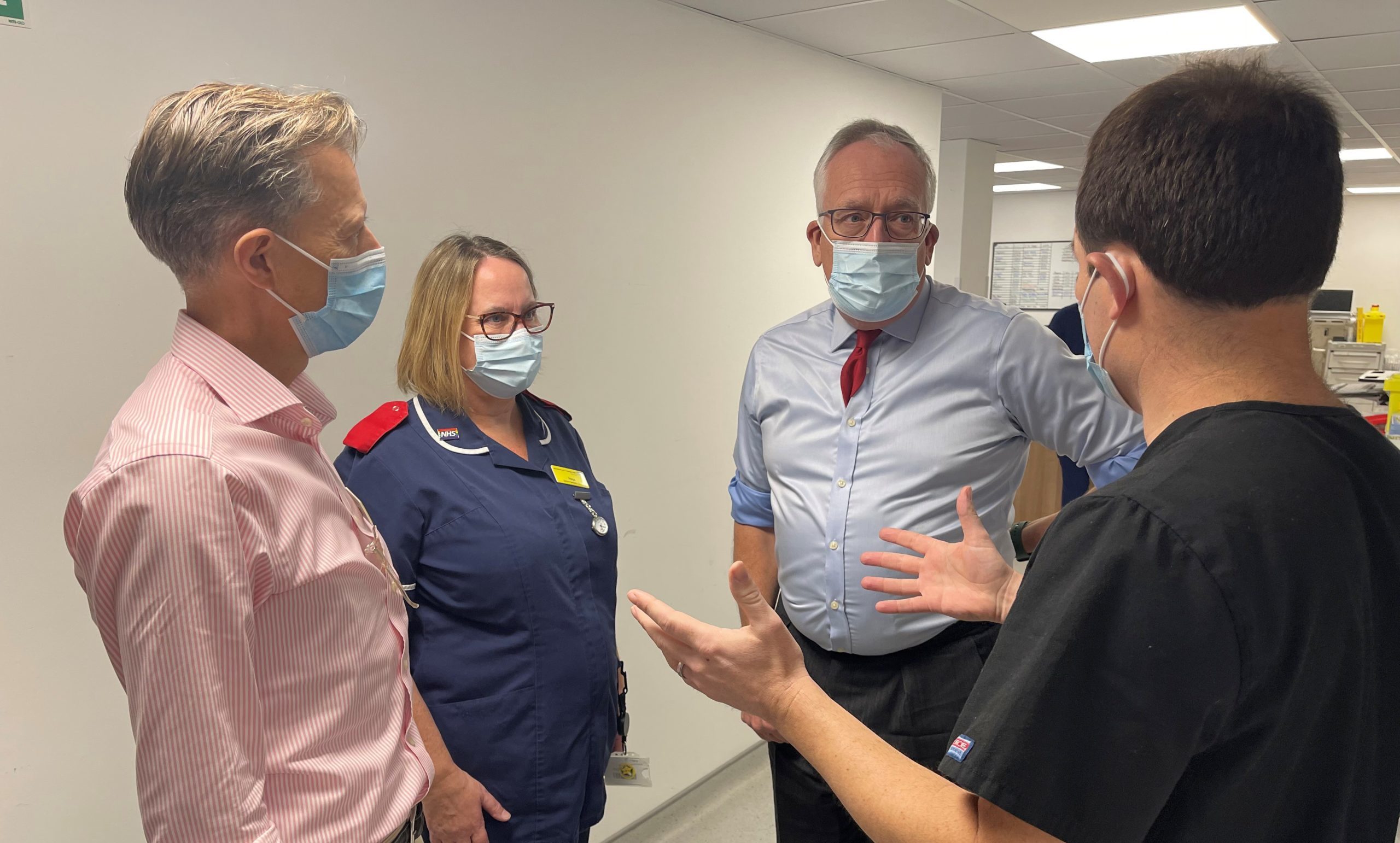 Managing record Emergency Department attendances, new maternity service challenges and innovative ways of working were just some of the topics of conversation last week as NHS Chair, Richard Meddings, visited Tunbridge Wells Hospital on Friday 6 January.
During the visit to Maidstone and Tunbridge Wells NHS Trust (MTW), Mr Meddings was able to step into the busy Emergency Department at Tunbridge Wells Hospital and speak MTW consultants and matrons about the increase in attendances and how the Trust is managing this with new pathways such as Same Day Emergency Care (SDEC).
SDEC enables the Trust to treat patients quickly and get them back home. There are a number of units within SDEC, including a Surgical Assessment Unit, an Ambulatory Care Unit and an Acute Frailty Unit. Patients are taken out of the Emergency Department and placed into the appropriate unit for treatment, either on the same day or at a later date for planned care. Patients can also come directly into an SDEC unit, avoiding the need to go via the Emergency Department.  The Trust is now seeing 500 patients each week through SDEC, helping to reduce pressure on its Emergency Departments and supporting quick ambulance handovers.
Mr Meddings also saw how else the Trust is expanding their service and managing capacity with a tour of the new Children's Emergency Department and a demonstration of the innovative bed management system, TeleTracking.
The system uses real time data to constantly monitor the Trust's 700 beds to improve the movement of patients through its hospitals. This has significantly reduced the amount of time a bed is empty, the time a patient spends in the Trust's emergency departments before they are moved to a bed and ensures patients arriving by ambulance are quickly moved into the EDs.
The visit also included a stop in MTW's maternity and paediatric departments as Mr Meddings was able to speak with staff about recent challenges such as an increase in referrals.
MTW Chief Executive, Miles Scott, said: "To manage this increased demand on our services, on top of our expanded infrastructure, our teams have had to innovate and produce new ways of working so that we are able to continue to offer our patients the best possible care.
"Our bed management system and the development of our Same Day Emergency Care (SDEC) units, help make the very best use of the clinics, wards and specialist skilled staff in our hospitals. Importantly, this also improves our patients' experience, ensuring they get the right care, in the right place at the right time."
NHS Chair, Richard Meddings said: "Thank you to the Maidstone and Tunbridge Wells NHS Trust team for hosting me on this visit. Throughout my day, I was struck by the energy, expertise, and passion for excellent care of everyone I met.
I continue to be impressed and inspired by how teams across very many parts of the country use data, technology, and innovation to tackle some of the NHS' trickiest issues.
During a time of immense pressure across the system, I came away from MTW with a real insight into the huge pressures facing our staff but also an ever-greater appreciation for their fantastic work."
In 2022 MTW treated almost 840,000 patients (including 2,000 Covid patients), saw an increase in cancer referrals and a record 190,000 attendances through the Trust's two emergency departments at Maidstone Hospital and Tunbridge Wells Hospital.
Against this backdrop MTW continues to be one of the best performing trusts in the country. It is one of the only trusts in England to have no long waiting patients (those waiting more than 52 weeks for planned surgery), is regularly in the top five for in the country for emergency department performance and has delivered the national cancer standard each month for over three years.