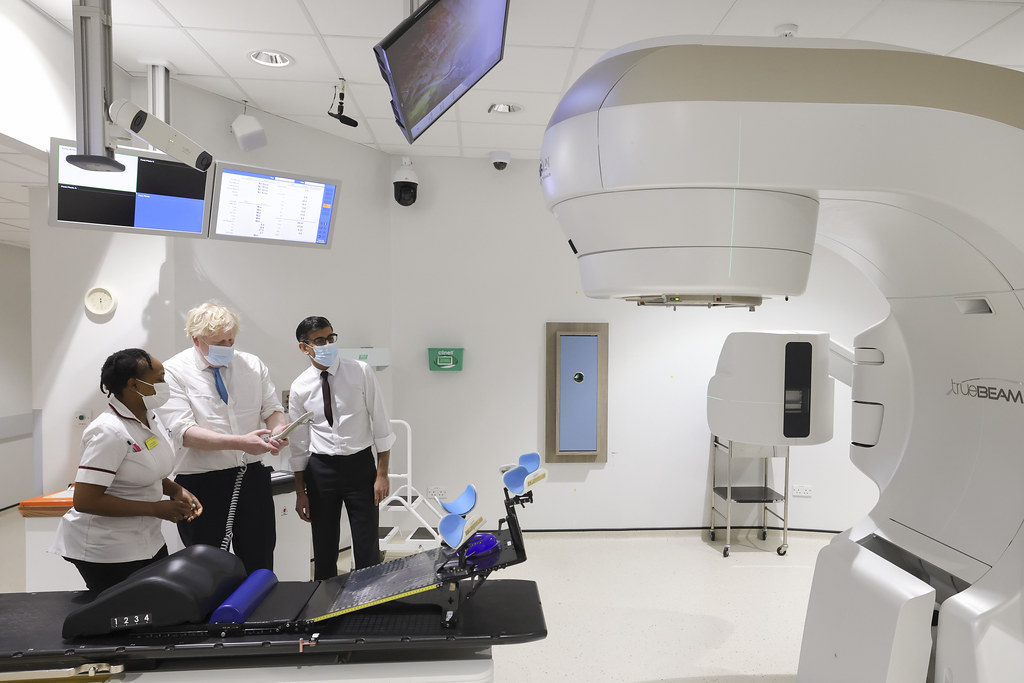 Prime Minister Boris Johnson and Chancellor of the Exchequer Rishi Sunak met staff and patients during a visit to the Kent Oncology Centre at Maidstone Hospital today (7 Feb).
The Prime Minister praised the staff who provide cancer patients at the centre with some of the fastest access to treatment in England.
Mr Johnson said: "It's been fantastic to see how Kent Oncology Centre consistently delivered care to patients throughout the pandemic, with some of the fastest access to treatment in England.
"I want the whole country to be able to meet these standards. We will shortly set out our plan for the biggest catch up programme in the NHS's history so all patients can receive the right care, in the right place at the right time."
The centre is part of Maidstone and Tunbridge Wells NHS Trust (MTW) which is one of only a handful of hospital trusts in the country to meet the national standard for treating cancer patients within 62 days and it has achieved this for 29 months in a row.
The Trust provides specialist cancer services to around 1.9 million people across Kent, Medway and East Sussex. Mr Johnson and Mr Sunak were shown round the oncology centre and chemotherapy therapy day unit by Dr Henry Taylor, Chief of Cancer Services and Consultant Oncologist, and Charlotte Wadey, Director of Nursing and Quality Cancer Services and Lead Cancer Nurse.
Dr Taylor said: "Throughout the pandemic staff continued to safely deliver all cancer treatments. Our clinical teams quickly redesigned patient care pathways and face to face appointments became virtual or telephone consultations. Multi-disciplinary teams also worked together, developing new ways of working which ensured we continued to diagnose and treat cancers as quickly as possible."
The country's senior politicians were joined by local MPs Helen Grant, Tracey Crouch and Helen Whately. The group talked to radiographers and medical physicists in the new multi-million-pound CT and LINAC suites, hearing first-hand about the importance of these machines in diagnosing and treating cancer.
MTW Chief Executive Miles Scott said: "We were delighted to welcome the Prime Minister, Chancellor and our local MPs to our hospital and have the opportunity to show them the outstanding care colleagues provide to cancer patients.
"In the last three years we've developed innovative new treatment pathways and have invested almost £10 million pounds in new buildings, scanning machines, 12 additional cancer consultants and specialist staff training and development.
"We are also opening a new oncology outpatients' unit which will enable us to care for the increasing number of patients referred to us. Work began on this in January and will be completed later this year."
During the visit Mr Johnson and Mr Sunak heard about the excellent progress staff across the Trust are also making with elective care. MTW has reduced the number of patients waiting over 52 weeks down to one in just 10 months.
Mr Scott added: "The achievements at MTW in recent years and our ambitions for the future reflect an incredible team effort from staff across our organisation and are driven by exceptional people providing outstanding care."
Cancer has been a priority throughout the pandemic and the NHS will continue to prioritise cancer services, ensuring that:
People have rapid access to tests for suspected cancer and screening continues
Urgent cancer surgery is prioritised
Cancer treatment is delivered in COVID-secure sites
Patients are involved in decisions around their care
If you have any possible cancer symptoms you're worried about, contact your GP without delay – they will want to see you.