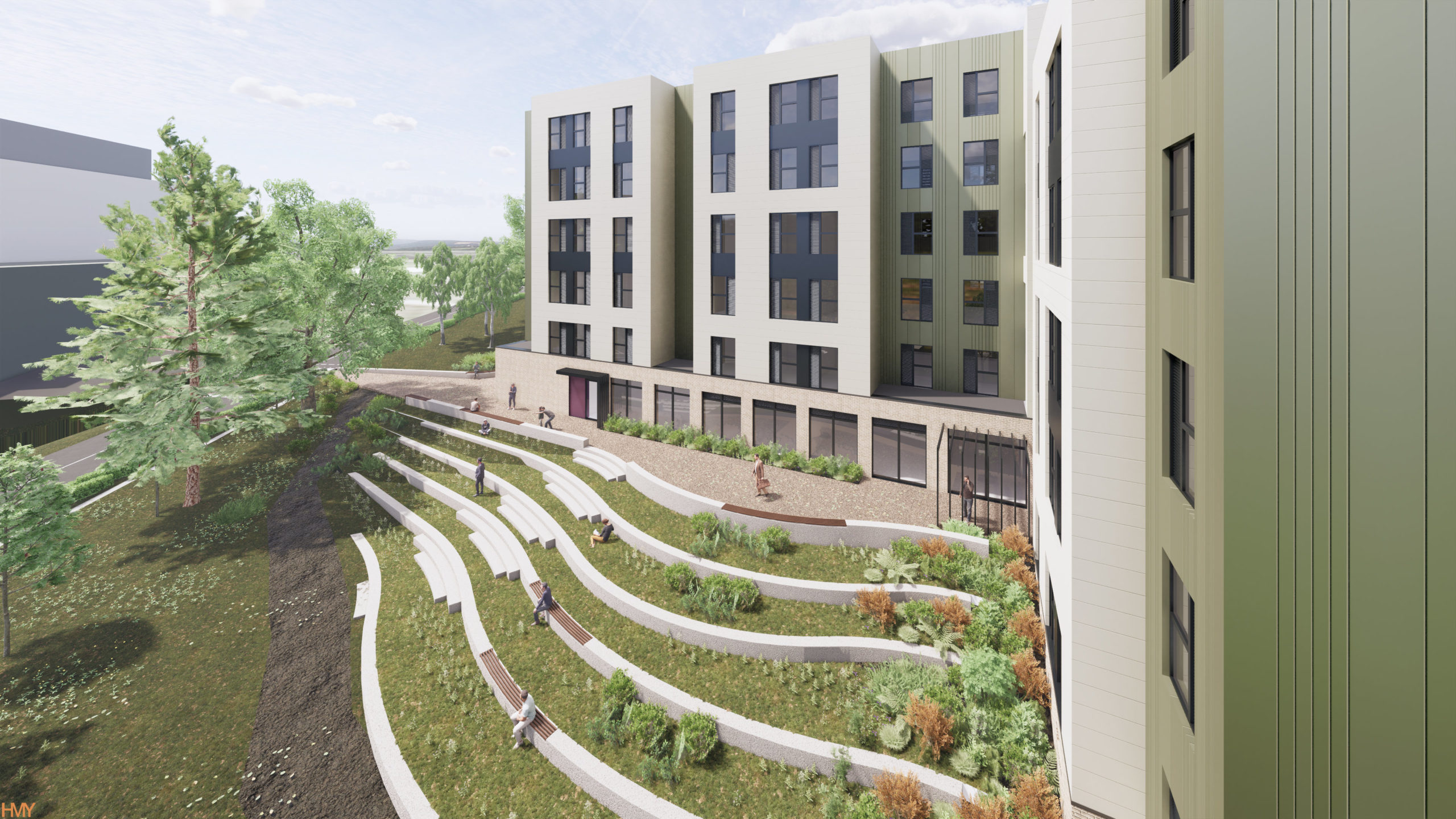 Plans to build accommodation for up to 145 medical students and trainee doctors, plus an academic teaching building at Tunbridge Wells Hospital, have been given the go ahead.
Construction work to create the six-storey high building next to the hospital is expected to start at the beginning of August and completed by next March. It will welcome the first intake of Kent and Medway Medical School (KMMS) students in September 2022 so they can undertake their clinical placement with the Trust in years three, four and five of their degree.
KMMS, which opened its doors in September 2020, will provide the Trust with approximately 40 students in the first intake. Once fully established, it will place 120 additional medical students with MTW each year – a 315% increase in the total number of students the Trust currently takes. The students and junior doctors will be split between the Trusts' two hospitals with slightly more based at Tunbridge Wells Hospital due to the wider range of specialities on that site.
Students need to live close to their clinical placement so they have direct access to a wide range of medical and surgical services to complete their studies. Living on site removes the need for students to travel by car to and from the hospital for their course activities as they can access the hospital by foot. A free staff bus service is also available should they need to travel to Maidstone Hospital.
Dr Peter Maskell, Medical Director at Maidstone and Tunbridge Wells NHS Trust, said: "We are looking forward to building work starting and welcoming the first intake of KMMS students next year.
"Providing high quality student accommodation and teaching space within the grounds of the hospital will help attract future generations of doctors and medical students to MTW as they can live, learn and work close   to their clinical placement.
"By providing students with a good experience during their training it is hoped they will stay with the Trust once they have qualified. This will lead to an increase in the number of medical staff employed by MTW and provide an essential boost, not only to improving local health and care but also contributing towards the future resilience of the NHS."
MTW has set out to achieve a Building Research Establishment Environmental Assessment Method (BREEAM)* rating of 'Excellent'. BREEAM is a voluntary green building sustainability rating system for assessing the environmental performance of buildings. If achieved, it will place the building within the top 10% of new non-domestic buildings in the UK to receive the rating.
The ground floor of the building will house the academic space – a learning hub, private study, offices and toilets – as well as two six bedroom flats. Floors one to five will be entirely student accommodation made up of six, five or four bed flats, all of which will have a communal kitchen, dining and living area and an ensuite attached to each bedroom. In addition, eight wheelchair accessible flats will be provided – two on each floor – from the first to the fourth floors.
On the roof there will be solar panels plus a green roof on the south east wing of the building. The existing picnic area to the front of the building will be retained and enhanced with a new meadow grass terraced bank with seating and the existing woodland walk will be extended. A green wall, planting and raised beds will be installed on the north east of the site along with a hedgerow to separate the drop off area, and 74 bicycle spaces will also be provided on site.
Chris Holland, Dean of Kent and Medway Medical School, said: "The development of a student accommodation and teaching campus at Tunbridge Wells Hospital makes it clear how committed to high quality education the Trust is.
"Providing an excellent placement experience is a crucial part of our shared vision to train and retain doctors in our region. This building will give students from Kent and Medway Medical School, and students from other medical schools and health programmes, the facilities and accommodation they need to support their studies.
"The school and our placement provider partners from across the region are focused on enabling our graduates become the future doctors we are working together to train."
Tunbridge Wells Borough Council Leader Tom Dawlings said: ''If nothing else the past year or so has reminded us of the vital role the NHS plays in our lives. This development is important as it will have a long-term positive impact on staffing in the NHS and I am very pleased that the Council's Planning team got the application processed and to the Committee as quickly as possible."