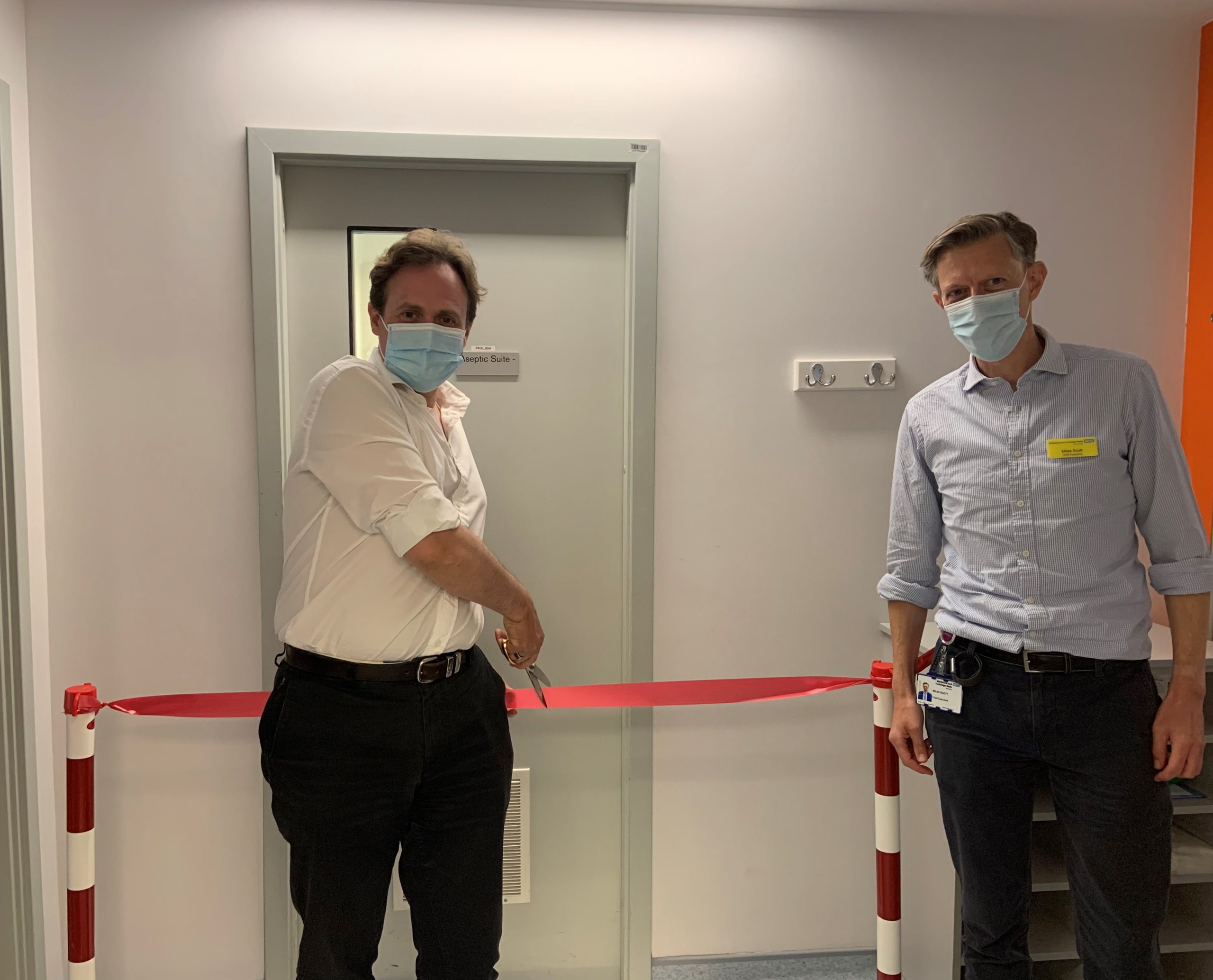 Maidstone and Tunbridge Wells NHS Trust (MTW) has upgraded facilities within the Pharmacy Aseptic Unit at Tunbridge Wells Hospital to meet the growing demand for injectable chemotherapy products used by cancer patients as part of their treatment plan.
The demand for these products continues to increase at a rate of 5% each year, in line with a growing population, and the modern and resilient Aseptic Unit will enable the Trust to meet the needs of patients requiring these medicines.
The Aseptic Unit provides a sterile controlled environment for preparation of specific injectable medicines such as chemotherapy, monoclonal antibodies* and for use in clinical trials.  The new facilities now include a total of six isolators**, which has resulted in a 70% increase in the production capacity of injectable products. In the future, the Unit could also be expanded to include other non-chemotherapy products such as Central Intravenous Additive Services (CIVAS)***. This would provide injections in a ready-to-administer form for patients on the hospital wards, to improve safety and free up nursing time.
The Aseptic Unit was officially opened today (Friday 25 June 2021) by Maidstone and Tunbridge Wells Chief Executive, Miles Scott, and local MP for Tonbridge and Malling, Tom Tugendhat.
Mildred Johnson, Clinical Director of Pharmacy and Medicines Optimisation at Maidstone and Tunbridge Wells NHS Trust commented: "The modern Aseptic Unit facilities align with the response to calls for aseptic service transformation by Lord Carter and the National Aseptic Service Transformation Board.
"It enables us to provide an even greater range of injectable products to support the treatment of more patients onsite within the Trust.
"The Oncology Pharmacy team has worked tirelessly over the last year to bring this project to fruition and enable us support the treatment of our patients, particularly those undergoing treatment for cancer."
*Monoclonal antibodies (mAbs)- Are an antibody made by cloning a unique white blood cell. Monoclonal antibodies are being used to treat some types of cancers and autoimmune conditions like rheumatoid arthritis.
 **An Aseptic Unit Isolator is a type of clean air device that creates an almost complete separation between a product and its production equipment, technical personnel, and surrounding work environment.
*** Central Intravenous Additive Services (CIVAS) provide injections in a ready-to-administer form from the pharmacy and avoid the need to prepare injections on hospital wards under non-aseptic conditions by ward based staff.