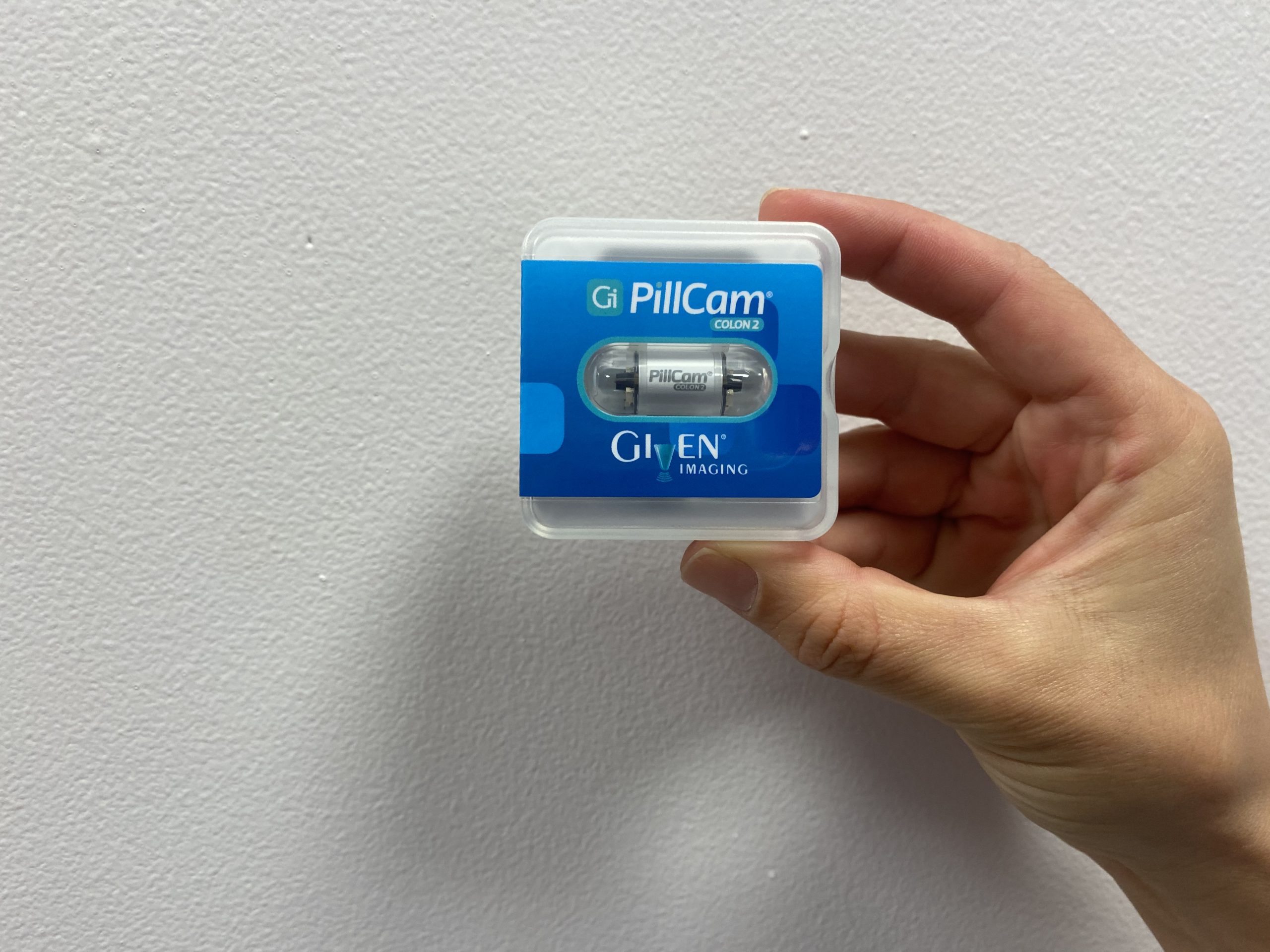 Maidstone and Tunbridge Wells NHS Trust (MTW) is the only organisation across Kent and Medway taking part in an innovative new pilot where patients swallow a tiny camera to check for signs of cancer, providing a diagnosis within hours.
Patients with symptoms of potential bowel cancer are referred by their GP for treatment with the imaging technology, known as a colon capsule endoscopy, which is completely painless and comes in the form of a capsule no bigger than a standard vitamin tablet.
Traditional endoscopies take place in a hospital using an endoscope – a long, thin flexible tube which has a light and camera at one end. These can be put into the body through the mouth or bottom. This new technology means that people spend a very short time in hospital, swallow a capsule and can then go about their normal day, carrying out everyday tasks such as going to work and driving.
After swallowing, the camera takes 5-8 hours to travel through the patients' system, taking two images per second. Clinical staff then download the information via the data recorder strapped to the patients' waist.
The high resolution images are then analysed to detect signs of cancer and other conditions such as Crohn's disease.
The pioneering device provides an innovative alternative to treatments such as colonoscopies which can sometimes be uncomfortable, require a sedative for the patient and a longer stay in hospital.
Dr Laurence Maiden, Chief of Medicine and Emergency Care for MTW, said: "We are always looking for new innovations to enhance the patient experience and ensure we are constantly developing and evolving the outstanding care our teams at MTW deliver.
"The colon capsule comes with remarkable benefits to the patient, such as reducing their time spent in hospital and giving them more freedom to carry on with their normal day."
Dr Henry Taylor, Chief of Cancer Services at MTW, added: "During the Coronavirus (Covid-19) pandemic we were proud to continue all our cancer treatments as normal and as we continue to prioritise cancer care, this latest innovation will ensure people can get the checks they need and conveniently.
"These cutting-edge cameras are small but they will make a huge difference for patients and as always we encourage everyone who has any symptoms of cancer to help us to help you and not delay treatment – we are ready and here to help you."
After becoming the only Trust in Kent and Medway to be part of an innovative pilot scheme where patients swallow tiny cameras to detect bowel cancer, the Endoscopy Team have recently featured on the BBC South East news to talk more about the service.
MTW provides cancer services to around 1.8 million people across Kent, Medway and East Sussex.