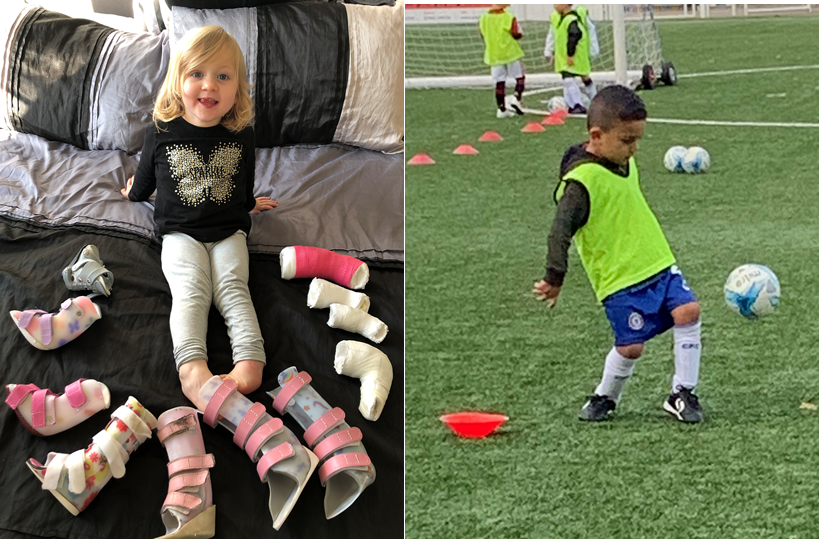 Have you heard of clubfoot? It is the most common musculoskeletal birth deformity and over 200,000 babies are born with the condition worldwide each year. Each year MTW helps some 750 patients who receive treatment for this lower limb condition.
Today (3 June) is World Clubfoot Day and it aims to raise awareness about clubfoot (also known as talipes), a condition where a baby is born with a foot, or feet, that turn in and under. The date was chosen to commemorate the birthdate of Dr Ignacio Ponseti (1914-2009), the developer of the Ponseti Method to treat clubfoot.
A specialist team at Maidstone and Tunbridge Wells NHS Trust (MTW) use the Ponseti Method – a non-surgical treatment that includes gentle manipulation of the feet followed by the application of plaster casts and temporary bracing.
At just two weeks old in 2017, Matilda Priestley from Edenbridge, started treatment at Maidstone Hospital for her complex clubfoot deformity with Ponseti manipulation and serial casting being used to correct her foot deformity.
After undergoing a tenotomy (tendon release) at 12 weeks of age to release the Achilles tendon, due to the complex nature of her foot deformity Matilda was unable to follow the exact Ponseti boots and bar regime. Known as a "clubfoot brace" this technique keeps the clubfoot (or feet) in the corrected position and ensures it doesn't twist back. Matilda's treatment instead continued with custom made specialist splints followed by a shoe raise to aid her mobility.
In 2019 further surgery was required to lengthen the tendons in Matilda's leg and release her heel, followed by six weeks of being in a cast, to assist a flat position of the foot. The casting process continued every month to change and improve the position of Matilda's foot. You can watch Matilda's journey here: https://www.youtube.com/watch?v=51A0bL1dFgs 
Matilda's mum, Carly Priestley, commented: "Although it has been a very long journey to get Matilda's foot to where it is today and there will still be more surgery in the future, none of Matilda's problems have ever impacted her zest for life.
"She was crawling around at 7 months, walking by 13 months and climbing out of her cot at 16 months! It literally has never held her back.
"We have a great relationship with the Ponseti team at MTW, they are all always so helpful and supportive. They've been involved with Matilda since she was two weeks old so all know her well.
"This is a real help as now Matilda recognises them and as she gets older she has a greater understanding of what's happening, so seeing the same team at MTW makes it easier to explain treatment plans to her."
Another patient treated by the team at MTW, is Blakely Meades from Maidstone. Diagnosed with clubfoot as a newborn baby he has undergone five years of treatment using the boots and bar technique.
Gurmit Meades, Blakely's mum said: "The journey hasn't been easy as you expect your baby to be born perfect in every way and initially it was difficult to picture the end of the treatment.
"Throughout Blakely's journey, the team at Maidstone Hospital have provided a lot of reassurance about the treatment plan and we are very thankful for the fantastic support they have given us over the last five years – it really helped us get through it as a family.
"Blakely starting walking before his first birthday, and he's now out of boots, he can ride a bike and his great passion in life is football!"
Shubhra Kamat, Lead paediatric orthopaedics practitioner physiotherapist at MTW, said: "We have a fantastic team at MTW who are committed to delivering outstanding patient care and supporting families throughout their journey.
"What I love most about my role is working with the team and helping to improve the quality of life for the children and families we treat and seeing the smiles on their faces as they run and play".
If you would like to find out more and meet the expert team at MTW, visit our website for further information https://www.mtw.nhs.uk/service/trauma-orthopaedics/clubfoot/