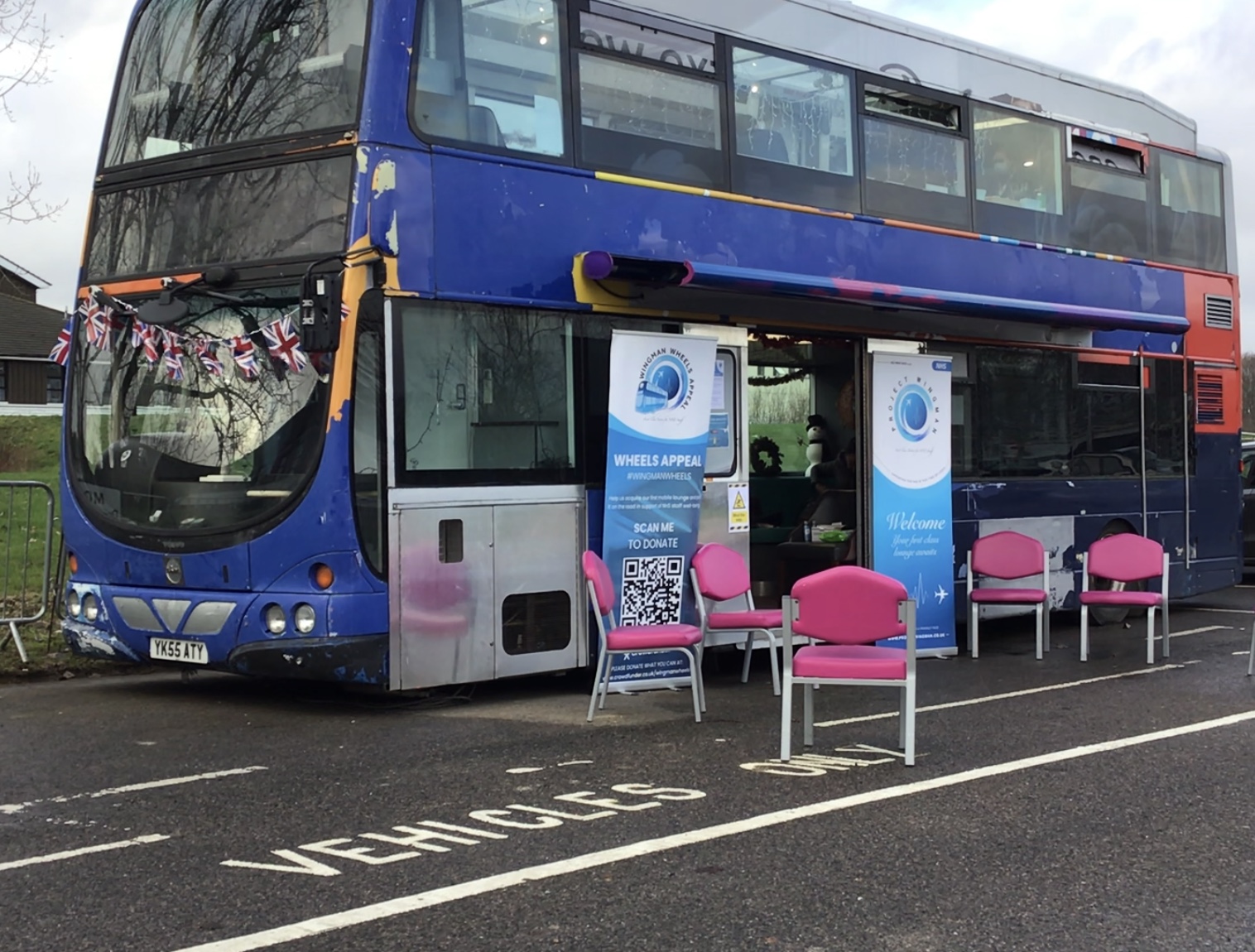 A new mobile lounge which will be touring the country to deliver a first class resting space for NHS staff to recharge before, during and after their shift, is making its first stop at Maidstone Hospital.
Project Wingman, an independent, NHS support initiative launched by members of the airline community in April 2020, arrived on site at the weekend and will provide the service in the form of double decker bus. It will be located at the rear of Maidstone Hospital, behind the Peggy Wood Breast Care Centre, from Monday 14 December until Tuesday 22 December.
Staffed by local furloughed and grounded cabin crew volunteers, it will provide a new relaxed and informal space, without the need for using hospital space, for staff to enjoy a break from work and receive food and refreshments.
During its visit the mobile service will complement the Project Wingman lounges which were established at both Maidstone and Tunbridge Wells hospitals back in May to provide a luxury space for staff to take a break and enjoy refreshments. Over the last seven months, the project continues to be delivered by furloughed and grounded air crew volunteers – some of which have since gone on to find employment with MTW NHS Trust.
Cheryl Lee, Director of Workforce at Maidstone and Tunbridge Wells NHS Trust, said: "The Project Wingman team have been providing fantastic support for our staff during the ongoing pandemic and this new mobile lounge will provide additional breakout space for our staff to take their very much needed breaks.
"We are delighted to welcome the new Project Wingman mobile lounge to Maidstone Hospital and be the first stop on the tour before it starts its journey to other NHS Trusts across the country."
Zoe Ebrey, Media Manager at Project Wingman commented: "We are incredibly excited to be able to showcase our Project Wingman mobile lounge service at Maidstone hospital.  Our two first-class lounges at Maidstone and Tunbridge Wells NHS Trust have been such beacons of success, in part to our amazing volunteers, but also the amazing support of the Trust.
"We continue to be humbled by our volunteers continuing to step up to support our NHS colleagues despite their own uncertain futures, and very much hope our mobile lounge will continue to support the nation's NHS."
Project Wingman has launched a fundraising initiative to fund the acquisition, modifications and branding needed to recreate the first-class lounges in mobile form. The Wingman Wheels Appeal hopes to raise £100,000 and further details can be found here: https://www.crowdfunder.co.uk/wingmanwheels