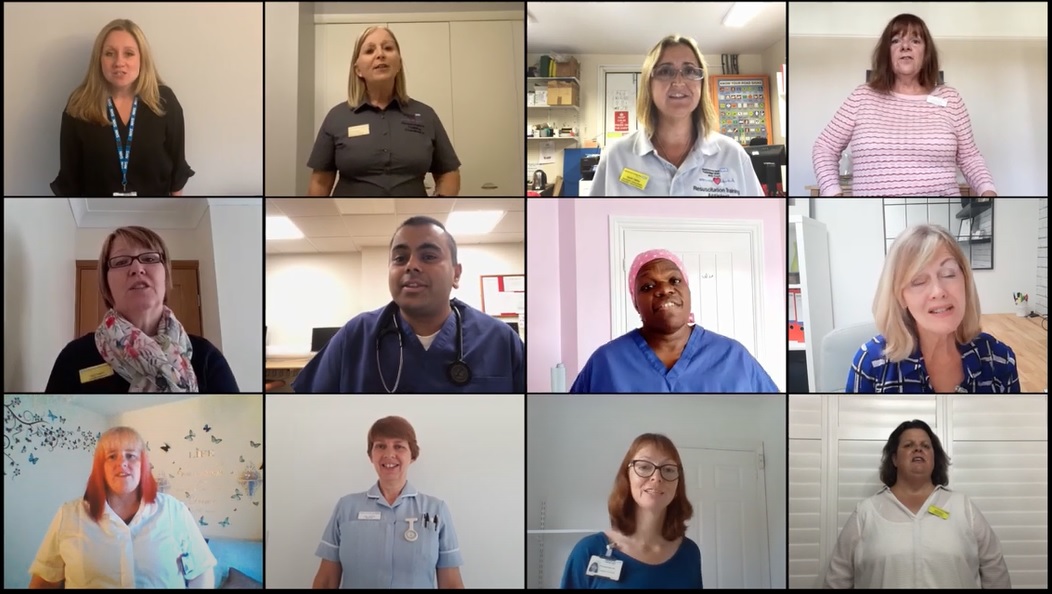 A song to thank the community for supporting key workers during the pandemic has been released by Maidstone and Tunbridge Wells NHS Trust's choir.
The 14 members including Rachael Vass, one of the MTW Choir Coordinators who led on the song, recorded their version of John Farnham's 'You're the Voice' which they not only renamed 'You've Been Great' but also added some alternative Covid related lyrics to as well.
They then used handheld devices and computers to record themselves singing individually so the footage could be edited together for the final video performance which can be viewed here.
It is the second Covid themed song to be released by the choir which is made up of staff members working at all levels across the Trust. Back in May this year they also recorded a cover version of Michael Jackson's hit song 'Beat it' which saw them switch the words to 'Let's Beat It' in a bid to remind the public that they need to do all that they can to help save lives and beat the virus.
SingingNation, who partner with MTW Trust to run weekly staff choirs at both the Maidstone and Tunbridge Wells Hospitals, supported the choir with both projects.
Consultant Paediatric Trauma and Orthopaedic Surgeon, Rantimi Ayodele, who formed MTW NHS Trust's choir, and features in the latest video, said: "The Trust's CEO Miles Scott encouraged the choir to record the song after he praised us for the 'Beat it' song and suggested we compile a song to thank the community for all their support.
"As a choir we discussed possible song choices but it was one of the members, Sarah Oakley, who suggested 'You're the Voice,' as we know the song well and we have always enjoyed singing and performing it together. It was also Sarah who came up with some of the fantastic alternative Covid lyrics.
"Covid has changed the landscape of life for all of us but the public's support for key workers has been inspirational and it has helped keep the staff at MTW going during these challenging times.
"This song is our way of saying 'thank you'."
To help keep the singing members connected during lockdown the choir continues to meet every Thursday between 12.30pm and 1.30pm by holding a video conference call.
Emma Pears, Managing Director of SingingNation, said: "It is a privilege to serve the MTW Trust in strengthening its staff community and well-being through singing together. We love working with the choir and it is needed more now than ever as a way to help staff lower stress levels and connect with each other. We are delighted to support them as they say: "Thank you" to their local community."