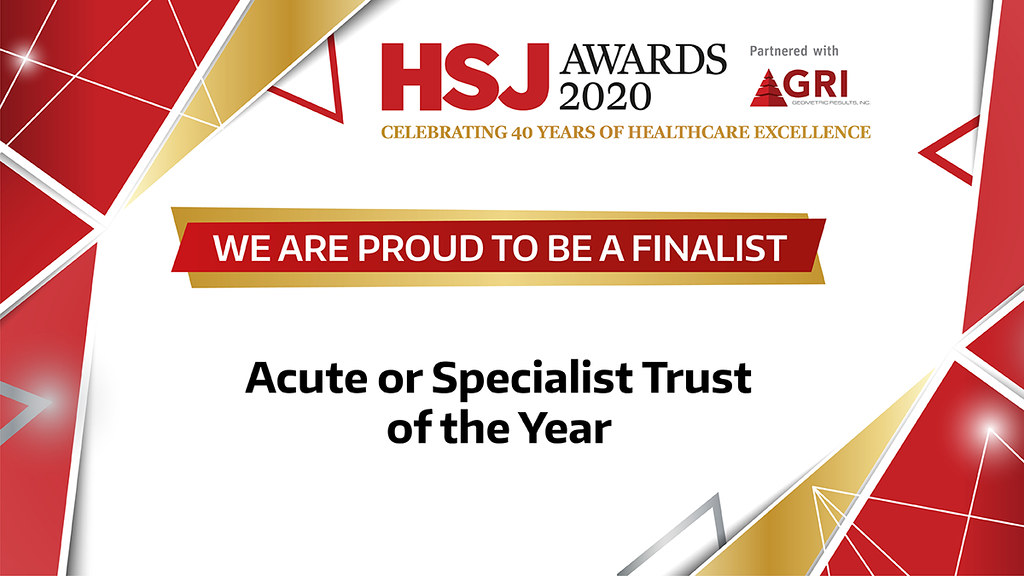 Maidstone and Tunbridge Wells NHS Trust has been shortlisted for Acute or Specialist Trust of the Year at the national 2020 HSJ Awards, recognising their outstanding contribution to healthcare.
MTW has been shortlisted from over 1,000 entries and has been selected based on their ambition, visionary spirit and the demonstrable positive impact that they have had on patient and staff experiences within the healthcare sector.
The judging panel is made up of a diverse range of highly influential and respected figures within the healthcare community including: Sir Bruce Keogh, Chair, Birmingham Women's and Children's FT, Mark Axcell, Chief Executive, Black Country Healthcare FT and Caroline Beardall, Director of Workforce and OD, NHS England and NHS Improvement – South East.
MTW has made huge progress over the past year and is now one of the best performing trusts in the country for emergency care and cancer services – an incredible turnaround from only a few months ago.
The trust has implemented a range of patient and staff-centred initiatives focused around its 'Exceptional People, Outstanding Care' strategic programme to improve the care and services it provides, and make MTW a great place to work.
This has included robust plans to boost financial sustainability, taking the trust out of Financial Special Measures; investment in staff welfare, development and facilities; successful recruitment and retention projects to bring in new talent locally and from overseas; and introducing new ideas and ways of working to make the flow of patients through our hospitals more efficient, freeing up clinicians to give compassionate care to those who need our help the most.
Miles Scott, Chief Executive, said: "We are absolutely delighted to have been shortlisted for these prestigious healthcare awards. It's great to hear that the collaborative efforts and dedication of our staff are being recognised at a national level.
"We have done so much in the past 12 months to put our patients first in everything we do and our staff at the heart of our hospitals. We are committed to delivering improved outcomes for our patients, and to be chosen among the other incredible nominees is a wonderful achievement. This nomination is a tremendous boost to staff at MTW and I am sure it will bolster our continued efforts to improve our services."
Now in its 40th year, the HSJ Awards is the largest annual benchmarking and recognition programme for healthcare. Through a rigorous, fair and transparent judging process the awards produce a roll call of the best organisations, teams and people in the NHS and the wider health sector.
The full list of finalists for the 2020 HSJ Awards can be found on https://awards.hsj.co.uk/2020-shortlist.
Winners will be selected ahead of the ceremony, which will take place virtually in March 2021.