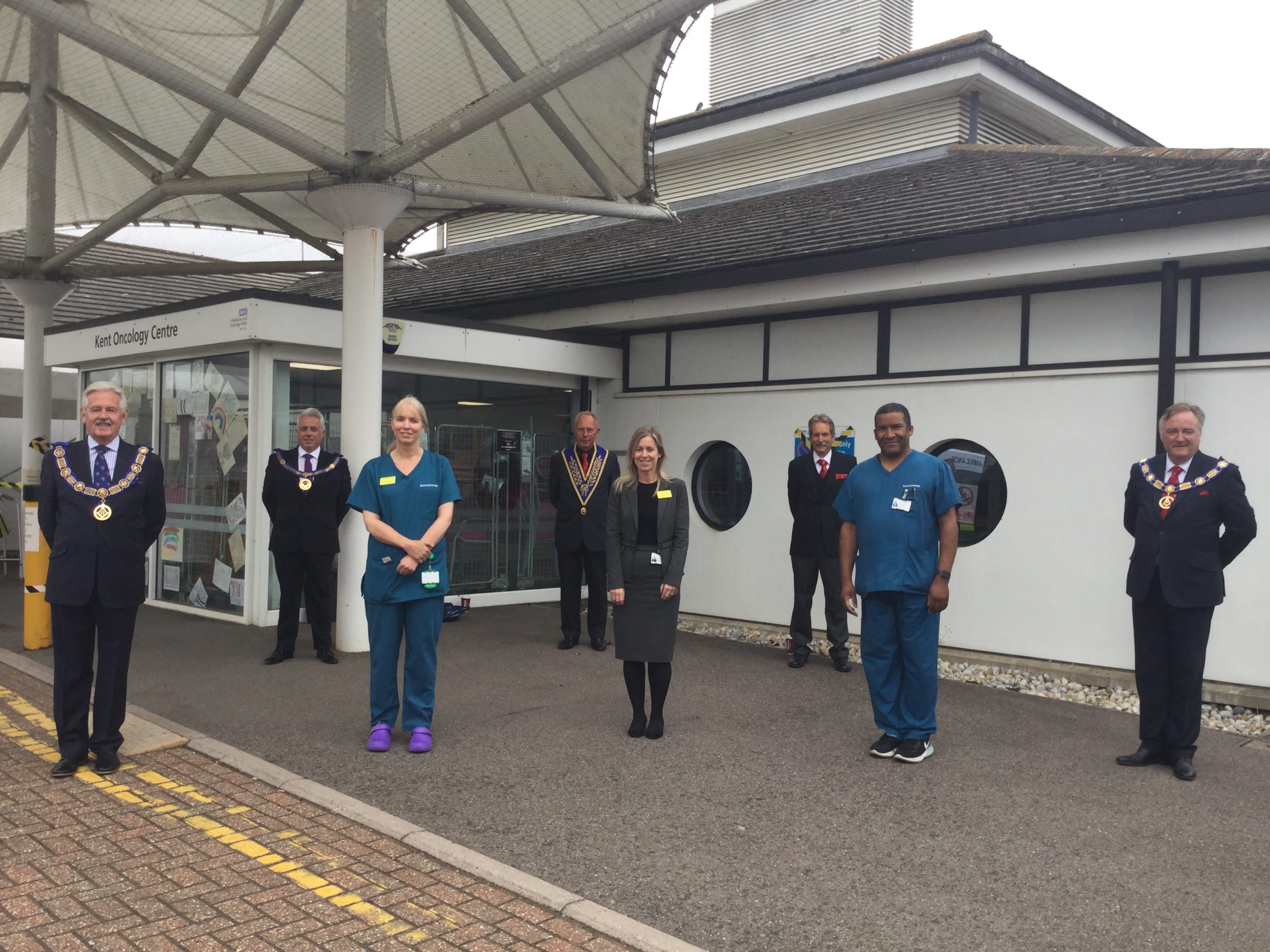 A generous donation from the East and West Kent Freemason Provinces is set to benefit prostate cancer patients in the county.
The two Masonic provinces jointly handed over a donation of £11,621 to Maidstone and Tunbridge Wells NHS Trust's Charitable Fund.
The money will be used to fund state of the art equipment, including an additional IsoLoader, enabling the hospital trust to expand its pioneering prostate Brachytherapy service and treat more patients.
Amanda Williams, Head of Radiotherapy Services, said: "We are incredibly thankful to the Freemasons for this donation and their ongoing support, allowing us to lead the way with treatment in this field.
"By using this equipment and the unique method of delivery, we can continue to deliver world-class cancer treatment to even more patients."
Mr Mark Estaugh Provincial Grand Master of West Kent said: "How wonderful it is that two Masonic provinces can come together and assist in the provision of life-saving care for men in all parts of the county. Truly this is a demonstration of how shared values can benefit all."
Prostate LDR (Low Dose Rate) seed Brachytherapy is a curative treatment for localised prostate cancer that involves permanently implanting the prostate gland with radioactive seeds. Their short-range radioactivity treats the cancer in the prostate only, minimising radiation to nearby organs.
Rather than inserting 100 or so seeds individually, needles, each containing a row of radioactive seeds within a fine plastic strand, are implanted swiftly under ultrasound guidance. During brachytherapy, the IsoLoader is used in the sterile operating theatre to safely assemble bespoke strands of radioactive seeds to optimise the radiation dose throughout the individual prostate gland. Maidstone was the first hospital in Europe to use the IsoLoader.
The Freemasons were given a demonstration of the equipment by the Trust's pioneering Prostate Brachytherapy Team, who expressed their gratitude for support from the Freemasons extending back to their original donation which helped to launch MTW's Prostate Brachytherapy Service in 2006.
MTW is the fifth largest cancer centre in the country and provides specialist cancer services to around 1.8m people across Kent, Medway and East Sussex. The Trust treats people from two sites based at Maidstone Hospital and Kent and Canterbury Hospital, and also runs outpatient clinics across multiple locations in the county.
For more information on fundraising for the Trust, please contact Laura Kennedy, Fundraising Manager, at laura.kennedy8@nhs.net or call 01622 226428.