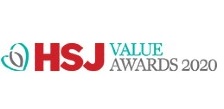 It was a double celebration for Maidstone and Tunbridge Wells NHS Trust after the work of its Finance Team and its Transformation Team were recognised in this year's HSJ Value Awards earlier today (Friday 4 September 2020).
A high commendation award was given to the Finance Team after it was shortlisted for Finance Team of the Year in the Operational and Corporate Category. The shortlisted NHS teams, of which there were five, were asked to showcase the most efficient and innovative projects they are working on that are helping their wider organisations deliver better services and improved outcomes.
MTW's Finance Team was recognised for its commitment to support the Trust's Outstanding Care, Exceptional People organisation wide-change project; supporting the Trust from Financial Special Measures to recurrent surplus within 3 years, as well as the links it has developed with industry, research and national bodies.
The judges said they were impressed by 'how the Trust has transformed the traditional role of finance to integrate and add value to the whole patient pathway through quality improvements and cost savings' and that the Finance Team's involvement regionally and nationally was evident and their desire to influence was strong. They added that their focus on the small things that make a real difference to staff experience was commendable and commented on how they particularly liked the cross specialty working with ophthalmology and orthopaedics to look at the holistic care of the patient adding 'this practice should be shared far and wide'.
Meanwhile the West Kent Alliance (WKA) Musculoskeletal (MSK) Pathway Transformation Team, which MTW's Transformation Team is part of, received a highly commended award for the Musculoskeletal (MSK) Care Initiative of the Year in the Clinical And Medical Services category.
WKA is made up of six NHS partners, including MTW NHS Trust, which all work together with the support of a Joint Programme Management Office (JPMO) to transform and deliver system wide treatment pathways for patients.
It is through this joint approach that the alliance has managed to improve waiting times for MSK patients by ensuring they get patients to the right place first time for MSK services in West Kent acute and community services. This was done by creating a single point of access and clinical decision making unit all of which has resulted in good patient and staff feedback. The changes also resulted in a £1million saving too!
Deputy Chief Executive Steve Orpin said: "To have the work of Maidstone and Tunbridge Wells NHS Trust recognised not once but twice by the HSJ Value Awards 2020 is testament to the work that goes on behind the scenes by teams to help ensure that we always put the patient first and provide them with outstanding care at all times.
"All of this is only possible though thanks to the exceptional people we have working at all levels here at MTW who go above and beyond the call of duty on a daily basis."