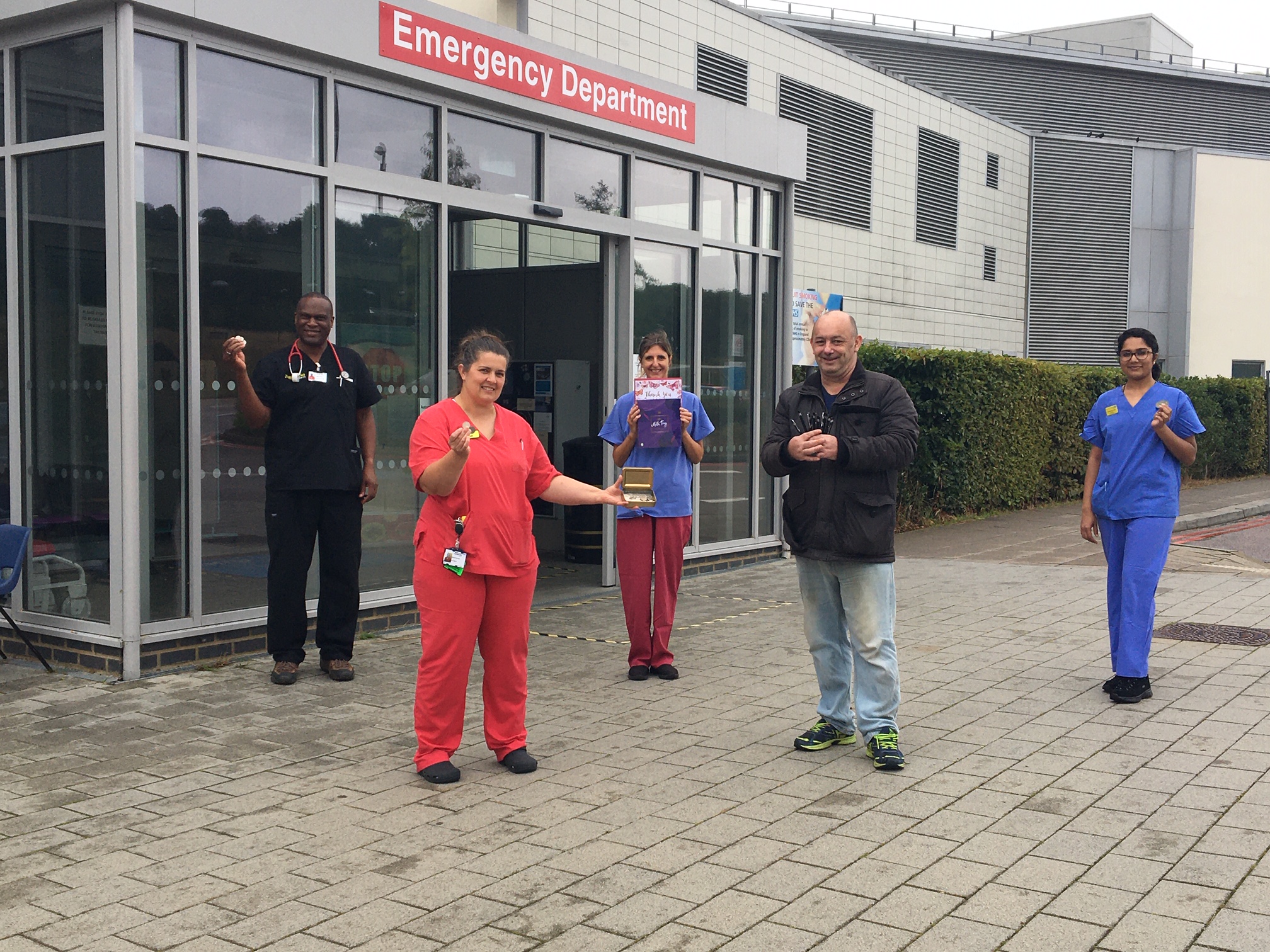 Fifty pence pieces issued in 1998 to mark the 50th Anniversary of the NHS have been gifted by a former patient to staff at Tunbridge Wells Hospital's Emergency Department (ED) to thank them for saving his life.
Coin collector Warren Light was diagnosed with a heart attack when he visited ED at the end of March. He was hospitalised for a total of three days during which he underwent an operation to have a stent fitted to help open one of the valves of his heart which was partially blocked. He was discharged and returned home just two days before the country went into lockdown due to the coronavirus pandemic.
Mr Light, who lives in Tunbridge Wells, said: "It was during this time that I decided to do something to thank the emergency staff that work at the hospital. Lots of people were setting up JustGiving pages, which was lovely, but I wanted to do something which went directly to the staff in the Emergency Department who put their lives on the line every day to help care for people like me during the pandemic.
"As a coin collector I knew a 50p coin was released in 1998 to commemorate the NHS's 50th anniversary so I asked the viewers of my YouTube channel, which I use to showcase some of my coins, to send me some with the aim of then giving them directly to the staff in the hospital's Emergency Department as a gesture of gratitude for all their hard work."
Following the appeal Mr Light received 60 of the special coins. He presented them to some of the ED doctors and nurses at the Pembury-based hospital on Wednesday 19 August 2020. During his visit he also handed over a box of chocolates, a thank you card and some pens. The coins will be washed and sanitised before they are handed out to staff working at all levels in ED.
The 49-year-old father of one added: "All of the staff that cared for me after I had my heart attack were amazing. I cannot thank them enough for all that they did for me so the coins are my way of saying thank you to them for everything they do."
Emergency Department Matron Sarah Harrison said: "We are extremely grateful to Mr Light for the coins. They will certainly put a smile on the faces of our staff who work around the clock to ensure we provide outstanding care to our patients at all times.
"It was also nice for our staff to see that Mr Light has gone on to make a full recovery following his heart attack. We wish him all the best for the future."