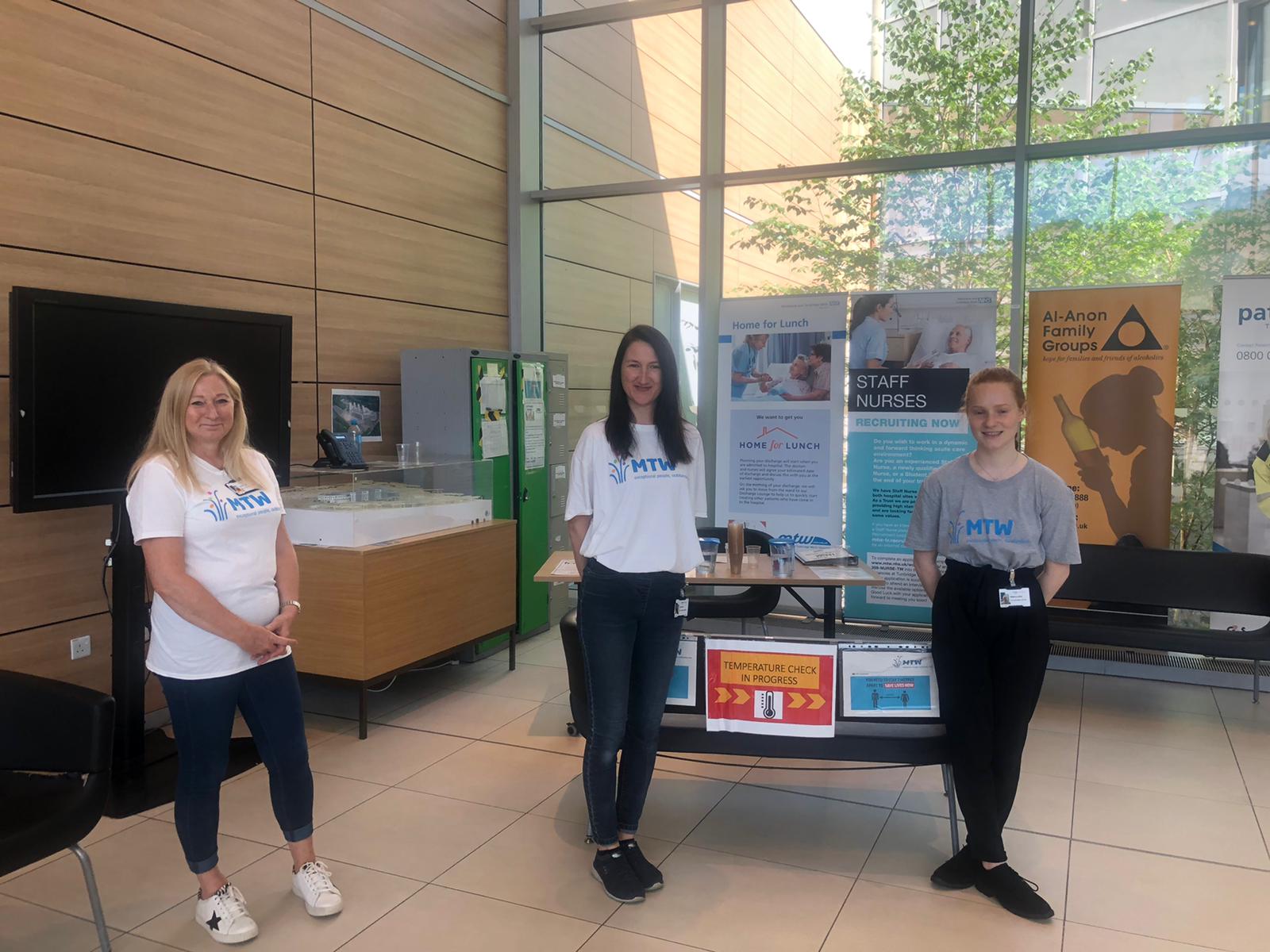 New volunteer hubs have been set up at Maidstone Hospital and Tunbridge Wells Hospital to provide help and support to patients and staff during the pandemic.
An army of volunteers man the Hubs, which are located in the main entrance areas of both hospital sites, from Monday to Friday between 8.30am and 4.30pm.
Their role is to deliver property which has been dropped off to the Hub by relatives, friends or carers, to patients on wards; escorting able bodied and wheelchair bound patients to their outpatient appointments; providing people – especially new members of staff – with directions around the sites, and getting refreshments for staff during busy periods.
Voluntary Services launched the hubs last month (May) to support the Trust after visiting restrictions were put in place to help protect staff and patients from Covid-19.
Lucy Dowd, who started working as a volunteer for the Trust back in May, helps out on the Hub at Maidstone Hospital. In addition she has also helped out in the Children's Outpatient Clinic and on Riverbank ward as well as the League of Friends shop.
The 18 year old, who was due to sit her A-level exams this summer, said: "I decided to volunteer as I wanted to do something useful and helpful during this situation. Since my exams were cancelled I had a lot of free time and knew I could put it to good use.
"I have really enjoyed volunteering, especially during this time. It has given me something to do and look forward to and I find it very rewarding to know I am making a difference, even if it is only small."
Anne-Marie Stevens-Swain, Voluntary Services Manager, said: "The hubs are proving to be a really great service and we have received some great feedback about how useful they are by those who have used them, but they were only possible thanks to people like Lucy applying to become a volunteer for the Trust.
"We have always had a good response from local people putting themselves forward as volunteers for MTW NHS Trust but we have been overwhelmed by the level of support from the public during Covid-19.
"We are extremely grateful to everyone who got in touch with us."
More than 300 volunteers currently work in 10 departments across the Trust. They range in age from 18 to 96 years old and work on average three hours a week.
The longest serving volunteer has been with the Trust for 50 years.