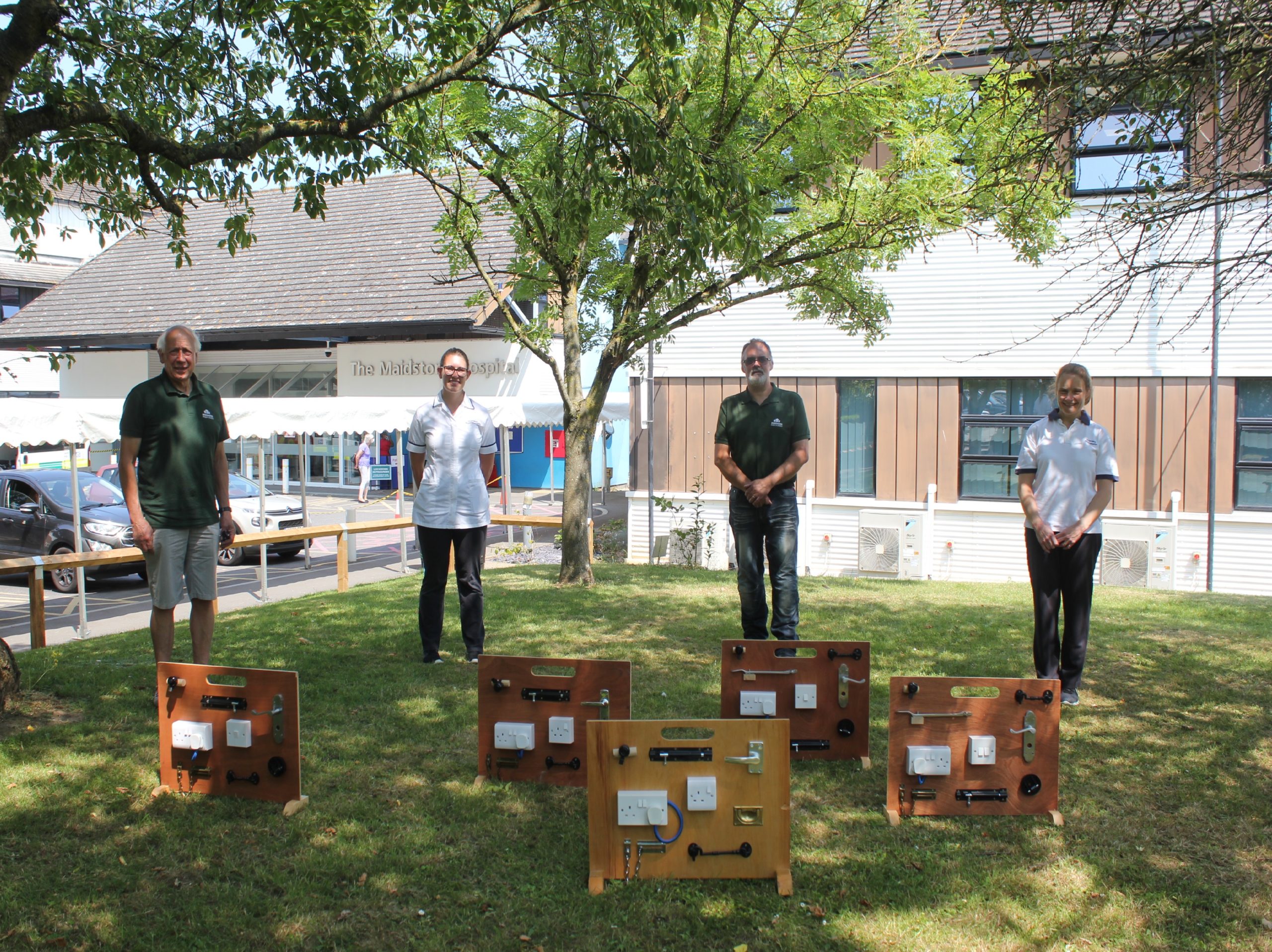 Tunbridge Wells Older People's Forum (TWOPF) and Tunbridge Wells Sherwood Men's Shed (TWMS) have made and donated five twiddle boards to help patients in the Stroke Unit at Maidstone Hospital, part of the Maidstone and Tunbridge Wells NHS Trust (MTW).
Tim Tempest, Chairman TWMS, delivered the boards to Maidstone Hospital and presented them to Laura Henderson, Clinical Lead Neuro Physiotherapist at MTW and Elizabeth Gardner, Senior Physiotherapist at MTW. A twiddle board is a basic, table-top piece of equipment which is simply a square of wood attached with locks, bolts, hook and eye, chain lock, stopcock and light switches.
Physiotherapy and occupational therapy are key elements of the rehabilitation programme for patients recovering from a stroke, and by using the twiddle boards, stroke patients are able to practise everyday tasks promoting improvements in strength and dexterity of the arm.
Laura Henderson, Clinical Lead Neuro Physiotherapist at Maidstone Hospital, commented: "We are very grateful for this kind donation of twiddle boards that will be used by our patients here at the Stroke Unit as part of their rehabilitation programme."
This is the second time that TWOPF and TWMS have worked together to produce twiddle boards for MTW, having donated four twiddle boards to Tunbridge Wells Hospital in October 2018, to be used in rehabilitating patients with dementia.
The idea was the inspiration of Denise Watts, of TWOPF, who recently had dealings with Maidstone Hospital Stroke Unit. Denise said: "I recognised that the twiddle boards would be of great help in the recovery process of stroke patients.
"Members of TWMS were pleased to help once more and put together a variety of boards, made up of donated everyday items."
Tim Tempest, Chairman TWMS, added: "Making twiddle boards has proved to be an ideal activity for our Shedders as we have small groups working together making them and thus promoting social interaction amongst our members which is really what Men's Sheds are all about."
Anyone wishing to donate unwanted, safe-to-use items such as locks, bolts, bells and handles to help make the boards, should contact Tim Tempest at Tunbridge Wells Sherwood Men's Shed on 07827 919251.