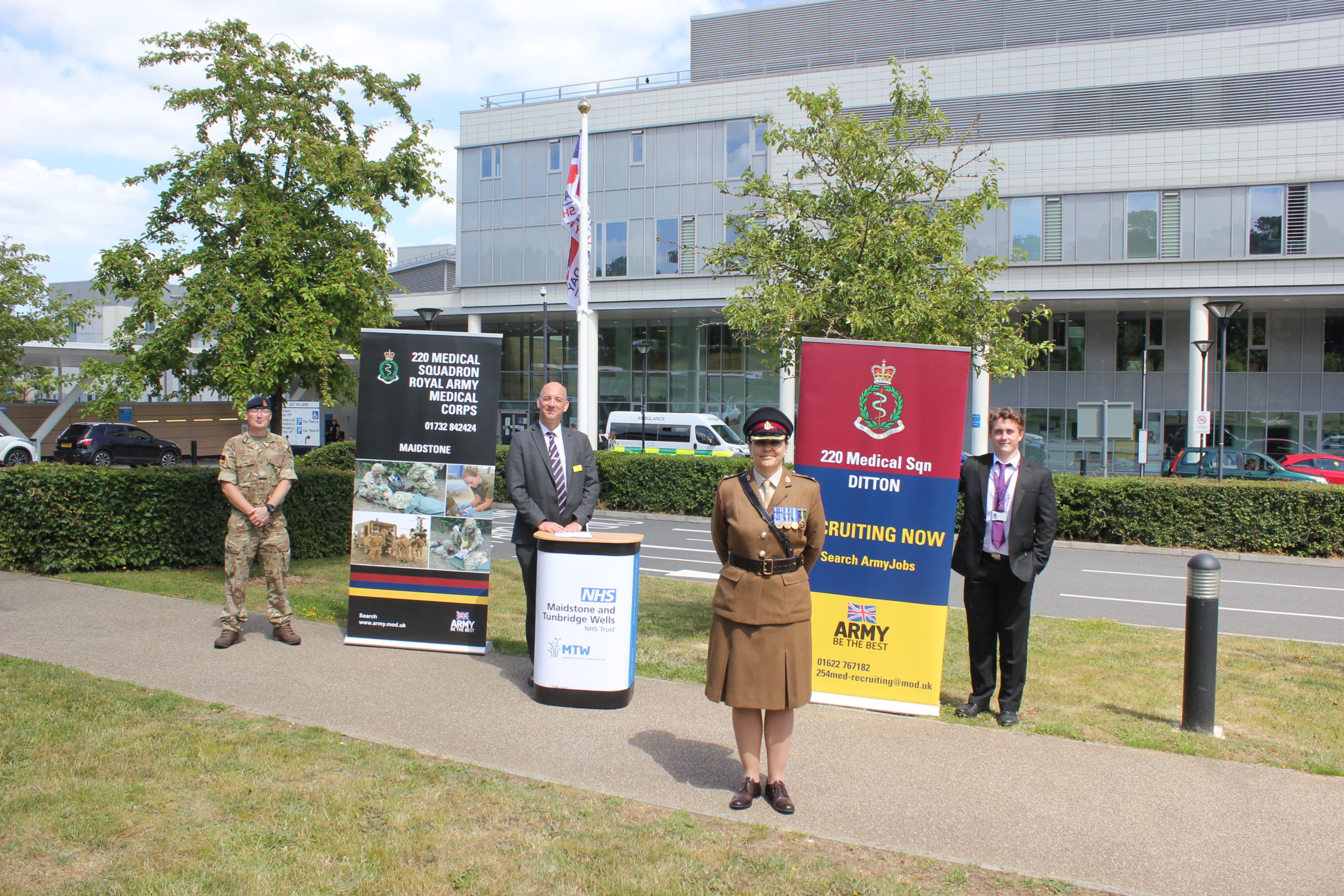 Today, Monday 22 June 2020, marks a historic day for Maidstone and Tunbridge Wells Trust (MTW) as it formally signs the Armed Forces Covenant (AFC). By signing the Covenant, MTW has demonstrated its commitment to the Armed Forces community and outlines how the Trust will support those who have served, their families, reservists and veterans.
The Covenant was signed on behalf of MTW by Simon Hart, Director of Workforce, and by Lieutenant Colonel EM Read (Mary) the commanding officer of 254 Medical Regiment, representing the Armed Forces, and to mark the occasion, the Armed Forces flag was raised on the flagpole outside Tunbridge Wells Hospital.
The commitments laid out in the covenant include:
Promoting MTW as an armed forces-friendly organisation, which includes supporting Armed Forces Day (this year taking place on 27 June 2020) and publicising our Armed Forces Covenant on the MTW Trust website;
Seeking to support the employment of veterans young and old;
Striving to support the employment of Service spouses and partners;
Endeavouring to offer a degree of flexibility in granting leave for Service spouses and partners before, during and after a partner's deployment;
Seeking to support our employees who choose to be members of the Reserve forces, including by accommodating their training and deployment where possible;
Simon Hart, Director of Workforce at Maidstone and Tunbridge Wells Trust, said: "I am delighted that MTW is formally demonstrating our commitment to supporting the Armed Forces community. We have a long history of employing former military personnel and we recognise the value serving personnel, reservists, veterans and military families bring to our Trust."
Mary said: "It is an honour to represent the military at the beginning of Armed Forces Week 2020.  We look forward to forging closer links with MTW and helping them fulfil the commitments of the Armed Forces Covenant".
MTW is already part of the 'Step into Health' programme, created by the NHS, in conjunction with 'Walking with the Wounded' and the 'Royal Foundation', which connects employers in the NHS to people from the Armed Forces community. It offers an access route into employment and career development opportunities.