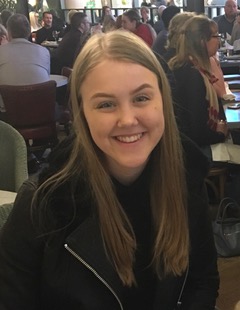 Volunteers' Week 2020, which runs from Monday 1 to Sunday 7 June, is a chance to recognise the millions of people across the UK who freely give their time, skills and expertise to volunteer in health and care services, as well their own communities, to help and support other people.
Almost 300 volunteers work in 10 departments across Maidstone and Tunbridge Wells NHS Trust. Ranging in age from 18 to 96 years young, some of our volunteers are clearly visible and others blend into the background unseen, but all bring with them, a wealth of life experience, care, dedication love and a warm smile.
To celebrate, we'll be shining a light on some of our volunteers throughout the week by sharing their stories with you.
Today we introduce new recruit Lucy Dowd.
Where do you volunteer and what's your role?
I work at Maidstone Hospital three days a week and at the moment I am mainly based on the Volunteer Hub in reception. We are there to help our staff and patients by escorting patients to clinics, taking patient property to wards and generally being around to help out when needed. I have also been volunteering in the Children's Outpatient clinic and Riverbank and have also been able to help out in the League of Friends shop.
What's your background?
I am 18 and in Year 13 so was supposed to be doing my A-Levels now. I want to study Medicine at university and am hopefully going to be starting in September.
How long have you been volunteering at MTW Trust?
I started volunteering at the start of May.
Why did you want to volunteer at MTW Trust?
I decided to volunteer as I wanted to do something useful and helpful during this situation. Since my exams were cancelled I had a lot of free time and knew I could put it to good use. As a bonus it is also excellent experience for my future career!
What do you like best about volunteering at MTW?
I have really enjoyed volunteering, especially during this time. It has given me something to do and look forward to and I find it very rewarding to know I am making a difference, even if it is only small.
What advice would you give to anyone considering volunteer work?
Volunteering is helpful, massively appreciated and really rewarding! Staff and patients are always so grateful for the help. I also think it can be a really good way to gain experience and build on skills such as communication. Everyone is so friendly, it's a lovely team to be a part of.