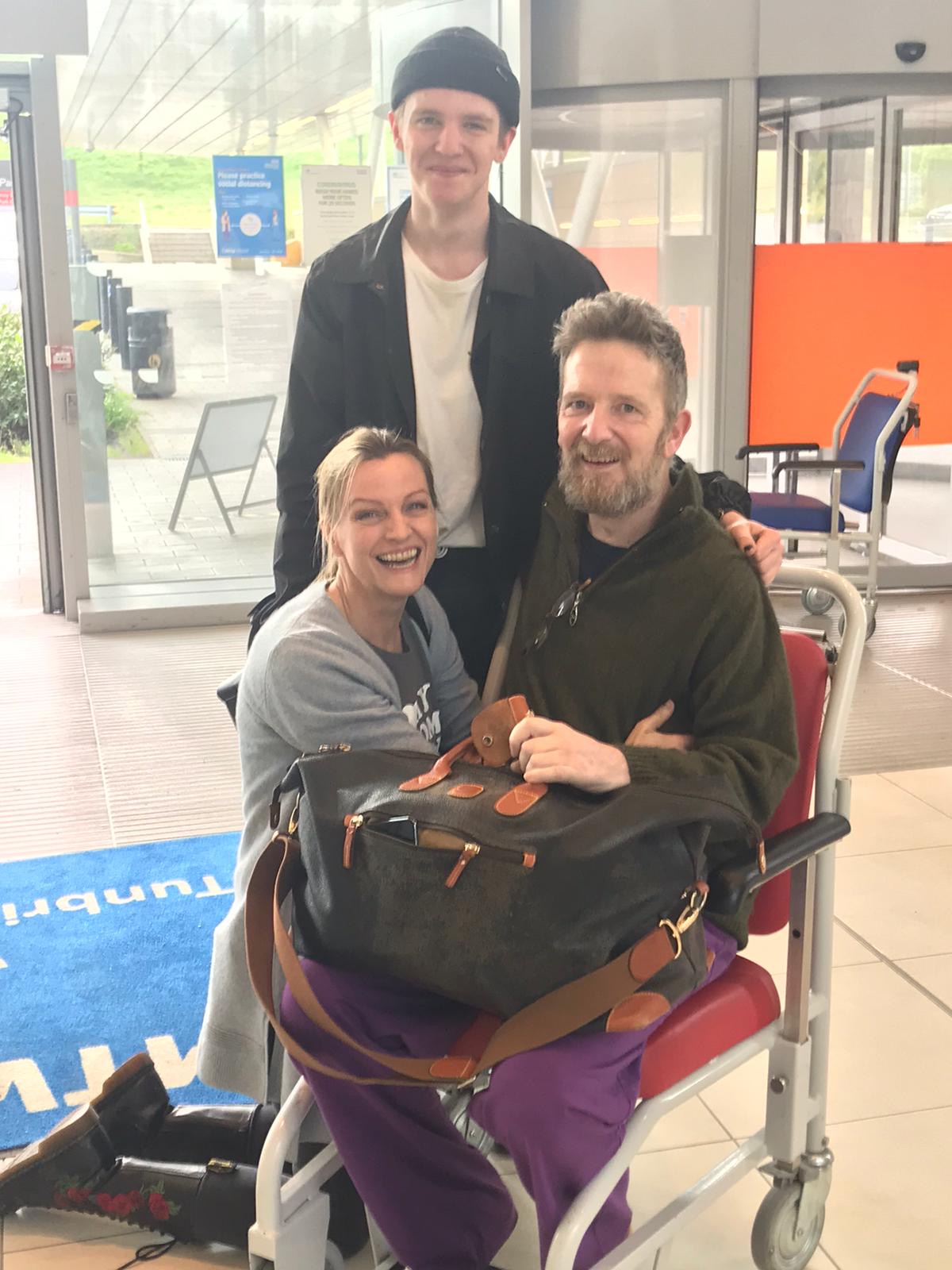 A man from Tunbridge Wells man who beat Coronavirus has been reunited back home with his family after spending a total of 41 days in hospital.
Gavin Wells was discharged from Tunbridge Wells Hospital on Wednesday 29 April after being rushed in by ambulance last month and immediately admitted to the ITU, remaining there for over five weeks where Maidstone and Tunbridge Wells NHS Trust (MTW) specialists were able to save his life.
After weeks on ventilation, requiring intubation and a tracheotomy, Gavin was moved to Ward 22 on Sunday 26 April before finally being discharged and greeted by his wife, Melinda and son, Jamie in hospital reception and taken back home to also be reunited with his daughter, Tabitha.
The 55-year-old, who works in finance, said: "I started to feel ill around 13 March and thought it was the flu and self-isolated at home. It worsened and on 20 March I became short of breath and my lips turned blue, so I dialled 111 who sent an ambulance and took me to Tunbridge Wells Hospital.
"It was very touch and go and very rocky – very rough. I don't have any memory from then for a few weeks until about the 20 April. I remember waking up to a very smiley face saying 'Hello I'm Dr. Griffiths, do you know where you are?' I couldn't speak so shook my head and he explained where I was and what had happened to me.
"From here, things slowly got better. The nurses were unbelievable. The quality of care in the NHS is like nothing I have ever seen – I don't think people understand. When you are in ICU and have someone with you all the time, your every need is being met because you are incapable and they are keeping you alive. The level of care was just incredible."
With weeks in intensive care, due to national guidelines, Gavin's family were not allowed to visit but were kept updated regularly, with ITU (also known as Intensive Care) staff facilitating phone and Skype calls.
Gavin, who had previously only ever been in hospital for minor operations, continued: "The staff did everything they could to help me keep in touch with family. I had photos sent in by my wife and the staff even took the time to stick them up on the rail of my bed, so that every time I looked up I could see my wife, my son and my daughter – always there in front of me.
"They really did go above and beyond for me and were inspiring with their positive attitude."
"I can't tell you how delighted I am to still be here because there were times my wife and children didn't think they would see me again – but now I am home. The team kept me alive for five weeks in ICU. I owe the staff at Tunbridge Wells Hospital my life. They saved me with such care, grace and support and consistently going out of their way for not just myself but for all patients – they are awesome."
Gavin's wife, Melinda, added: "It really does feel like a miracle that he's home and already talking and eating. It is going to take us all a long time to process this – but I am just so profoundly grateful.
"The moment we picked him up from the hospital is just so difficult to describe, it was like I couldn't believe I was seeing him again. I felt such deep joy and gratitude.
"It's the first time there has been peace and laughter in our house for over five weeks! There are jokes and smiles again and we all just can't believe he is back.
"I will never be able to adequately thank the teams that saved Gavin's life – they are absolute heroes and such special, amazing people."
MTW Clinical Director of Critical Care and Theatres, Paul Moran, said: "Everyone at MTW is delighted that Gavin is now well on the road to full recovery and reunited with his family at home.
"Thanks to the amazing care of our teams across the Trust we have now been able to discharge 213 Covid-19 patients and send them back to their loved ones.
"To help us help you, we would urge everyone to please continue to follow government advice – to stay home and continue with social distancing when needing to leave the house."
If you are worried you have coronavirus symptoms visit NHS 111 online – https://111.nhs.uk – to find out what to do, or call 111 if you can't get help online.
For the latest Government advice on coronavirus visit https://www.gov.uk/coronavirus