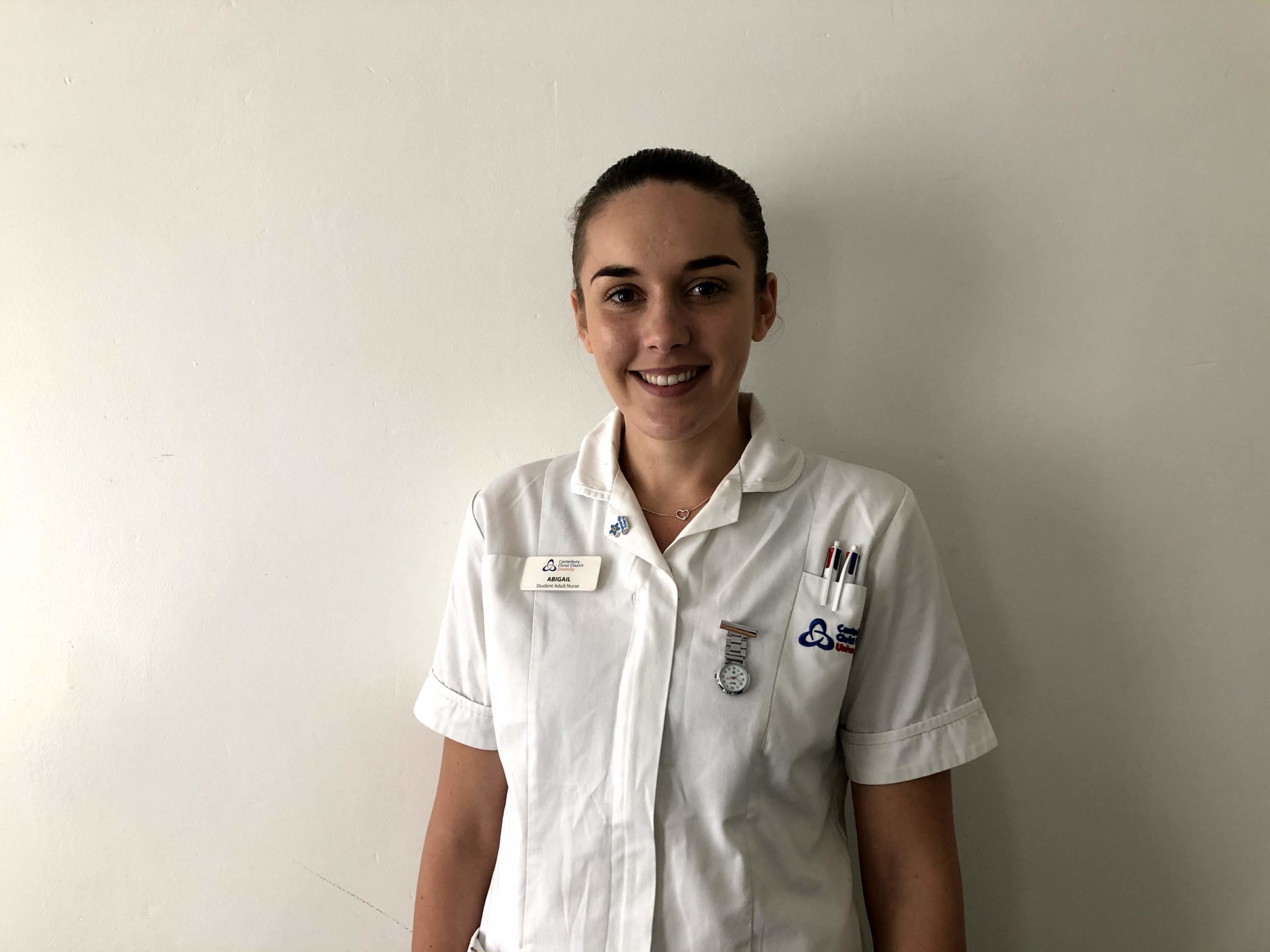 Two final year student nurses, one of which is working on a ward caring for patients with Covid-19, have spoken about their decision to start their nursing careers early so they can provide valuable support to frontline staff at Maidstone and Tunbridge Wells NHS Trust during the pandemic.
Abigail Salt (pictured) and Emily Boon are among 28 final year student nurses (19 adult student nurses and 9 paediatric student nurses) who are now employed by the Trust as Aspirant Nurses. They put themselves forward following calls from Health Education England (HEE) to nursing and midwifery students to lend their support to the NHS early by taking up paid placement roles.
Both Abigail and Emily, who are studying at Canterbury Christ Church University, started work as Adult Nurses for the Trust on Monday 27 April 2020.
After hearing she had got the role Abigail decided to put herself forward to care for patients with coronavirus at Tunbridge Wells Hospital.
She said: "I asked to work on Ward 21 because I wanted to help patients diagnosed with coronavirus and support the staff currently working there. I had also applied to work on the ward once I have qualified so I thought it would be a good experience.
"The staff are so supportive and they do everything they can to help each other. Whilst caring for Covid-19 patients I do my best to be happy and bubbly to help keep them going. I talk to them about their families to help motivate them and keep their spirts up as they work towards beating Covid-19 and being discharged from hospital."
Ever since she was a little girl Abigail knew that she wanted to be a nurse.
The 21-year-old added: "My mum had her own health conditions that I was exposed to at a young age and I always did my best to care and nurture her. Being a nurse makes me feel so proud and makes me feel like I'm giving back to all those people that have helped me become the person I am today."
Emily Boon, from Tenterden, is providing care to Cardiac and Gastroenterology patients on Ward 12 at Tunbridge Wells Hospital.
The 22 year-old said: "I didn't feel ready to be 'a nurse' but at the same time I knew I needed to prove myself and help out.
"Having worked on Ward 12 during one of my work placements I put it down as my preference for a job with the Trust so I was really pleased when I was told I would be working there. I have since been offered a job on the ward when I qualify which is great news.
"The night before my first shift I didn't sleep because I was nervous about what to expect as well as being excited but Ward 12 has been brilliant at keeping the atmosphere light-hearted whilst providing great care to patients and making me feel part of the team. I feel fully supported."
Emily, whose mum also works as a nurse at Tunbridge Wells Hospital, added: "After completing A-Level Health and Social Care, and with a bit of persuasion from my mum to get a job in a local care home, I decided nursing was something I could do. I looked into it further and decided to apply and I haven't looked back since.
"When I think about my day and how I have helped a patient, or comforted a family member, it's then that I know I've helped make a difference to someone's life and that I chose the right career."
Along with Abigail and Emily, 11 other adult student nurses started working as Aspirant Nurses for the Trust on 27 April. A further six are due to start on Monday 11 May.
Two paediatric student nurses also started their employment on Monday 27 April. Another seven joined them on Monday 4 May.
All of the Aspirant Nurses have been given protected learning time outside of their weekly contracted clinical hours of work to complete their assignments ahead of qualifying in September.
MTW NHS Trust's Chief Nurse Claire O'Brien said:  "The coronavirus pandemic has created a unique opportunity for final year student nurses and I am delighted to welcome all student nurses and midwives from Canterbury Christ Church University, and indeed other universities who have chosen to start their nursing career early with MTW NHS Trust.
"I have had the pleasure of speaking with both Emily and Abigail and I know how pleased they are to be given this opportunity to work with us. We are committed to ensuring that they are supported during this time and that they all have a positive experience."