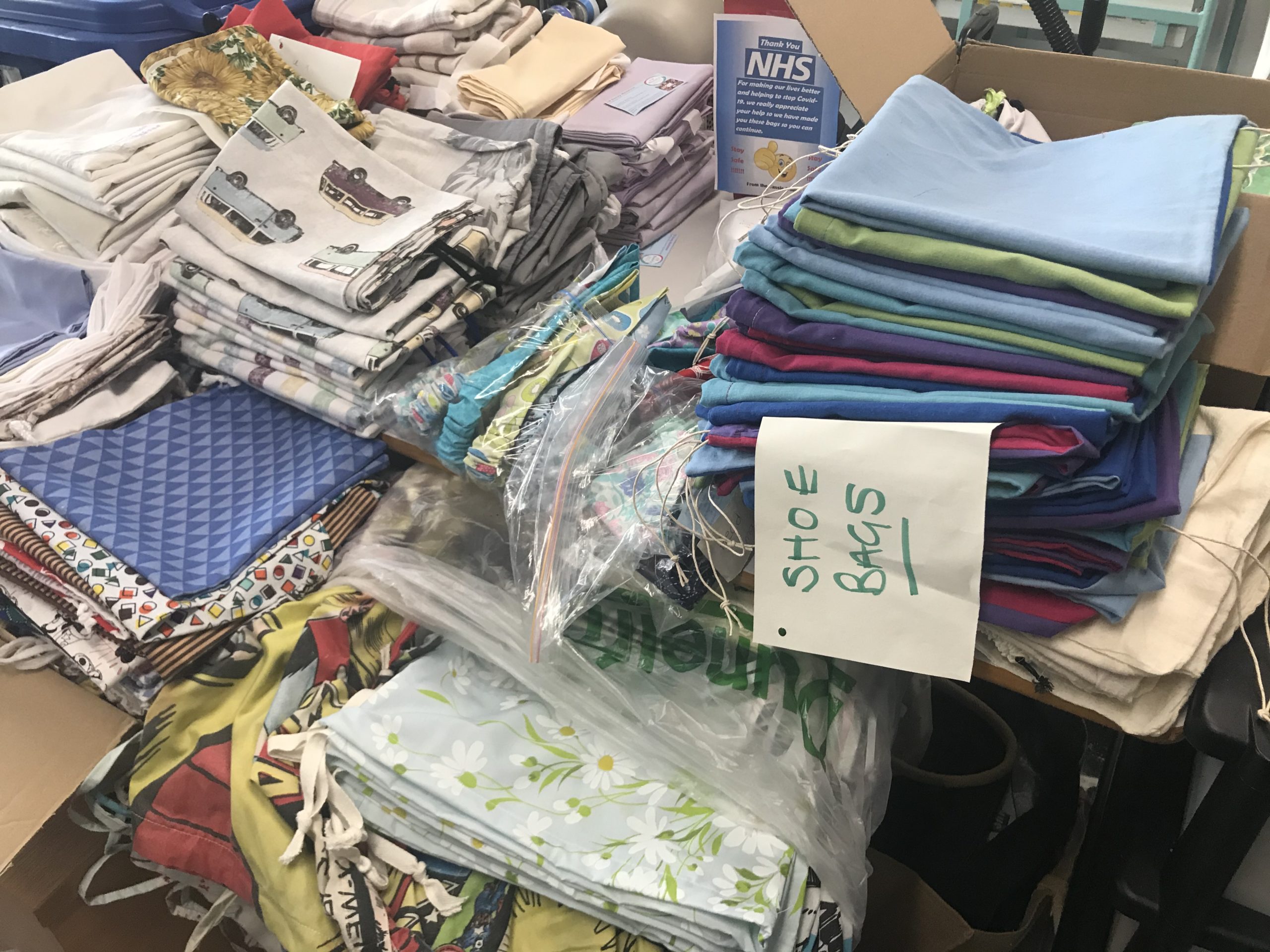 More than 1,500 laundry bags made out of pillow cases, tea towels and other fabrics have been donated to staff at Maidstone and Tunbridge Wells NHS Trust during the coronavirus outbreak.
The bags, which measure 12 inches x 15 inches and have either a drawstring top or a zip, allow staff to put their dirty uniform straight in to the bag when they've finished their shift. They can then put the bag and its contents in to the washing machine when they get home thus reducing the risk of cross contamination.
Sewing groups, Women's Institutes, church societies and individuals got behind the appeal initially after it was launched on Facebook by Caroline Barton whose mum Diane Barton works as a Respiratory Clinical Nurse Specialist for the Trust.
Now, due to the high level of demand for the bags, Caroline has launched the Maidstone Sewing Group for NHS and Key Workers to produce even more bags, not just for MTW NHS Trust but also other key workers across West Kent who wear a uniform in a health care setting which they have to launder themselves.
Diane said: "My daughter has her own business, CB Beauty, and is currently unable to work due to the pandemic and the nature of her work. It was whilst she was at home that she came up with the idea to create the bags and then put an appeal on her business's Facebook page asking people to make them.
"My neighbour made some of the bags along with some of Caroline's friends but before we knew it the appeal had spread far and wide across social media even reaching the Midlands, Scotland, Devon and even Australia and Switzerland.
"Thanks to the public's support not only have we been able to give the bags to staff at Maidstone Hospital and Tunbridge Wells Hospital but also Crowborough Birthing Centre, South East Coast Ambulance Service at Paddock Wood, and some GP surgeries via Practice Nurses."
Little notes have even been placed inside the bags by the creators for staff to find.
Diane added: "The notes thank staff for all they are doing. What's clear is that the local community want to do something to show the staff how grateful they are for all they are doing during the pandemic and this is one way of them being able to do that.
"The bags, which can be washed at 60 degrees, are coming in every day. Some are even being posted to my office at Maidstone Hospital.  As well as staff being able to collect the bags from the office we also place them in the Academic Centres at both hospital sites and in areas where members of staff undergo checks for personal protective equipment (PPE) so they can simply pick them up."
In addition to the laundry bags, more than 300 headbands have also been donated to the Trust. The headbands, which have a 2cm button on each side, make it more comfortable for staff to wear PPE face masks because the elastic can be hooked around the buttons instead of resting on their ears.
Sara Mumford, the Trust's Director of Infection Prevention and Control, said: "We are extremely grateful to the individuals and groups who have made, and continue to make the laundry bags and headbands.
"The offers of help, support and physical donations the Trust has received over the last few weeks has been extraordinary. Knowing we have the public's support during these challenging times is a tremendous boost for all our staff who continue to provide outstanding care to our patients."
To find out how you can get involved visit the Facebook group Maidstone Sewing Group for NHS and Key Workers.