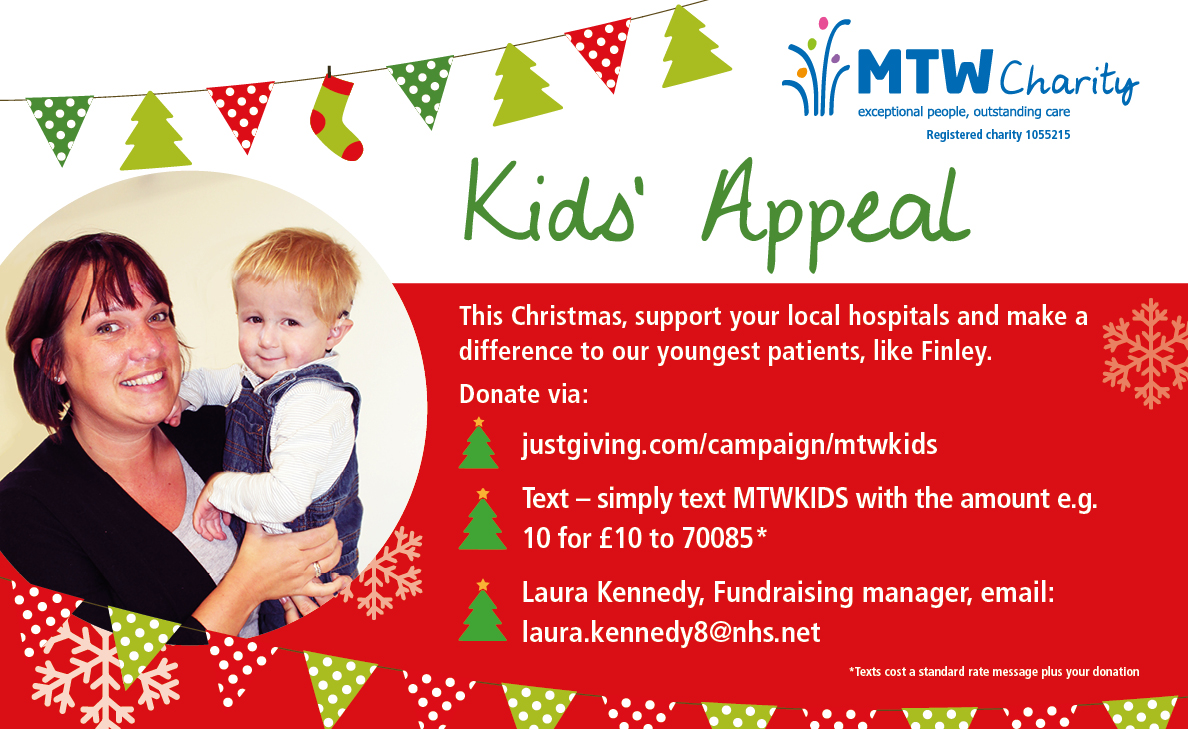 The family of toddler with a rare genetic disorder are backing Maidstone Hospital's first ever Christmas campaign to raise £30,000 for Maidstone and Tunbridge Wells NHS Trust's children's services.
Money raised via the 'Kids' Appeal' could be used to fund equipment such as a 'Baby Pod' to safely transport sick babies between Maidstone and Tunbridge Wells hospitals and the Trust's birth centres in Maidstone and Crowborough; a cough assist machine; toys and baby mobiles as well as cardiac 'Echo' ultrasound probes.
Echocardiograms (Echo) are one of the most frequently used scans for diagnosing heart problems. An Echo can detect structural heart abnormalities and show valve shape, narrowing etc. The probes which are moved up and down the chest send and receive ultrasound waves to make a picture. Sometimes staff use larger probes for children so having additional smaller probes will enhance the existing service by making the experience more comfortable and improve accuracy.
Ellie Hudson and her husband Julian have lent their support to the appeal because of the outstanding care their son Finley has received from the Trust since birth.
The two-year-old has a rare genetic disorder called DBA (Diamond Blackfan Anaemia) which means he cannot produce his own red blood cells. In order to keep him alive Finley has monthly blood transfusions at Maidstone Hospital's Riverbank Ward which can take up most of a day.
Mum Ellie, from Coxheath, said: "Finley was born at Tunbridge Wells Hospital where he spent 12 days in the Neonatal Unit and had three blood transfusions. He also has a number of heart conditions which were diagnosed following Echo ultrasound scans and is now waiting for open heart surgery to repair a valve and hole in the heart as well as repairing a heart wall.
"The Paediatric Teams have become an extended family to us and nothing is ever too much trouble. Finley's veins kept collapsing following blood transfusions so the Riverbank team arranged for him to have an implanted vein port which has made things a lot easier.
"Last December Finley was hospitalised with meningitis and it was really touch and go as to whether he would make it home for Christmas. In spite of all his challenges Finley is such a happy warrior and loves to play with cars and trains – in fact anything with wheels!"
The Watson family from Aylesford are another family who are regular visitors to Riverbank.
Ellie-May, 11, who has Type 1 Diabetes and Coeliac Disease, visits a diabetes clinic every three months at Riverbank. Paediatric Diabetes Specialist Nurses have liaised with Ellie May's primary school to put together care plans and train staff to both provide insulin injections and also give practical guidance. Mum Laura also gets support by attending a parents' support group set up by Trust staff.
Local residents, schools and business are being asked to support the Kids' Appeal by pulling on a Christmas jumper on Friday 6 December in exchange for a donation to the Kids' Appeal.
Donations can be made by visiting justgiving.com/campaign/mtwkids or by texting MTWKIDS and the amount you wish to donate to 70085.
Maidstone Hospital provides a range of children's services including an assessment and day case ward called Riverbank and a children's outpatients department.
In 2017/18 Maidstone and Tunbridge Wells NHS Charitable Fund received donations of £187,000 which helped to purchase medical equipment such as a mobile chemotherapy system and portable echocardiogram machines.