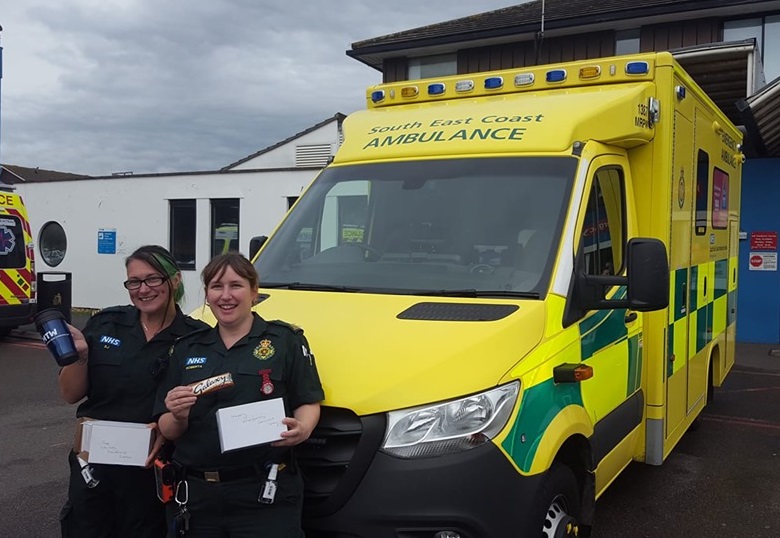 To mark Emergency Services Day (Monday 9 September), Maidstone and Tunbridge Wells NHS Trust's Emergency Planning department carried out a random act of kindness.
Two boxes containing a travel mug, a chocolate bar and sweets were presented to South East Coast Ambulance Service Trainee Associate Ambulance Practitioners Roberta Murfitt and SJ Broad, after they brought a patient in to Maidstone Hospital's Emergency Department (ED) on Monday afternoon.
John Weeks, Head of Emergency Planning and Response, who presented them with their gifts, said: "It was a small token of MTW NHS Trust's appreciation for all the hard work carried out by Roberta and SJ, and all their colleagues at SECAmb who work 24 hours a day, seven days a week, 365 days a year to provide ambulance response and emergency healthcare across Kent, Surrey and Sussex.
"It was only a small gesture but it certainly seemed to lift their spirits and highlighted the fact that their efforts don't go unnoticed."
Roberta said: "We didn't know what day it was so it was a lovely surprise and really thoughtful of our hospital colleagues. We very much enjoyed the sweets!"
Emergency Services Day is an annual event which starts at 9am to represent the 9th hour of the 9th day of the 9th month. It aims to educate the public about using the emergency services responsibly, and to promote volunteering across the emergency services.
For more information visit www.999day.org.uk