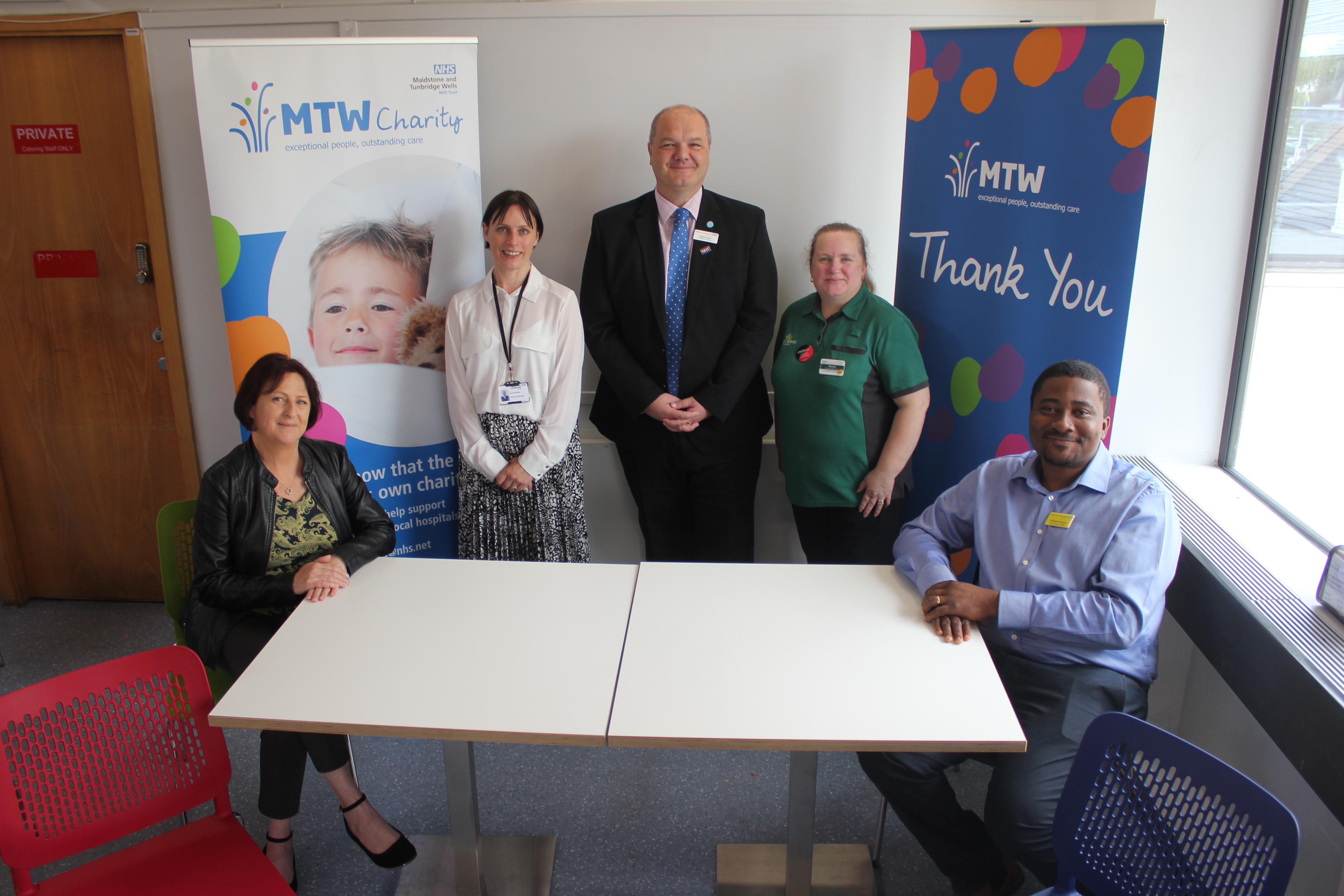 Visitors to Maidstone Hospital can now enjoy greater comfort in its restaurant after a large supermarket chain made a generous charitable donation to improve its facilities.
The Morrison's Foundation, part of Wm Morrison Supermarkets PLC, donated £12,800 to purchase new tables and chairs for the Hospital's Café @ Plus One Restaurant. The donation was made to Maidstone and Tunbridge Wells NHS Charitable Fund, the NHS Trust's dedicated charity.
120 coloured chairs were purchased along with tables to replace worn and damaged furniture which will improve both the restaurant experience and the environment for a range of visitors and staff.
Steve Orpin, Deputy Chief Executive, Maidstone and Tunbridge Wells NHS Trust, said: "We are delighted by this generous donation from the Morrison's Foundation which will significantly improve the visitor experience at Maidstone Hospital. Our restaurant is very popular with both staff and patients and these new brightly coloured chairs and tables will help make people more comfortable, whether they are just having a coffee or enjoying a meal."
Sharon Sidebottom, Morrisons Maidstone Community Champion, visited Maidstone Hospital's Café Plus One to see the impact of the donation first hand and commented:
"Many of our local staff and customers have benefited from services at Maidstone Hospital so it was a real pleasure to see how the Foundation's donation is making a difference. I'm proud of the Morrison's Foundation's work to give back to our community."
The Cafe @ Plus One is located on the first floor and serves a variety of hot and cold dishes, snacks and drinks. The restaurant is open seven days a week, from 7.30am – 7.30pm.
The Morrisons Foundation, part of Morrisons plc, the fourth largest chain of supermarkets in the United Kingdom, supports charities making a positive difference in local communities. Since launching in 2015 the Foundation has donated over £26m to help good causes across England, Scotland and Wales.
For more information on the Trust's charity please contact Laura Kennedy, Fundraising Manager, Tel: 01622 226428 or email Laura.kennedy8@nhs.net
For more information on the Foundation visit https://www.morrisonsfoundation.com/