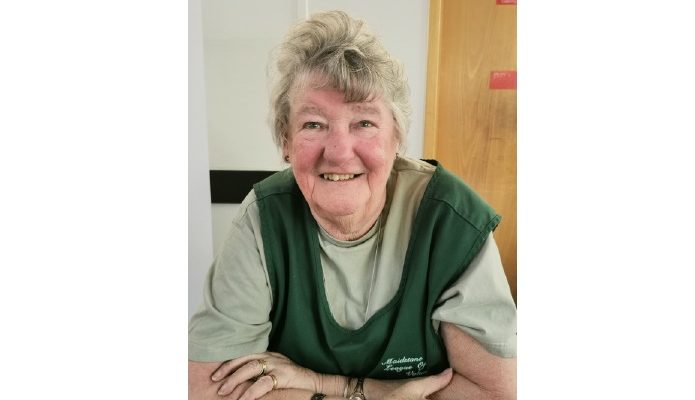 The UK celebrates Volunteers' Week from 1-7 June in recognition of the invaluable contributions of people across all sectors who offer up their time.
At Maidstone & Tunbridge Wells Hospital we have 350 plus volunteers who give their time to our patients, visitors and staff. Some volunteers are clearly visible and others blend into the background unseen, but all bring with them, a wealth of life experience, care, dedication love and a warm smile.
As we continue our week of tributes to our volunteers, we introduce League of Friends Volunteer, Fay Norris, who talks about her experiences of being a volunteer.
Where do you volunteer?
I volunteer at Maidstone Hospital.
Tell us more about the volunteer role…
I manage the invoice side of things for the League of Friends shop. I have lots of spreadsheets that I use to manage the pricing of products and agreeing invoices. I sort queries with invoices, manage the figures for the stock check and pay the bills using internet banking – we're very 21st Century here.
How often do you volunteer?
I do Mondays and Thursdays and every other Saturday. Mondays I start at 8.30am and stay until I'm finished which is usually about 12.30pm. On Thursdays I arrive at 6.30am to open up the shop and set up the tills and, if I have time before everyone else arrives, I'll check the magazines and put the sandwiches out.
How long have you been volunteering here?
About 12 – 13 years now!
What did you do before?
I was the Payroll Manager at Safeway for years. When I was made redundant I took early retirement but then got a job as Payroll Manager at Superdrug. I was there for 5 years and decided it was time to retire. I bought a knitting machine then and spent many hours creating designs with it. Then I went to MidKent Water as a temp for several years. By the time I reached the age of 64 I decided to finally retire.
Why do you volunteer?
It was all because of an accident really. In 2001 I fell over whilst on holiday in Turkey. When I returned home I had to go for xrays at Preston Hall Hospital. Whilst waiting I happened to see a notice advertising for someone to work in a tea bar for 2 hours a fortnight. I decided to focus on my recovery as I had actually broken a bone but accompanied a friend to the same department a little while later and saw the notice again. This time I decided to call the number on the advert. I was told that there wasn't a tea bar at Preston Hall but was offered an interview at Maidstone Hospital – which I went to and got the job!
Do you volunteer anywhere else?
I'm afraid I don't have time!
What advice would you give to anyone considering
volunteer work?
Everyone here has a sense of humour and it's great meeting and having time to talk to people. Within the League of Friends there are several jobs and you could do any of them – you could be in the tea bar, working in the shop, behind the scenes like me or out with the trolley on the wards. Being flexible, adaptable and getting on with people are the best pieces of advice I could give.
If you would like more information about Volunteering at Maidstone and tunbridge Wells Hospitals please contact annemarie.stevens-swain@nhs.net or call 01622 224719.