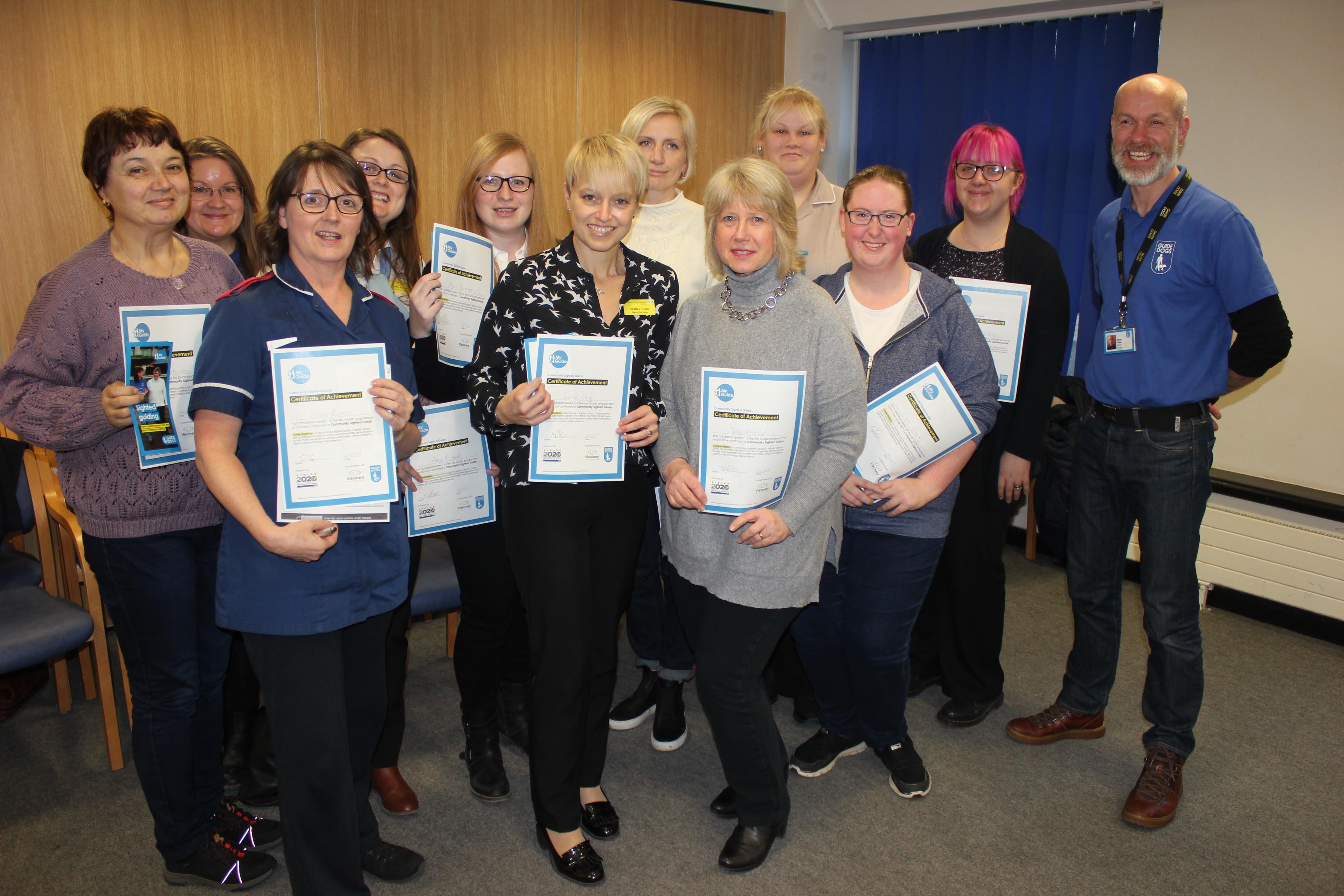 A number of Accessible Information Standard (AIS) Champions from the Trust have taken a huge step towards helping blind or partially sighted patients, after undertaking a course with Guide Dogs UK which helps understand how to help visually impaired people around our hospitals.
The course forms part of the Trust's commitment to the Accessible Information Standard (AIS) which was set out by NHS England in 2016. The AIS law ensures that all places that provide health and social care have to follow the standard and means that people who have a disability, impairment or sensory loss (such as hearing or eye sight) get information that they can easily find and understand.
The session at the Academic Centre at Maidstone Hospital on 24 January featured the second group of staff to complete the My Guide programme, with attendees qualifying as Level 1 Community Sighted Guides.
The course included advice on how to identify someone who is visually impaired who might be in need of help, as well as how to approach them and guide them across roads, down corridors, through doors and up and down stairs.
Staff also had the chance to put their new found knowledge into action, when they were challenged to guide a blindfolded colleague around the Academic Centre, navigating them on a tricky course through the building.
My Guide Ambassador, Simon Cope, who delivered the course, said: "Sight loss today is a growing impairment, so we need to make sure that anybody and everybody is aware about the huge impact it has on people. Some basic knowledge can go a very long way to make a positive difference on that day. Hospital staff have more common contact with people with sight loss so its great they have the knowledge to approach and deal with the person whatever their disabilities are."
Junior Sister in Endoscopy, Sally Nicholas, also added: "I feel that I have learnt some skills today that I will be able to pass on and help people that come to my department. I feel I will also be able to help some members of staff and get them used to helping people and helping people in our units."