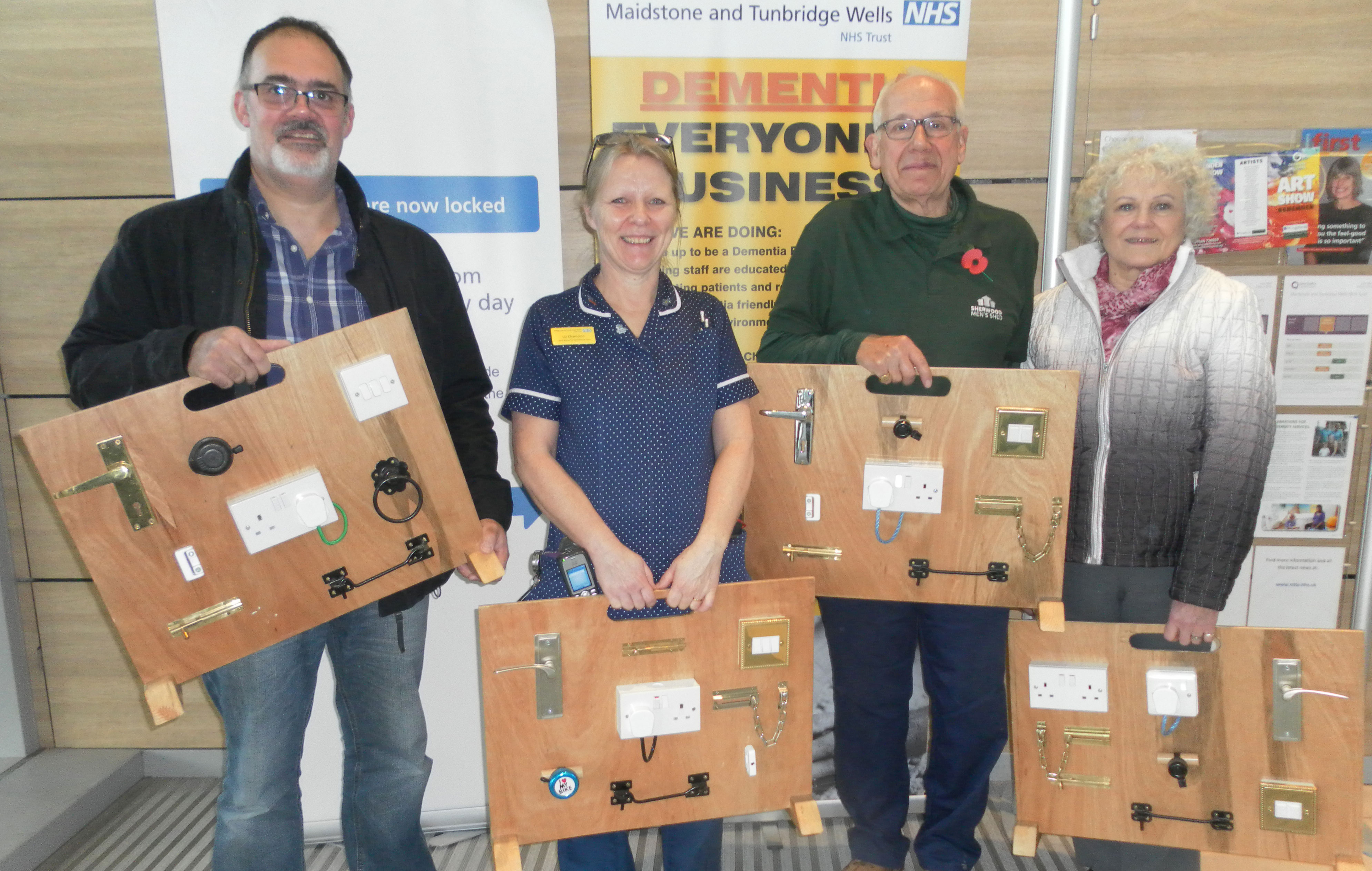 Tunbridge Wells Over Fifties Forum (TWOFF) and Sherwood Men's Shed have made and donated four Twiddle Boards to help patients with Dementia.
Representatives from the two groups presented the boards to MTW's Lead Nurse for Dementia Care, Liz Champion, at Tunbridge Wells Hospital on Wednesday (31 October 2018).
TWOFF and Sherwood Men's Shed joined forces to come up with a way of helping people living with dementia to keep entertained. In the later stages of dementia, patients may tend to constantly fiddle: moving items around, folding paper, scrunching up tissues, zipping clothing up and down and generally trying to stay occupied. Nursing and care-staff try hard to keep such patients busy, whilst at the same time remembering the person they once were.
It's found that one soothing way of keeping a patient occupied is the use of a Twiddle Board: a basic, table-top piece of equipment which is simply a square of wood attached with locks, bolts, hook and eye, chain lock, stopcock, light switch and anything else that be easily manipulated and toyed with over and over again. This activity may not just be occupational, it also help stimulate a memory of past usage.
TWOFF members had already made Twiddle Cuffs for hospital patients but wanting something more challenging, it approached Tim Tempest of Sherwood Men's Shed to help design an appropriate Board. Tim got his 'Shedders' to plan and make individual boards, all made from donated materials and all thoughtfully put together, and all destined for Tunbridge Wells Hospital at Pembury.
Liz Champion said: "These boards will be in constant use as they can be moved from ward to ward."
Anyone wishing to donate unwanted, safe-to-use items such as locks, bolts and handles to help make the boards, should contact Sherwood Men's Shed.