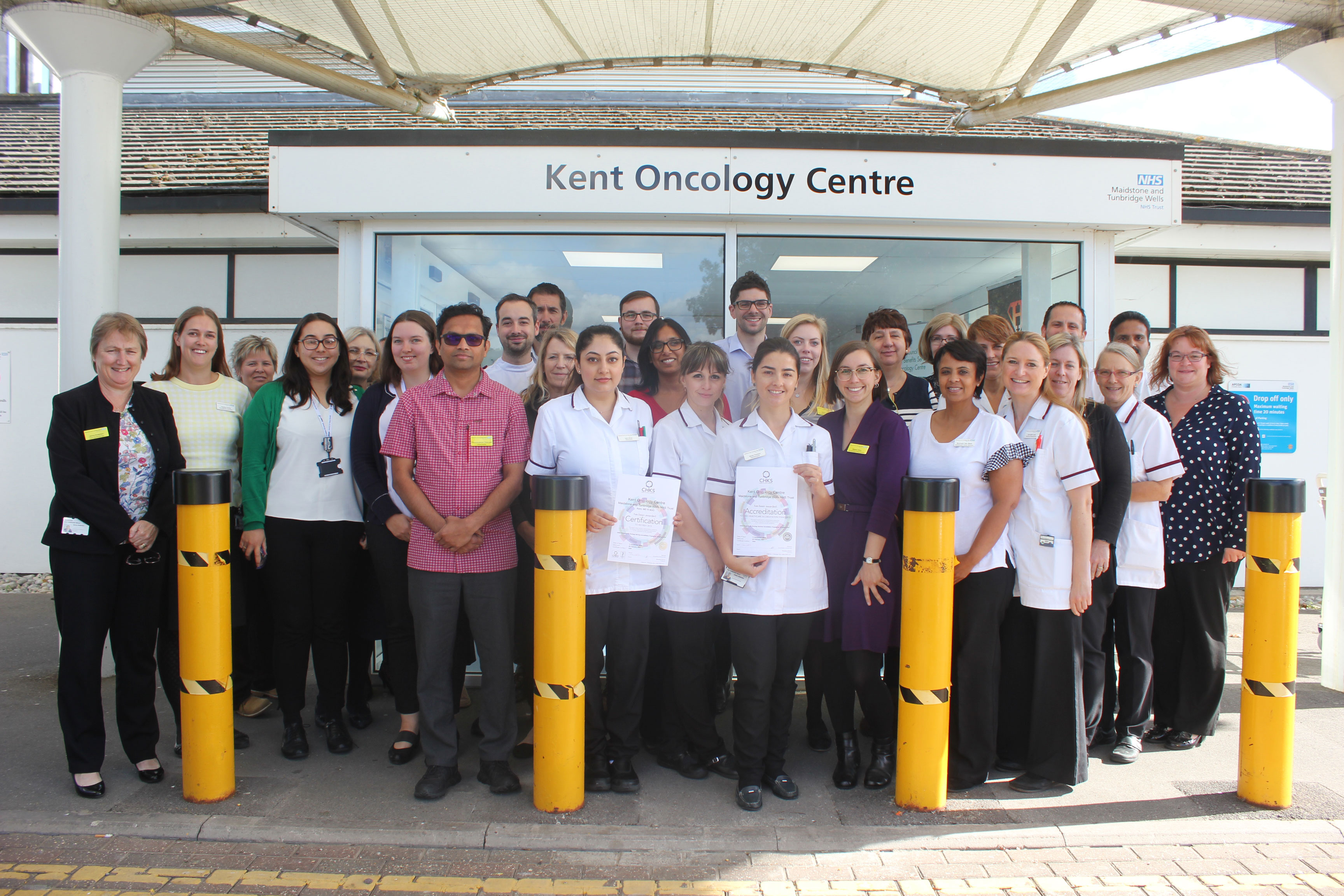 Following an assessment earlier this year by a team of external senior healthcare professionals, trained as peer review surveyors, Kent Oncology Centre has been accredited by CHKS. This means its processes and standards meet internationally-recognised best practice, legislation and regulatory requirements.
Accreditation by CHKS provides a standards-based framework for quality assurance and quality improvement. Taking part in the process of accreditation gives an organisation the resilience and vigilance required to deliver consistently high quality healthcare services.
CHKS uses an online system to record information about processes and standards which are submitted by the applicants. This allows users to view comparative information between departments and services and to monitor performance, progress and compliance. Once this information has been submitted our external team of surveyors carries out a final assessment.
Jenny Anderson, General Manager Cancer and Haematology at Maidstone and Tunbridge Wells NHS Trust, said: "We are delighted that Kent Oncology Centre has retained their ISO 9001 accreditation.
"Everyone at Kent Oncology Centre worked together to demonstrate that quality improvement is embedded in our everyday processes and procedures. Thanks to our teams' hard work and effort, we have been successful, again, in meeting the very highest of assurance and quality improvement standards."
Moyra Amess, Associate Director, Assurance and Accreditation, CHKS said: "The accreditation process requires dedication and commitment. Every organisation we make this award to has proved to our external assessors that its standards and process meet international best practice standards. This is a significant achievement."
Notes to editor:
1. CHKS Ltd, part of Capita plc, is a provider of healthcare intelligence and quality improvement services to the NHS and independent healthcare sector. With over 25 years' experience and having worked with over 400 clients, CHKS has a portfolio of information products, internationally-recognised accreditation programmes and consultancy services which provide clinicians and managers with the information needed to drive improvements in patient care, financial efficiency, clinical effectiveness and quality.