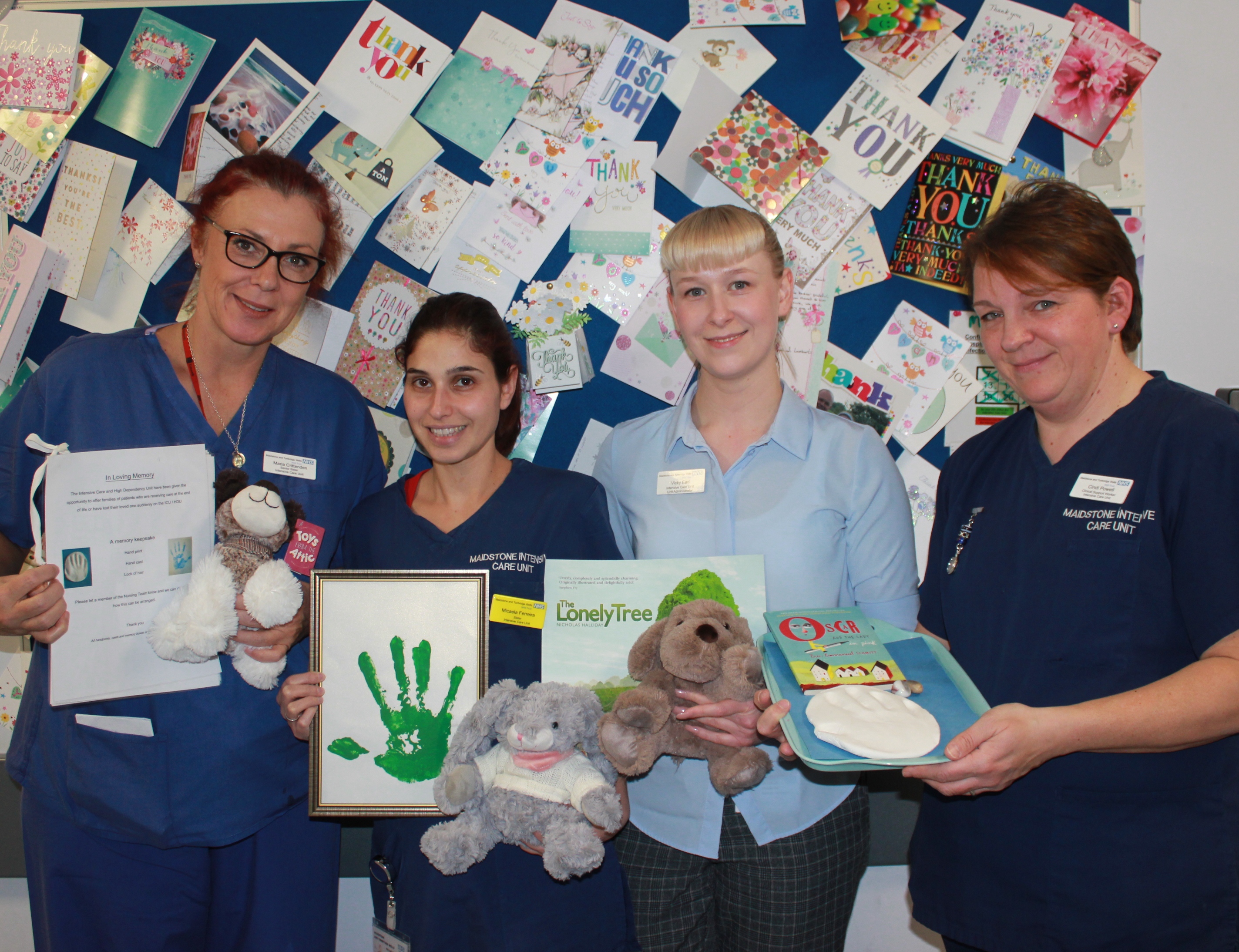 In Maidstone and Tunbridge Wells NHS Trust's (MTW) recent CQC report, inspectors highlighted the Critical Care Unit's introduction of a memory keepsake service as an area of outstanding practice at Maidstone Hospital.
The service was set up in August 2017 by ITU Senior Sister, Maria Crittenden, so that relatives of patients who had passed away on the unit could choose a hand print, hand cast, fingerprint or lock of hair, to take home in memory of their loved one.
"Last year, a patient in ITU asked me if we had any books we could provide for his young children about coping with the death of a parent," said Maria. "At the time, we had one book which we couldn't give to him permanently as it was the only copy on the unit. It made me think about what we could do to provide a better, more personal service to our patients and their families."
After extensive research and many conversations with other NHS and healthcare partners, including Demelza House, the Heart of Kent Hospice and other acute Trusts, Maria set about raising money for equipment that could be used easily and appropriately to provide keepsakes for families who had suffered a loss. A quiz held at the Duke of Edinburgh pub in Barming raised £1,400 for the initiative and additional were raised through a raffle.
Maria said: "We have posters up around the unit so that our visitors know what we are able to provide. Not everybody wants a keepsake, but for those that do we can offer a hand print or cast, a fingerprint on a stone which is small enough to be kept in a handbag or coat pocket, or even a lock of hair. For children who lose a parent or carer, we have books they can take home about coping with loss and we also have teddies – from two that match, one is given to the child to take home and the other stays with the patient. It's a good way of keeping a connection between them, as well as being a hugely important source of comfort."
A number of staff on the unit are trained to use the keepsake equipment, one of whom is always on duty. Maria and her colleagues are now researching other keepsake possibilities they hope to be able to offer in the future.
Maria added: "So far, the feedback has been overwhelmingly positive and we really hope the introduction of this service has provided those people who have lost a loved one with some reassurance and emotional support. Losing someone can be such a difficult experience in so many ways, we want to do everything we can to help."
Jacqui Slingsby, Matron for Critical Care, said: "While the majority of patients recover following intensive care treatment, we are always mindful of how we can improve end of life care for our patients and their loved ones. We are very proud of Maria and the ITU team for coming up with such an inspirational and caring initiative."
The stone fingerprint keepsakes won top prize at the Maidstone and Tunbridge Wells NHS Trust Innovations Day in September 2017. NHS Innovations are now looking to develop the idea and offer it as best practice to other ITU departments in Trusts across the country.
ends
For more information contact the communications team on 01622 228658 or email mtw-tr.communications@nhs.net