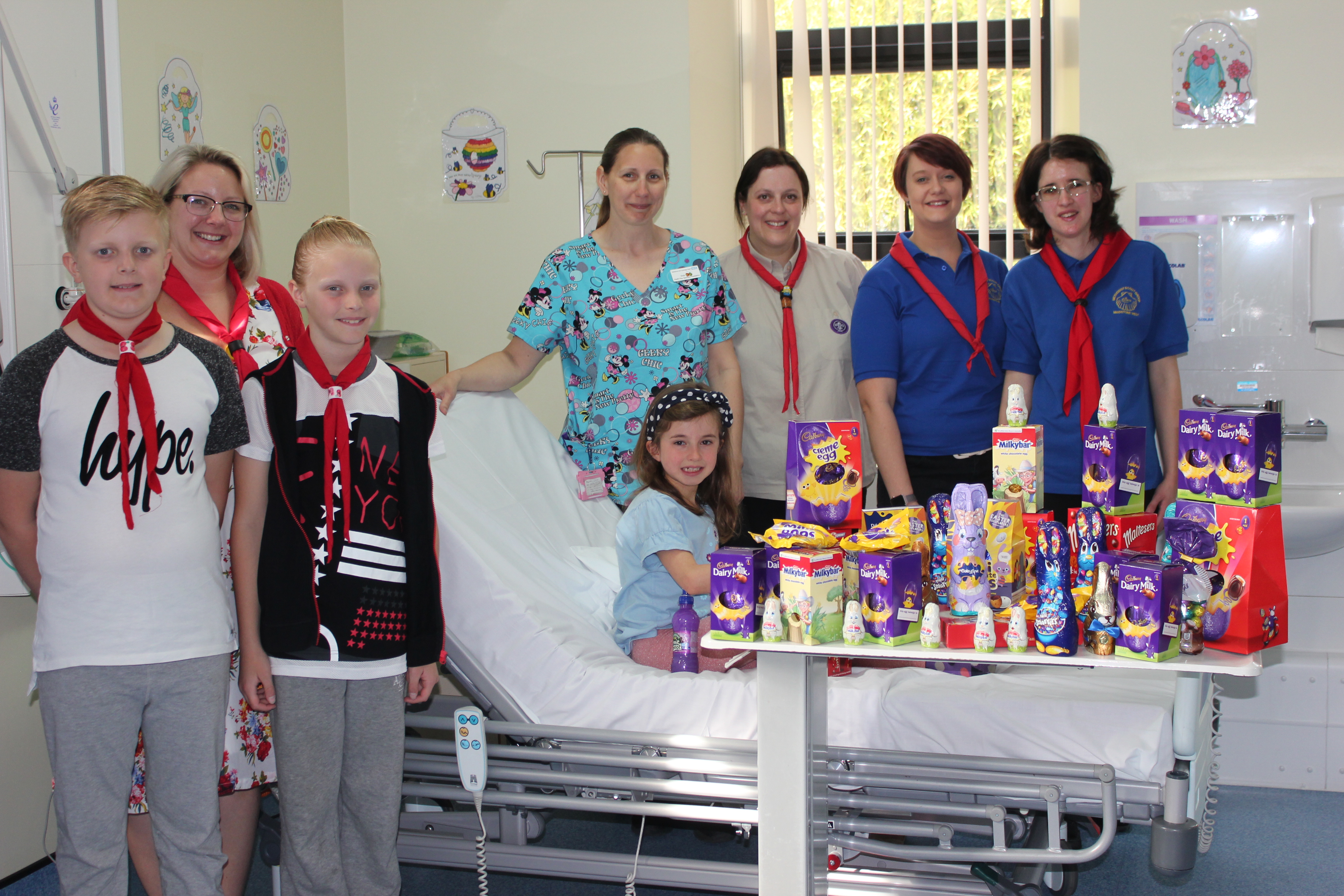 Easter came early for one young patient in the Riverbank Children's Unit at Maidstone Hospital today (11 April 2017), when representatives from Maidstone Methodist Scout Group brought in chocolate eggs to cheer up her hospital visit.
8-year-old Esme Brooks from West Malling was the first patient to receive one of the Easter eggs, kindly donated by the group.
Section Leader for Cubs at Maidstone Methodist Scout Group, Jo Perman, said: "We are really pleased to be able to come in and see the unit, and hand over the Easter eggs, which have all been donated by cubs and their families.  We hope they will bring a little bit of happiness to the patients who visit the Riverbank Unit in the next few days."
The Scout Group are also currently involved in a special sweet challenge to raise money to make craft packs, which will also be donated to the Riverbank Unit to help young patients pass their time in hospital.  The challenge involves beavers, cubs and scouts being given a tube of Smarties and then carrying out chores for which they are paid 20p each.  The 20p pieces are then collected in the empty tube and taken back to the Scout Group.  All the money raised will be used to purchase craft materials to make the packs for the Riverbank Unit.  The fundraising carried out also helps towards all the beavers, cubs and scouts attaining the Chief Scout Award within their group.
Maidstone and Tunbridge Wells NHS Trust Health Play Specialist, Vicki Belton, said: "We are extremely grateful to Maidstone Methodist Scout Group for coming in today with so many Easter treats for our patients.  We would also like to say a huge thank you for their ongoing support and generosity."
Note to editors:
Maidstone Methodist Scout Group has 12 Beavers (6 to 8 years), 15 cubs (8 to 10½ years) and 25 scouts (10½ to 14 years).
The tubes of Smarties were donated by Morrisons via Jayne Raffill who works for the supermarket, and is also a Scout Group volunteer and a volunteer with the Maidstone Hospital League of Friends.