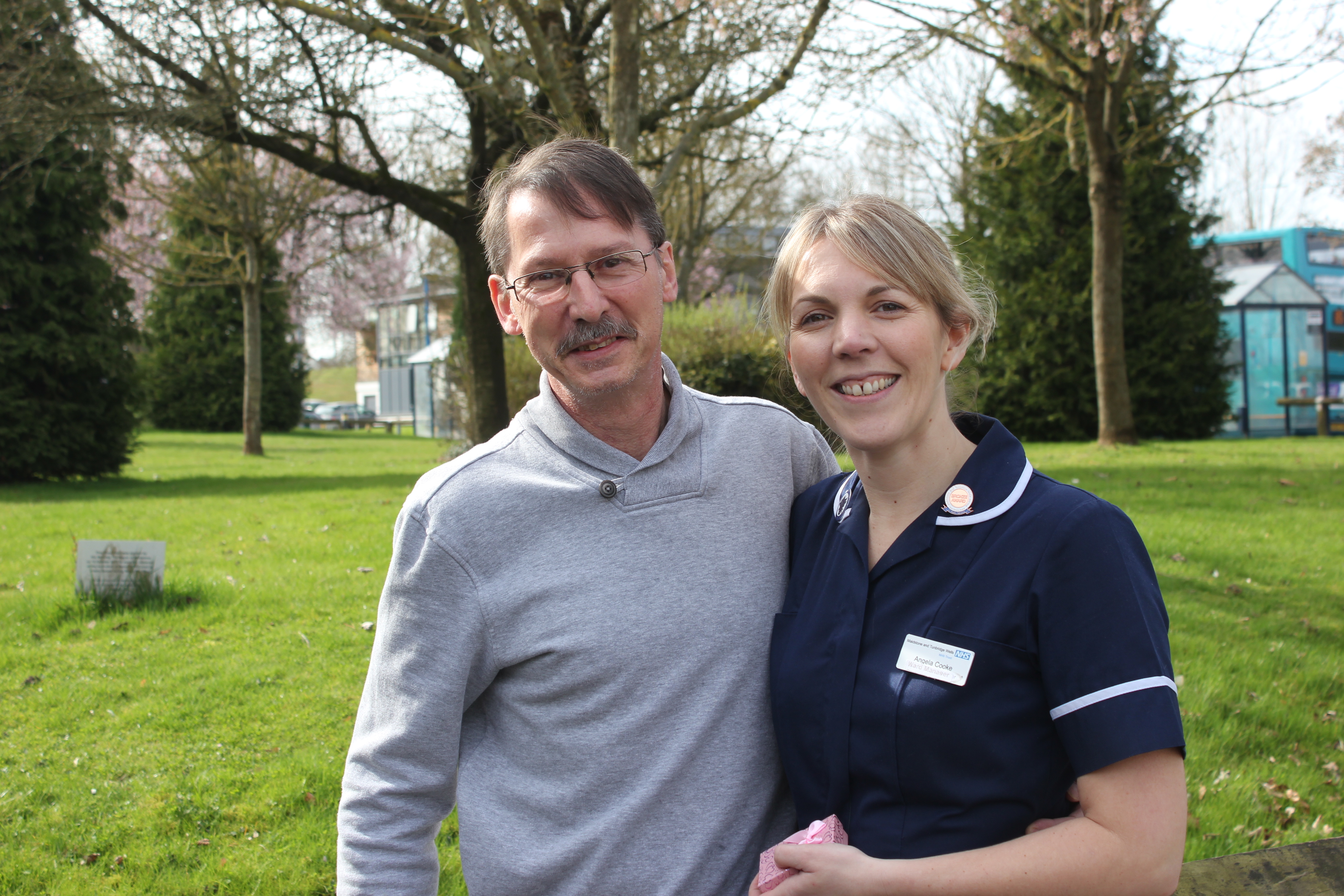 When Angie Cooke, Senior Nurse and Manager of Ward 31 at Tunbridge Wells Hospital, noticed the car in front of her was not moving forward at a green traffic light and had stopped at a slightly strange angle, she had a feeling something was wrong.
Angie got out of her car and quickly ran to the car in front to check on the driver, 58-year-old Ivo Fossaluzza. He was unresponsive, showing no signs of life. She pulled the driver's door open and immediately started CPR, shouting for someone to call an ambulance.
Other drivers in New Hythe Lane, Larkfield, ran to her aid, with two men helping her to lift Ivo out of his vehicle so she could continue CPR on the pavement.
Angie said: "A man who came over to help took it in turns with me to carry out CPR and we actually managed to revive Ivo. However, his heart stopped beating again so we carried on with basic life-saving skills until the paramedics came."
Ambulance paramedics took over from Angie, using a defibrillator to shock Ivo's heart while he lay on the pavement. Police took a statement from Angie, promising they would be in touch with an update as soon as possible.
"It was very strange," said Angie, "I had been making my way to the supermarket with my two-year-old son when I stopped to help Ivo. After everything that happened, I was suddenly on my way to Tesco again, like it was a normal day. But it was far from that. When I got to the car park, I burst into tears. I think the stress of what had just happened and the worry I had for Ivo caught up with me."
Ivo was brought to Maidstone Hospital A&E department and treated for a major cardiac arrest. He spent some time in Intensive Care, before being transferred to the Coronary Care Unit. An ICD (Implantable Cardioverter Defibrillator) was fitted before Ivo went home just over a week after he was admitted.
Ivo, who is from Rochester, said: "I have no recollection of what happened, so in many ways, it was much easier for me than it was for everyone else who was trying to help and dealing with the panic of the situation. The last thing I remember is finishing a job and starting to drive home. After that, I don't remember anything until a couple of days later when I was in hospital.
"I can honestly say I feel better now than I did before I had the cardiac arrest. I am eating healthily, doing plenty of exercise and I'm looking forward to going back to work very soon.
"There's no doubt that Angie is my guardian angel and saying thank you to her for what she did is never going to be enough."
Ivo's wife, Paula, said: "Ivo had phoned me to say he was on his way home when he had the cardiac arrest. I thought he had lost his mobile phone signal so I had no idea what had really happened until much later on.
"Angie didn't have to stop when she did, she could so easily have made the choice to drive on. We know that, if it hadn't been for Angie, and the local community, Ivo wouldn't be here. You just can't put our gratitude into words."
Since the incident, the company Ivo works for as a swimming pool service manager has sent all of its employees on a first aid course, to ensure they all know what to do in an emergency.
Ivo said: "I am overwhelmed by the support I have had from everybody. Other than seeing a cardiac nurse every few weeks, I can monitor my heart at home so I don't even have to come in to hospital. I feel incredibly lucky and incredibly grateful for where I am now."
Angie added, "I don't feel like I did anything heroic, I just instinctively did what I think anyone in that situation would do. The community and other drivers in New Hythe Lane were amazing. So many people came to offer help at the time of the incident – it was lovely to see everyone come together like they did. The only thing anyone wanted was for Ivo to be okay and I couldn't be happier that he is."
This is the second time Maidstone and Tunbridge Wells NHS Trust (MTW) staff have been involved in saving the life of a driver who had suffered a heart attack at the wheel. In July 2015, Helen Summers (Paediatric Oncology Nurse) and Chloe Joseph (Occupational Therapist) were behind Peter Rabbatts' car at the Wateringbury crossroad when he had a cardiac arrest. They ran to his aid and carried out CPR, assisted by MTW's former Medical Director Paul Sigston, who was also in the queue of traffic, until an ambulance arrived.
MTW Interim Chief Nurse, Claire O'Brien, said: "We are delighted that Mr Fossaluzza is feeling so well. While Angie doesn't believe she has done anything out of the ordinary, we know that she was instrumental in saving Mr Fossaluzza's life and we are extremely proud of her. It also goes to show how basic life-saving skills can make all the difference to whether or not someone survives a situation such as this, and we would encourage anyone and everyone to learn what should be done in an emergency."
Ends
Note to editors:
The incident took place on 16 January 2017.