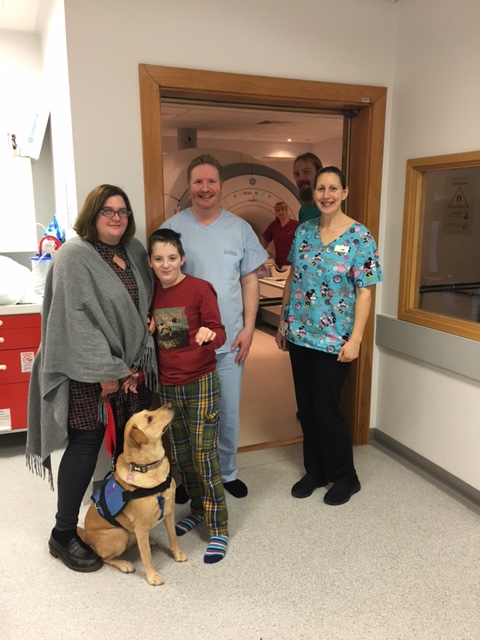 When Charlotte and Anselm Fisher learned that their 11-year-old son, Benedict, needed to have an MRI scan, their thoughts immediately turned to the huge anxiety caused by a previous scan three years before.
Benedict is autistic and often experiences extreme anxiety. After many hospital visits and medical interventions since he was born very prematurely in 2005, Benedict finds the concept of clinical procedures and appointments very stressful.
His mum, Charlotte, said: "The smallest intervention is a massive deal for Benedict. When he had an MRI three years ago, he had to have a general anaesthetic because he was so anxious, so when we found out he needed another one, we were very worried about what might happen."
Vicki Belton, Health Play Specialist at Maidstone and Tunbridge Wells NHS Trust, was put in contact with the family to discuss the procedure and to work with them on how best to prepare Benedict.
"Benedict has an autism therapy dog, Daisy," said Charlotte, "who he has a very strong bond with and who calms him down enormously. I assumed, initially, that there would be no way that Daisy would be allowed to accompany him but when I spoke to Vicki and Benedict's doctor about the possibility, they were keen to accommodate."
Benedict had his MRI on Tuesday 21 February at Maidstone Hospital. Daisy, along with his parents, accompanied him and was with him right up to the door of the scanning room.
"It was amazing," said Charlotte, "For a child with anxiety, waiting for something like this is usually the worst part but because Benedict had Daisy with him, he was completely calm. He went in to the scan calm and came out, forty minutes later, exactly the same. He knew Daisy was waiting for him just the other side of the door and that helped him through the scan.
"Even in the waiting room, Benedict showed other people Daisy's tricks and engaged with staff, which is something he would not usually do. The difference made by being allowed to have Daisy with him was absolutely huge."
Health Play specialist, Vicki, said: "It was a pleasure to help Benedict through his MRI, along with huge assistance from his therapy dog. We made sure there was plenty of time so Benedict did not have to be rushed and could spend time with Daisy before and after his scan.
"He was an absolute star, he was calm throughout and we are all delighted that this time, his experience was a much more positive one."
Benedict was matched with his autism therapy dog, Daisy – a Labrador – last July (2016) through the organisation Autism Life Dogs.
Charlotte said: "Benedict has always loved animals and finds it easier to communicate with them than he does a lot of people. He also horse-rides for physio and loves that too.
"When we lost one of our pet cats, Benedict became very anxious and didn't want to leave the house and our other cats. I looked into what we could do to help and discovered that therapy dogs can be used for people with autism.
"I can honestly say that Daisy has changed his life. We can do so much more with her around and Benedict has benefited enormously by having her in his life. The fact that we could bring her to his MRI scan made a world of difference and we are so grateful to the staff who made it happen.
"We have been through a huge number of hospital visits, locally and in London, but this was the first time the whole family came away saying what an amazing hospital this is. At Maidstone, the staff's focus on Benedict and his experience was better than anywhere we have ever been before."
Vicki added: "It is our job to make sure we help our young patients, and in fact, all of our patients have the best experience possible. Hospital is a daunting place for most people, no matter why they have to come so we will always do our best to try and find any way to make it into a more positive experience."
Ends
Note to editors: You can find out more about Autism Life Dogs at https://www.autismlifedogs.com/ and more about the role of a Health Play Specialist at http://nahps.org.uk/
The Fisher family live in Sittingbourne.