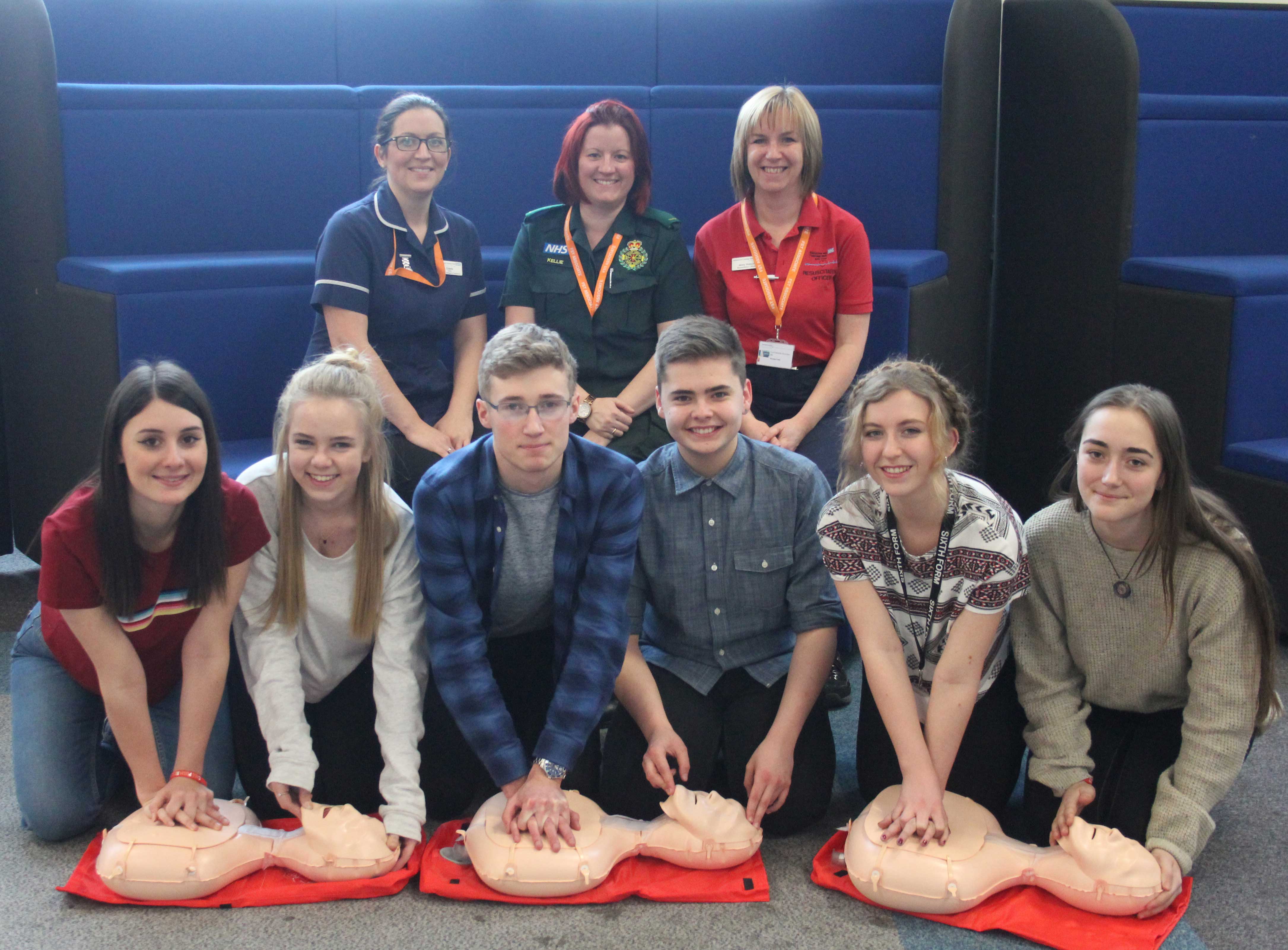 A team of Nurses, Paramedics and Community First responders from Maidstone & Tunbridge Wells NHS Trust (MTW) and the South East Coast Ambulance Service (SECAMB) have delivered life-saving skills to over 100 students following a day of Cardiopulmonary Resuscitation training (CPR) at Cornwallis Academy in Maidstone.
The training on Friday 27 January comes ahead of National First Aid Awareness Week in February. According to figures published by St John's Ambulance, only 7% of young people (16-24) would be confident enough to perform CPR.
MTW Resuscitation Officers, Jenny Watson and Craig Lumsden, were joined by a team of MTW and SECAMB volunteers who trained sixth form students during the full day in compression only CPR.
MTW trained a total of 160 young people who then spent the rest of the day delivering the simple steps to their peers in other groups, as well as staff.
Jenny says: "We were delighted to work with Cornwallis to deliver the CPR training. Every second counts when someone has a cardiac arrest and if a bystander immediately performs CPR, this can dramatically improve that person's chance of survival. The students were very enthusiastic and we had great feedback about how useful they found the day."
Will Pemberton, Deputy Headteacher at Cornwallis Academy, said: "We are grateful to MTW for giving up their time to train our students. It provided our Sixth Formers with the opportunity to teach their younger peers new skills that will give them the confidence to help save a life, inside or outside of school. We hope to be able to share this training with the wider community, including local primary schools."
Head Girl, Ashleigh Burr, added: "The training was really easy to follow and has made me feel confident enough to perform CPR, should I ever need to in the future. CPR is a really important skill to learn as it could essentially save someone's life."
The school, in Hubbards Lane, Linton, launched its CPR initiative after securing a grant from the British Heart Foundation. The charity provided the academy with Call Push Rescue kits, which including reusable inflatable manikins, kneeling mates, red inflation bags, training DVDs and inflation pumps.